Ireland will join Apple in appealing the European Commission's finding that Apple owes the country more than US$14 billion in back taxes.
The Dail, Ireland's parliament, voted 93 to 36 late Wednesday night to file an appeal against the ruling, which came out last week. The government is now set to ask the EC to reverse its ruling, which said Ireland's tax treatment of Apple from 2003 to 2014 was illegal and distorted competition.
Ireland could stand to gain €13 billion ($14.5 billion) in tax revenue from the ruling, but government officials and lawmakers said imposing the tax would hurt the country's reputation as a good place to do business.
After a two-year investigation, the EC concluded that Apple paid just €500 per million euros in profit in 2003 and that rate fell to €50 per million in 2014.
Apple is one of the most prominent multinational companies operating in Ireland, a country that has done much to attract foreign direct investment in recent decades. Apple has about 6,000 employees in the country and has vowed not to stop or reduce its investment there as a result of the tax ruling.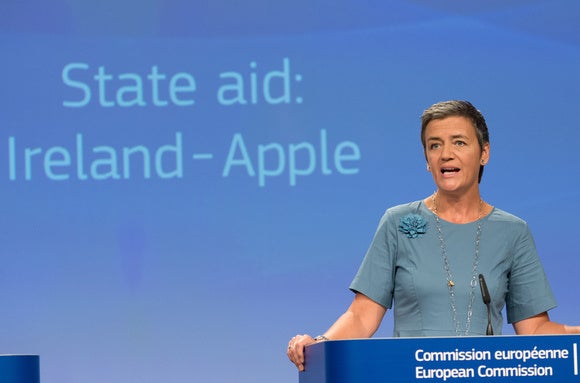 After an hours-long debate on Wednesday, monitored via webcast, lawmakers voted down several amendments that would have halted or delayed the appeal. The final vote was finished around 10 p.m. local time, shortly after Apple had wrapped up its iPhone 7 launch event in San Francisco.
Irish leaders who pushed for the appeal said that going back on the tax treatment Apple received in past years would scare off other foreign employers. The EC's decision was based on rules that didn't even exist at the time, they said.
"Uncertainty frightens investors and delays investment," said Mary Mitchell O'Connor, the Minister for Jobs, Enterprise and Innovation and a member of the Dail.
Opponents objected to the country fighting a ruling that could add billions to the government's coffers.
"None of that is going to be made available to the poor, hard-pressed citizens of this country, but instead you choose to don the green jersey, roll your sleeves up, and go out to bat for a multinational corporation," said Dail member Louise O'Reilly.
Apple CEO Tim Cook last week called the EC decision "total political crap," saying both Apple and Ireland had played by the rules.
The EC's decision has come under fire in the U.S. as well as in Ireland. If Apple has to pay the back taxes to Ireland, it could deduct those payments from what it owes in U.S. taxes, meaning Americans would pay the price, the Obama administration said last week.