Sometimes it's stunning how handy Google makes it to use its software—it really, really is. If you have a smartphone you can now remotely install Google Chrome extensions to your desktop PC. This is similar to the way you can remotely install Android apps to your phone from your PC (just in reverse).
Even better, this method works on any smartphone. I tested it on an Android phone, a Windows 10 Mobile phone, and an iPhone. In each case, it worked exactly the same way.
Let's say you receive a link to an extension in the Chrome Web Store on your phone by reading a news article or blog post, an email, instant message, Facebook…whatever.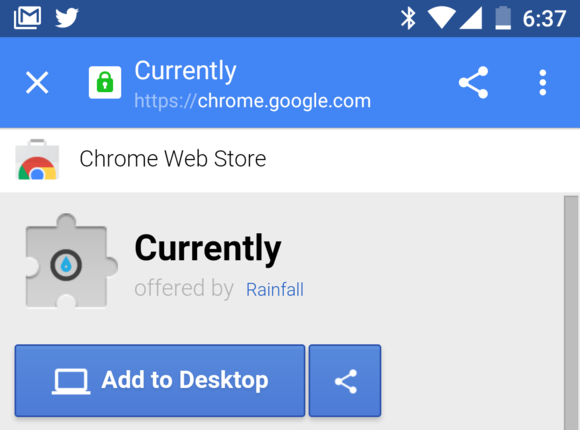 When you tap that link to the Chrome Web Store, as long as you're signed in to your Google account on your smartphone's browser, you'll see a button that says Add to Desktop.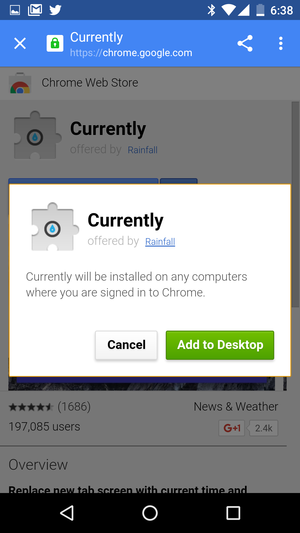 Now tap the button and a pop-up window appears with a second Add to Desktop button. The window also informs you that the extension will be installed on any PC where you're signed in to Chrome.
Tap the second button and within a few seconds the new extension will be installed on your PC—or PCs if that's the case. If you already have the extension installed the button will say Added to Desktop.
When you look at your PC, you'll know an extension is being installed, because the "hamburger" menu icon on Chrome for Windows will start to turn orange instead of the usual black. This is similar to when you receive an alert that an extension was disabled or needs new permissions.
Click on the hamburger menu icon and the top of the drop-down menu will notify you that an extension was installed remotely.
As a security measure, however, the extension will be installed but not enabled.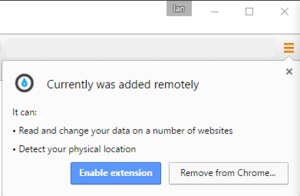 To enable it, click the notification at the top of the drop-down menu, wait for a pop-up balloon to appear giving you the choice to enable or remove the extension.
Presumably you'll have to go through this process on every computer where Chrome is installed.
That's it. Your extension is now ready for use.
There is one downside to this new feature. Unfortunately, you cannot browse the Chrome Web Store from your phone and then install any extension you like remotely. Hopefully, this will change in the future, but for now this trick only works if you are browsing to a specific extension on the Web Store. If you just navigate to the Chrome Web Store from Chrome for Android you'll get a message saying your operating system is not supported.
Installing Chrome extensions remotely is not quite as easy as installing an Android app from your desktop, but it's pretty close.
[via Android Police]