Intel believes untethered headsets could be a new class of PCs in the future, and the company may develop chips dedicated to those devices.
The chipmaker previewed its virtual and augmented reality plans last month with Project Alloy, a Microsoft HoloLens-type headset that can mix images from real and virtual worlds. Project Alloy will be available for PC makers to replicate, but Intel may also see a market for mixed reality headset chips.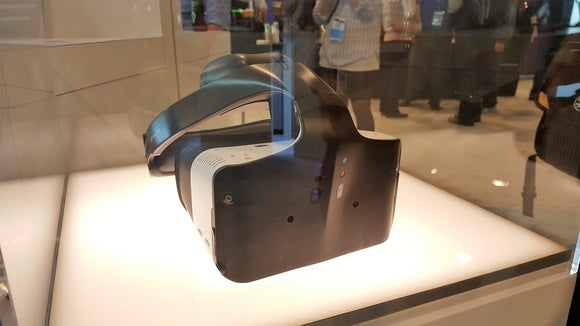 Project Alloy is a prototype headset running on Microsoft's Windows Holographic platform, and it could support other VR and AR platforms in the future.
The Alloy design and specifications will be open-sourced early next year. PC makers have expressed interest in making headsets based on the design.
Just like it has done with PCs, Intel is trying to provide guidance to device makers on how to design headsets, integrate hardware, and resolve camera issues, as well as provide ideas on production and productizing, said Venkata Renduchintala, president of the client and internet of things businesses and the Systems Architecture Group at Intel.
Mixed reality can generate a new class of VR/AR products and will probably generate "a custom piece of silicon built on the PC platform to exemplify and amplify the use case," said Renduchintala, nicknamed Murthy.
The Project Alloy headset has a Skylake laptop chip, but as of now, the company has no dedicated chip for headsets that are also self-contained computers. Intel recently announced new 7th Generation Core PC chips code-named Kaby Lake but has no specific chip for all-in-one headset computers in that lineup.
Intel in the past has provided reference designs for ultrabooks, laptops, smartphones and 2-in-1s, but is open-sourcing the Project Alloy design. It previously set tight specifications—for example, thickness and screen size—for products like ultrabooks and handsets, and PC makers were required to adhere to the specs.
Renduchintala expects device makers to use the reference design to mold VR headsets into different shapes and sizes.
VR is already catching on quickly, with products like Oculus Rift and HTC Vive—which need to be wired to PC with high-end GPUs—getting a lot of attention.
Spurred by HoloLens, there are efforts to develop untethered PC-style VR and AR headsets, but the makers need to address problems related to wireless connectivity and battery life. Mobile VR—in which smartphones are placed in headsets—is taking off with products like Samsung's GearVR.
Analyst firms are projecting headset shipments to grow, and it makes sense for Intel to have VR-specific chips. IDC is projecting VR/AR headset shipments to reach 9.6 million units this year, and 110 million units by 2020.
Intel is backing more PC-style mixed reality experiences over mobile VR. Project Alloy provides a powerful mixed reality experience, and that's the kind of market Intel wants to develop, Renduchintala said.
"What we showed is we can take VR, we can evolve it from the very rudimentary definitions today of running a 99-cent Android app in a smartphone you clip into some kind of visor, you can move it to a 15- to 20-watt powered … embedded PC that's driving two to three teraflops of computing," he said.