Mike wants to save a video from Facebook. Luckily if you're using a desktop or laptop PC it's quite easy.
I can almost hear you saying, "Hold on Josh—when I watch a Facebook video on my PC there aren't any links to save it!" Correct, but all you have to do is trick your browser into thinking you're browsing Facebook on your phone. Here are the steps:
Right-click any non-Youtube video and select Show video URL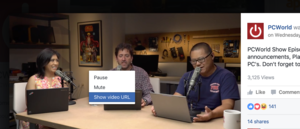 Copy this URL to your clipboard, then paste it into the browser's address bar.
Hit Enter to open this page
Delete the 'www' in front of the URL and replace it with the letter 'm' so the links look like this:


Hit Enter to open the mobile version of the video and click Play on the video. It has to start playing for you to proceed to the final step.
Right-click the video and select Save Video As…
Save the video to your PC, and now you can watch it using your video player of choice for MP4 files.