The sun has finally set on Sunrise, Microsoft's popular calendar app. Microsoft discontinued the service on Tuesday after bringing many of its features to its iOS and Android apps, both of which have been updated.
As of today, your Sunrise calendar will stop updating, the Sunrise team wrote in a farewell post. On Wednesday, Sunrise users will be logged out of their accounts. However, all of the information will still be available on the original platform—iOS, Android, Outlook—that Sunrise ran on top of.
"This is definitely the end of an era," the Sunrise team wrote. "But more importantly, it's the beginning of a new one. We're excited by what's ahead and we'd love for you to come and join us in our latest adventure."
That next adventure is Outlook, Microsoft's own email app. Microsoft had originally promised that it would shut down Sunrise only when its features were "fully integrated" into Outlook, then delayed its decision when PCWorld pointed out that hadn't happened. In his blog post announcing the updated Outlook apps, former Acompli chief Javier Soltero went point by point, describing how each feature was (mostly) integrated into the Outlook mobile apps.
Feature parity? Close, but not quite
A closer examination of the new features for Outlook for Android and Outlook for iOS reveals, however, that the new apps still don't quite provide what Sunrise offered. (It's also worth noting that Microsoft has completely ignored the Calendar app for Windows 10 Mobile in the new updates.)
Interesting calendars: In addition to normal work appointments, users have typically been able to integrate their personal calendars (for dentist appointments and the like) as well as so-called "interesting calendars," such as international holidays. This feature, previously excluded from the Outlook mobile apps, will now optionally add the times and dates of your hometown sports team's schedule to your calendar. TV shows are coming soon, Microsoft promised.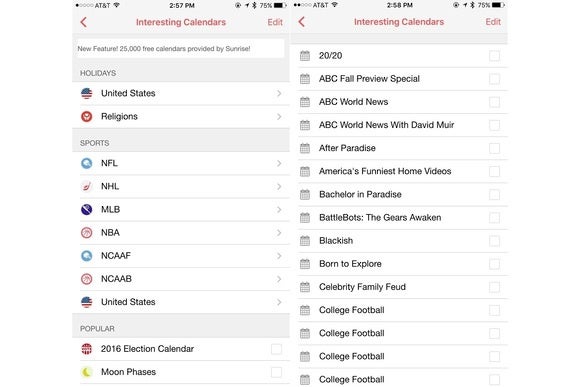 For now, the feature is available only to iOS users with an Office 365 email address. That feature will soon come to Android. Outlook.com users on both platforms will see the Interesting Calendar feature arrive later this year, then Gmail users.
Sunrise still offers a wealth of interesting calendars that Outlook doesn't, however: religious holidays in multiple faiths, a surprising variety of sports (the Pacific Rugby Premiership?!), and even "name days" from say, Hungary.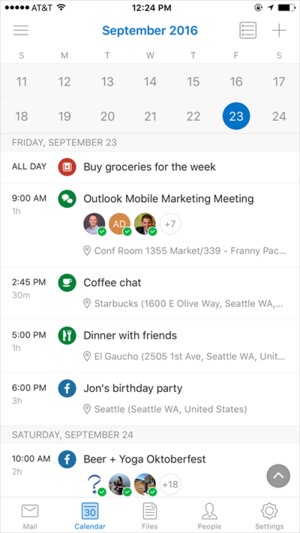 Event icons: To quickly allow users to find, say, a coffee meeting, Outlook will incorporate the icons used by Sunrise into its own user interface: You'll see a coffee mug icon, for example, next to a proposed meetup at Peet's Coffee. This seems to be consistent with what Sunrise offered.
Map integration: Like Sunrise, Outlook now includes a smart lookup of any location you set for an offsite meeeting and includes a small map of the venue inside your appointment. Outlook uses Bing to set this up, while Sunrise used Google. This is noteworthy only because Bing inexplicably failed to recognize San Francisco's famous landmark The Cliff House, while Google did.
Both Outlook and Sunrise only offer reminders that are keyed by time (15 minutes before, for example), however, rather than offering an option to let Cortana/Google Now/Siri decide when you need to leave to avoid being late.
Recurring meetings: Sunrise offered the ability to create a recurring meeting on, say, every Tuesday at 11 am. For some reason, Outlook still can't manage that, though the new app updates allow you to edit the appointment or even delete the event. (Recurring event creation is on the way, Microsoft says.)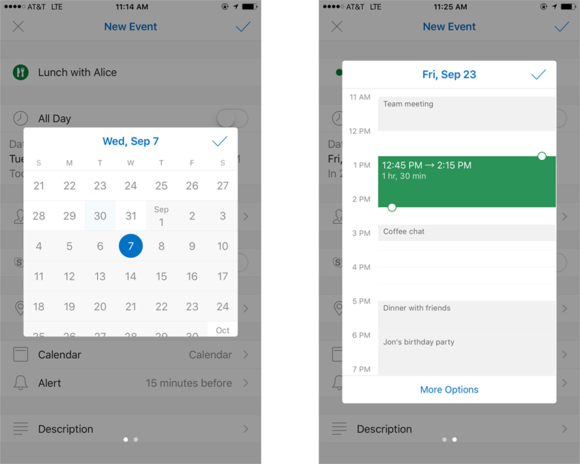 Skype for Business: Finally, you can now quickly set up a Skype call with just a tap, something you could do on Sunrise (as well as the Outlook Web App) and in Outlook. When the call begins, Microsoft says you can launch the call by tapping the icon. Unfortunately, Microsoft has rolled out the one-tap Skype for Business capability only to about 75 percent of users who use the mobile Outlook apps, Microsoft said.
App integration: Unfortunately, Microsoft's still not saying anything about whether it will integrate Outlook with the breadth of apps that Sunrise offered: Trello, Todoist, Songkick, and more. For now, Microsoft Outlook integrates with just three: Facebook, Evernote, and Wunderlist.
"The team is in the process of bringing the best features from Sunrise into Outlook," the Microsoft representative said via email. "Today marks an important milestone, with a majority of these features wrapped in the product. Over the coming months, we'll continue adding new Interesting Calendars and integrating with other services via Calendar Apps based on user feedback."
Platform parity: an issue Microsoft can't ignore
Sunrise users have a right to be concerned that Microsoft will simply cherry-pick some of the features that made Sunrise so useful, without transferring over the whole of the app experience. There's another issue that Microsoft will have to address eventually, however: platform parity. Too many features remain scattered willy-nilly between apps.
You'd think, for example, that "interesting calendars" would be prominently included within Outlook 2016. They're not. Instead, you have to use the Outlook Web App (with an Office 365 account attached) to take advantage of this feature.
"Bringing feature parity across all Outlook end points – web, desktop and mobile – is a key goal for the Outlook team," the Microsoft representative added. "For example, we've gotten strong feedback about how useful Focused Inbox is, so we started rolling this out in Outlook for Windows, Mac and the web in July."
All of those features made Sunrise attractive. With Sunrise's demise, Microsoft obviously would like you to transition back to Outlook. But if that simply won't work for you, you'll probably want to check out these alternatives to Sunrise—or simply wait for something better to come along.
Correction: One-click Skype meetings are part of Office 2016 (though apparently not enabled on this reporter's PC, due to corporate policy.) Soltero also was the former CEO Of Acompli.