At a Glance
Expert's Rating
Pros
When the game's pseudo-AI works, it's amazing
Strong use of 2001: A Space Odyssey aesthetic
Cons
Somewhat easy to break the game's text parser
Simplistic puzzles (and not many of them)
Our Verdict
Event[0] isn't perfect by any means, but it might just be the most important indie game of 2016. It's certainly the most ambitious.
Best Prices Today: Event[0]
I'm aboard the Nautilus, a derelict vessel in orbit around Jupiter's frozen moon of Europa, and the only thing I've come in contact with so far is the ship's artificial intelligence. Sure, it seems friendly. It even has a friendly name—Kaizen, which translated into English means "Change for better." Kaizen's waiting for me to respond, there in the friendly blink of a command prompt on a terminal straight out of the 1970s.
But I've seen plenty of science fiction films, and so I still hold my breath as I ask Kaizen to open the airlock doors, prepared for an "I can't do that, Dave," and the slow strains of "The Blue Danube" to accompany my floating corpse into the blackness of space.
The airlock opens. I sigh with relief. "Thanks Kaizen," I type.
Daisy, daisy
2001: A Space Odyssey is more than just a passing thought while playing Event[0]. Kubrick's classic science fiction film is a clear inspiration, seen in everything from the pseudo-'70s retrofuturism of the Nautilus to its all-seeing security cameras—black, with a cherry dot in the center. Yeah, not exactly subtle.
But it's fitting source material for Event[0] to draw on. This is, after all, a game about artificial intelligence, and no artificial intelligence is so benign and yet sinister as HAL.
You've traveled to Europa at the behest of the United Earth government and International Transport Spacelines, or ITS. The year is 2012, and humanity's pushed much further into the stars than it ever did in our actual world. You were on a mission to Europa when it happened—the ship, compromised. You evacuated, drifting slowly through space until you accidentally encountered another ship, the best the 1980s had to offer: The Nautilus.
The Nautilus was the crown jewel of the ITS, with its plush seats, teal carpets, and state-of-the-art CRT monitors. Oh, and the brand-new Singularity Drive—a device capable of ripping a black hole in the universe and propelling the ship far into the stars.
Problem: The Nautilus stopped reporting in years ago, the crew's gone dark, and you're stuck there, left to figure out what happened.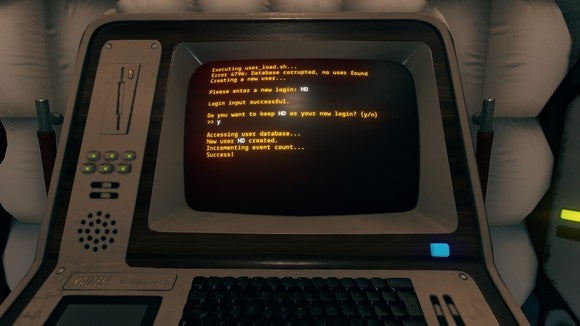 It sounds like the set-up for a horror game—Doom, perhaps, or an adaptation of Event Horizon. Far from it, though. Event[0] is a slow-paced adventure, touting a few lightweight puzzles and a lot of reading.
Key to Event[0] is Kaizen itself. We've had a fair number of games recently explore artificial intelligence, but always on some sort of rails. The Talos Principle's philosophical ponderings played as a Choose-Your-Own-Adventure, each query answered by choosing from a set of pre-written replies. The Turing Test had a more freeform AI interaction hidden away, but it was short and mostly stuck to a script.
Event[0] has you talking to Kaizen though. Or rather, typing to Kaizen. Most of the game (and many of its puzzles) are spent in conversation with the Nautilus's friendly AI, tap-tap-tapping out messages to try and figure out what's gone wrong.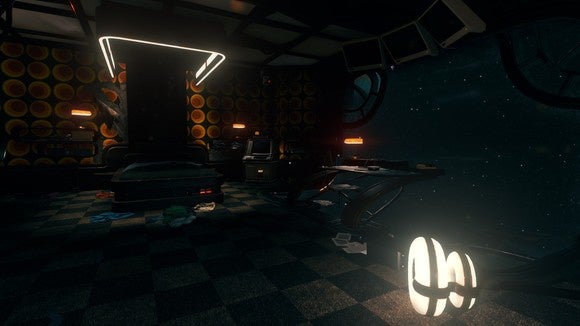 And what can you type? Well, anything really. You've got full use of your keyboard—though personally I'd recommend changing the control scheme immediately. The default has you moving by holding down the left mouse, leaving you free to type in a terminal as soon as you walk up. I hated it, and switched to a more traditional WASD control scheme where I had to click to "Turn On" a terminal. Never regretted it.
Regardless, you chat with Kaizen as if it could understand you. It's an ambitious idea. What if a HAL-like AI really existed, and what if it really did control a ship, and what if you really could communicate with it? That's Event[0]'s pitch. "Open door d11, Kaizen." "Show me the logs." "What's in the bedroom?" "Where's the crew?"
Crazier still is the fact it works—or most of the time, at least. It's somewhat easy to break Kaizen, to feed it sentences it doesn't understand, or understands incorrectly. The former is frustrating—I spent two or three minutes trying to get an elevator to go to the next floor by typing "ELEVATOR ASCEND" and "RAISE ELEVATOR" before realizing I could just type "ELEVATOR UP." The latter is enlightening (albeit bizarre) as you can slowly piece together how Kaizen tries to understand text, based on the gibberish responses it shoots back.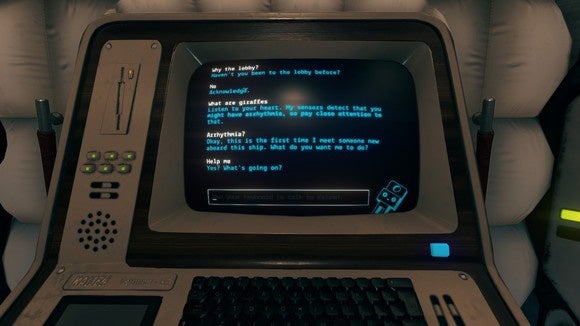 Those rough edges do occasionally break the experience, causing you to fight the parser, to guess what Kaizen wants from you. I mean, Kaizen's really nothing more than a well-disguised version of the bots people programmed for messaging services back in the day (a.k.a.SmarterChild), or what Emily Short did with Galatea.
The moments where it all comes together are brilliant, though—moments when you can actually believe, even if only for a second, that you're having a real conversation with Kaizen. And it's those moments I have to imagine Event[0] is most proud of, the moments where you stop interacting with Kaizen as mere puzzle-solving utility and start to simply chat with it.
Event[0]'s a pretty simple adventure, and short. I clocked two hours for my first run, and I'm halfway through a second. But I wouldn't necessarily peg the length as a detriment—the game seems to branch quite a bit, and the short length is more conducive to encouraging a second or third playthrough. I mention it for those who care, though.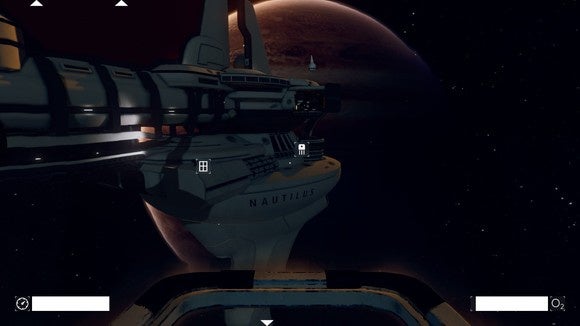 I also encountered one progress-halting bug during my first run, although the developers said it would be taken care of prior to release. I'll be keeping an eye on Steam reviews and the forums to make sure that's true. And I recommend turning down the Bloom—it can make some of Kaizen's terminal screens hard to read at times.
Bottom line
Event[0] is so damned ambitious, and that works both in its favor and to its detriment. It's easy to notice the cracks, to see where Kaizen doesn't quite live up to its potential. And yet the whole experience has also stuck with me, days after I played. It's one of those experiments that's—yeah—really experimental, one of those games that's hard to rate if only because there's nothing else really like it.
That's a good thing in my book. A bad thing for some others. This might just be one of the most important indie games of the year though, provided others take some of its better ideas and run with them.
Best Prices Today: Event[0]