Most people may associate Twitter with mobile phones, but today it's coming to your TV with the release of new video-centric apps for the Apple TV, Amazon Fire TV, and Xbox One.
On the surface, the idea seems pretty stupid. Some smart TVs have integrated Twitter apps in the past and nobody used them, because using Twitter on your TV sucks. But this time it makes more sense, because Twitter's doubling down on video and live events. On Thursday the social network will livestream its first NFL Thursday Night Football game, with nine more NFL livestreams scheduled throughout the season. And the only thing worse than surfing Twitter timelines on your TV is watching football on your phone.
In fact, the Twitter apps for Apple TV, Amazon Fire TV, and Xbox One focus on video over Tweets. You'll find curated videos from Vine and Periscope, as well as offerings from the MLB, NBA, Pac 12 Networks, Campus Insiders, Cheddar, and Bloomberg News. Apple TV users will also get "live premium video" (whatever that means) and be able to view a stream of top tweets related to what they're watching side-by-side with the video.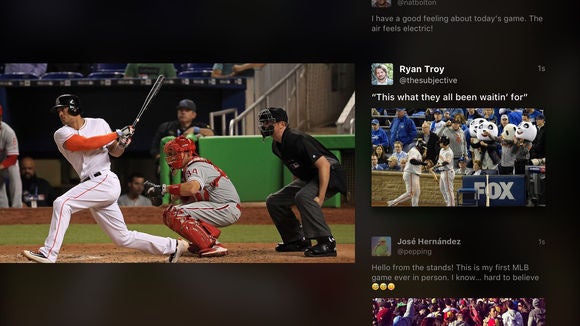 Even better: You don't need a cable login or even a Twitter account to partake. Just install the app and start browsing.
The story behind the story: Of course, Twitter hopes you'll sign up for an account and start blasting out 140 character diatribes while you're tuned into events. The social network's been having trouble signing up new users, and this foray into live entertainment is no doubt intended to welcome new users into the fold—which makes the fact that Apple TV has an exclusive lock on side-by-side tweets downright befuddling.