InFocus-owned Kangaroo has a new solution for keeping your personal and family computer activities separate. The company just announced a new addition to its modular PC lineup: the Kangaroo Notebook.
The device comes as a package with two modular PC units that can be swapped in and out of a laptop dock. Each module is a self-contained PC running Windows 10. Inside, the modules are rocking 2GB of RAM, 32GB of eMMC flash storage, and a quad-core 1.44GHz Intel Atom "Cherry Trail" x5-Z8350. That's not a lot of power—the low amount of RAM is particularly concerning—but as long as you don't hope to play games or run Photoshop it should be fine.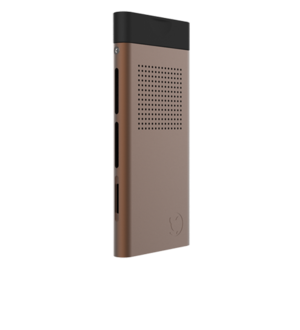 The dock, meanwhile, offers an 11.6-inch display (no official word on resolution), a full keyboard, trackpad, battery, webcam, microphone, speakers, and unspecified ports—some of which must be USB.
When it rolls out in mid-October, the Kangaroo Notebook will be a Newegg exclusive priced at $300.
The impact on you at home: Putting two PCs inside a single device is an interesting idea, and for some it might be a better (and cheaper) solution than one PC with separate user accounts. You can still use separate user accounts on each module, of course. But if you need to keep private work documents safe it might be better to have those documents physically separate from the PC where your kids keep downloading torrents—no matter how many times you tell them to stop doing that.
Not all roses
There are some downsides to this set-up. For one thing, the modules use proprietary connectors, according to Engadget. That's not a surprise as Kangaroo's other modular PCs do the same. The end result of proprietary connectors means booting one of the PCs on third-party hardware, while the other uses the dock, is out of the picture. That also means you can only use one of the PCs at a time unless you want to spring for a second laptop dock—assuming Newegg will sell the docks separately.
Nevertheless, if you want to keep data physically separate, or you just want to have two PCs dedicated to specific purposes, the Kangaroo Notebook could be a workable option.