At a Glance
Expert's Rating
Pros
Good bang for the buck
More stable keyboard
Cons
CPU performance lags Core i5
Battery life just average
Our Verdict
This 2-in-1 has touch, pen support, and the same cover-style keyboard, but for a lot less cash than a Surface.
Best Prices Today: HP Spectre X2
HP's formula for its new Spectre x2 is pretty simple: Clone the look and feel of Microsoft's popular Surface and sell at a price that heavily undercuts it. But the result is actually a lot more nuanced.
By clone, I mean most people who see the Surface—err, Spectre x2 will actually think it's a Surface Pro 4. It has touch. It has pen support. It has the same cover-style keyboard that attaches magnetically and flips around for tablet mode—I'm surprised it isn't cyan-colored.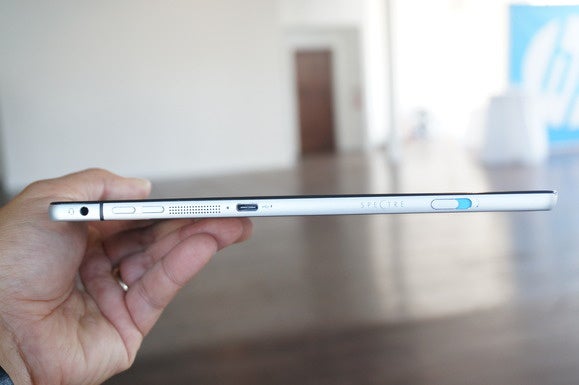 It's hardly a carbon-copy, though. Our review will show subtle and not-so-subtle differences that could make or break the decision for some, but for many, it'll come down to price. Regardless of the details, compared to the Surface Pro 4, the Spectre x2 offers a lot of value for the money.
Sizing up a Surface clone
The Spectre x2 is a svelte 8mm thick—just over 13mm with the keyboard. That's pretty much a clone of the Surface Pro 4's thickness.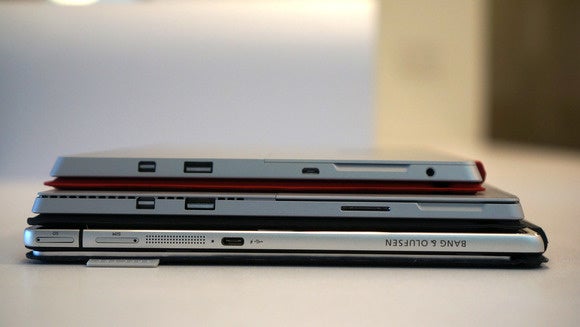 It's definitely larger, though: 11.75 x 8.25 inches tall, compared to the Surface Pro's 11.5 inches wide and a scant 8 inches tall. That makes it the largest of the Surface-style devices other than the Surface Book.
The Spectre x2's display resolution is 1920×1280 for a 3:2 aspect ratio, compared to the odd-duck Surface Pro 4 res of 2736×1824. Both have 12-inch screens. The Spectre x2 panel in our unit seemed skewed toward blue and was also limited to 330 nits' brightness compared to the Surface Pro 4's 380 nits. Users may be more bugged by the the large bezel—It's almost MacBook Air-like in girth.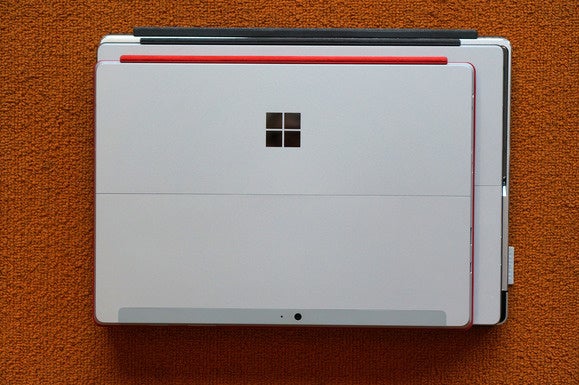 Rather than a lid-style kickstand, HP opted for a frame. The company said this allows a larger chassis for more hardware. With the Surface, you pull on the kickstand to release it. With the Spectre x2, a slide switch releases it. On a few occasions the kickstand didn't pop out enough, forcing me to start over. The piece is metal and strong enough that it doesn't feel like it'd break off, even if you used it as an ad-hoc handle.
One more notable difference: Where the Surface Pro 4's kickstand tilts from about 15 to about 75 degrees, the Spectre x2's range is a briefer 15 to 60 degrees. On occasion you'll wish you had that extra few degrees.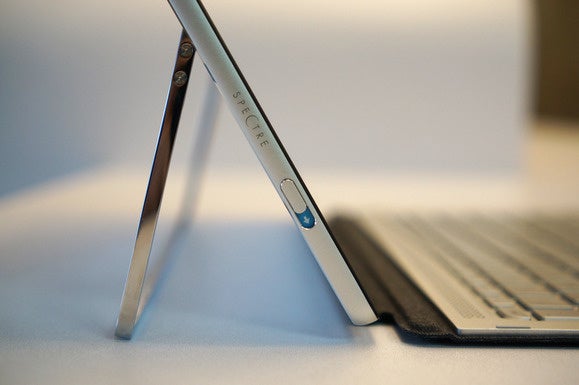 The keyboard's keys are backlit and well-spaced. The action is good and every bit as comfortable as the Surface Pro. An aluminum deck adds a little more rigidity compared to the Surface Pro 4 and helps prevent keyboard bounce when used on your lap. It also makes the keyboard a little heavy.
HP missed an opportunity by only using the magnet on one side. I'd welcome a magnet that holds the keyboard when folded against the back too.
The click-style trackpad is very wide and generally a pleasure to use once you get used to the wider aspect ratio. I did have to turn up palm rejection, and the piano hinge makes it more difficult to "click" at the top than at the bottom. The trackpad is Microsoft-Precision-Touchpad-certified and uses the Microsoft drivers for gesture controls.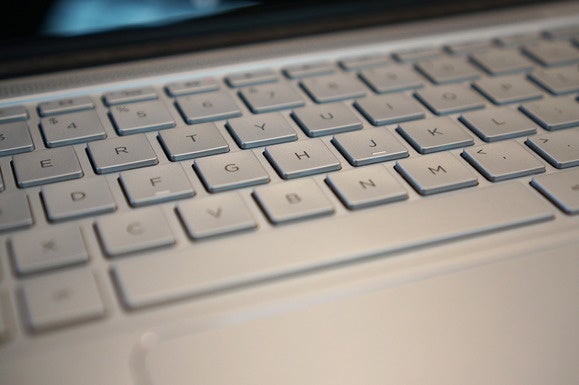 The audio's not bad—see Lenovo's LaVie Z—but you won't win any beat box contests with the Spectre x2 either. The tiny speakers just past the function keys, and two more in the tablet body, are slightly less impressive and slightly more shrill than the Surface Pro 4's array. You lose some of the output when the keyboard is removed, and audio fires away from you when the keyboard is folded back.
For ports you get an analog combo audio port, MicroSD and two USB-C ports. The USB-C implementation supports charging through either side, and HP wisely includes a USB-C to USB-A dongle. Frankly, I'd rather see a standard USB-A port on PCs until the shiny bright world of of USB-C is truly universal. Lose that dongle on the road and you're toast. The USB support is listed as USB 2.0 on HP's website, but the it appears to be an Intel USB 3.0 controller. Alternate mode for display out is supported, and I tested HDMI with no issues. But you'll need to buy the dongle for that.
A RealSense camera on back
The Spectre x2 features an integrated webcam in front and interestingly, a RealSense camera on the back. Where the Surface Pro 4's front-mounted, RealSense-like camera is intended for facial recognition with Windows Hello, HP expects its camera to be used for RealSense applications. Right now it's a work in progress: The one app available was a beta for itSeez3D, which allows you to make 3D models of a person. I tried scanning a co-worker in two different lighting situations, and the results weren't pretty.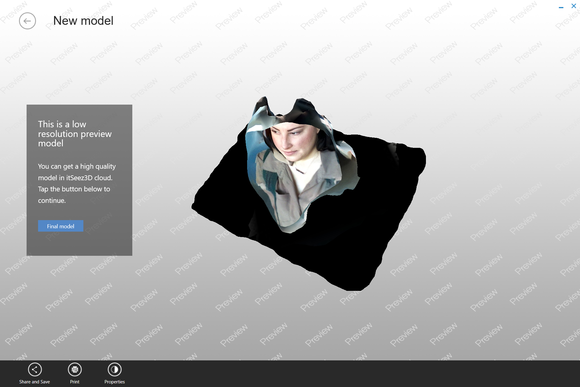 The Spectre x2 includes pen support using a Wacom active stylus rated at 2,048 levels of sensitivity. Yowza! In the pure specsmanship game, that sounds like a lot more than the Surface Pro 3's 256, the Surface Pro 4's 1,024 and the iPad Pro's 1,024. Unfortunately the pen is an extra-cost option (though fairly cheap at $40), so I didn't have it to compare to the Surface Pro or iPad Pro implementations. Regardless, it's probably fine for signing a PDF or document on occasion or doodle while your boss drones on in a meeting.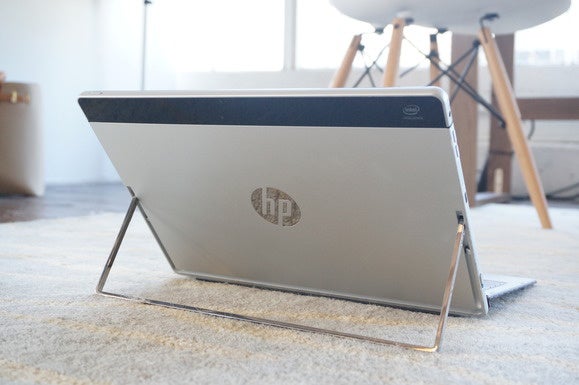 What's inside
Inside you get Intel's Skylake-based Core m3 through Core m7, and from 4GB of LPDDR3/1600 to 8GB of LPDDR3/1600. SSD options run from 128GB to 512GB. The model I reviewed is the Core m7 model with 8GB of RAM and a 256GB SSD.
The SSD is an m.2 Lite-On model hooked up to SATA rather than the faster PCIe. Sequential read speeds will saturate the SATA bus at 550MB/s, but writes are a mid-pack 284MBps according to Crystal Disk Mark 5. For comparison, the mid-range Surface Pro 4 with its NVMe M.2 drive will hit three times that in sequential reads and writes, at about 521Mps. For normal use you won't notice the difference, but under heavier disk chores, like unzipping a large file or copying from a fast USB device, you'll see it.
For wireless you get 2×2 802.11ac and Bluetooth 4.0. LTE. The latter is available only on the mid-range and higher-end models.
If you're turning your nose up at Core m, you shouldn't. When introduced at the end of 2014 with the Broadwell Core M, performance was all over the map depending on how OEMs implemented their fanless designs. The chip eventually earned a poor rep, but it's not deserved. In fact, I'd take a Core M over even Intel's newest Atom x7 any day of the week and twice on Sunday.
In this particular Spectre x2, you're seeing Intel's top part: Core m7-6Y75. Let's take a look at how it performs.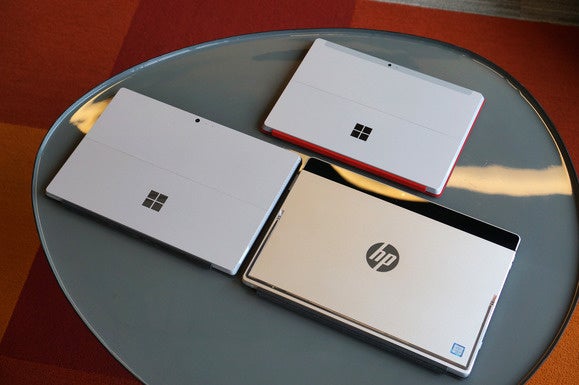 CPU performance
As this is the first Skylake-based Core m chip we're testing, I wanted to dig a little deeper into pure performance. I'll be writing a longer story focusing on Core m performance down the road but it's worth a few more charts than normal today.
First up is Cinebench R15. It's a 3D rendering app, perhaps an unlikely use on the Spectre x2 but still a great tool for measuring computing grunt.
I'm testing all the cores here with CineBench R15, which takes about five minutes to render one frame of a 3D scene. The performance of the Spectre x2 and its Core m7 is a little underwhelming, but not that bad for where it swims. If you look at the chart below, you can see the Core i5 and Core i7 parts with their fans and higher power consumption ratings in front.
The two Asus laptops, the Dell convertible tablet and HP Spectre x2 are all fanless Core M, and it shows. Of the four Core M and Core m-based devices, the Spectre x2 is the slowest by a small margin. The explanation is likely due to its size and having a hot screen pressed up against it. The Dell Venue 11 Pro is also a tablet convertible, but it's as thick as a phonebook so cooling seems to be less of an issue. The two Asus Zenbooks are laptops rather than tablets, so their cooling systems are under less pressure. That Atom-based Surface 3? In racing, it's called dead last.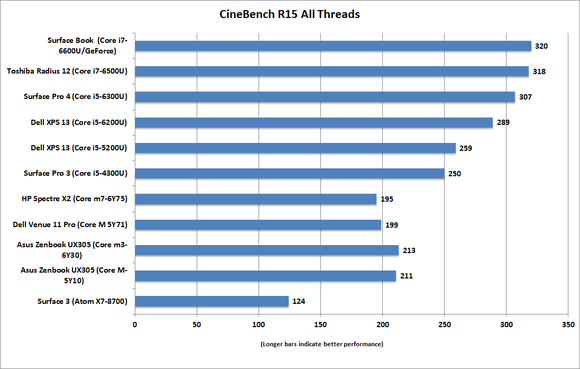 Office performance
You may see the CineBench R15 scores and look down on Core m7, but how does that translate to a task closer to what most people do? For that, I turned to PCMark 8's Work test. It's basically a measurement of performance while browsing, word processing, performing light-duty spreadsheets and video chatting. It really should be called the Office Drone test. The results confirm what you should already know: For Office Drone work, you don't need much and you probably won't be able to feel the difference between a Core m3 or Core i5 chip. The Spectre x2's Core m7 actually turns in the best performance of the fanless Core m devices, which tells me that under lighter workloads that only stress the CPU in short bursts, it's actually faster.
Graphics performance
Moving onto to graphics, I turned to 3DMark's Cloud Gate. Here we can see the nice upgrade the Skylake-based Core m chips get. The Spectre x2 is actually a little faster than the two-generation-old Haswell Core i5 chip in the Surface Pro 3. Graphics also step up over the Core MY71 in the Dell Venue 11 Pro, which was one of the top Core M chips of its time. Even the lowly Core m3 hammers the older lower-end Core M parts.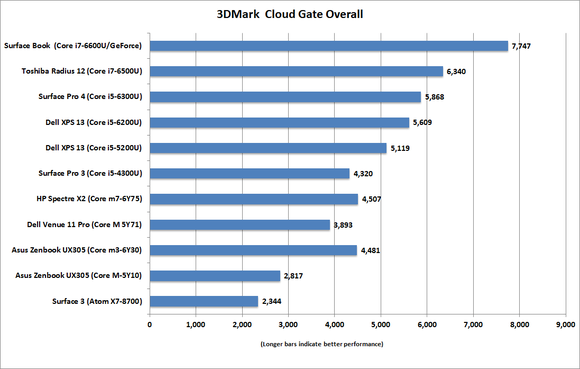 Battery life
Normally we rely on MobileMark 2014 1.5 for our battery tests. This month, however, the test gave us nothing but heartbreak on three different laptops, so something with the latest Windows 10 update is playing havoc. For plan B I decided to use the same video rundown test I did for my Surface Book vs. Mac Book Pro story. I basically looped a 4K short independent movie on airplane mode, with audio on and running into a pair of Samsung ear buds. For backlighting I selected a fairly bright 255 to 260 nits. This is a brightness setting you might use in a well-lit office or home.
As the screen uses most of the power in a device, you can expect this high brightness to reflect in shorter run times. If I cut the brightness in half or more, I'd expect it to add 30 to 40 percent or more battery life. Battery life is also impacted by the video player, so I selected Windows 10's Movie and TV player. It's the most efficient player, period (which I'll document in a future story.)
HP claims 10 hours of video playback for the Spectre x2, while Microsoft claims 9 hours for the Surface Pro 4. Obviously the video file they played, the volume they set and how bright the screen was different. As the Spectre x2 has a slightly larger battery, technically more efficient CPU, and lower-resolution screen, I expected it to at least beat the Surface Pro 4. However, its results using the beefy 4K content and brighter screen gassed out at about 6.5 hours. The Surface Pro 4 actually pulls in a little later but still well under 7 hours of run time.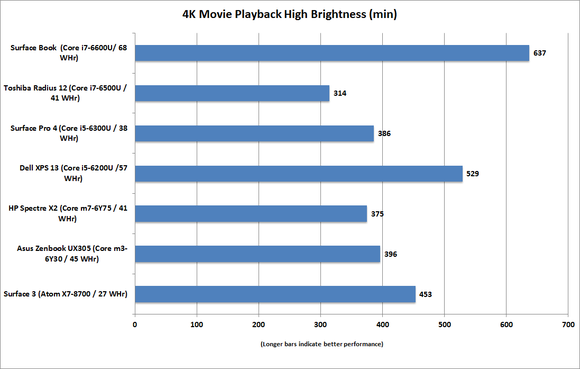 The reason why the Surface Pro 4 prevailed (slightly) likely comes down to the awesome display Microsoft uses. It's incredibly efficient and was measured to use just 4.8 watts of power. For comparison, the iPad Air 2's panel uses 8.3 watts. HP doesn't provide specifics for the Spectre x2's panel, unfortunately, so my educated guessing ends there.
Another area where you're not seeing the savings gains of the Core m7 is the light load video playback puts on the chips. With the efficiency of Windows 10 Movies & TV app, both devices are basically using minimal CPU power to play the 4K video file. The Spectre x2 loses the efficiency contest with the Surface Pro 4, but the worst of the bunch remains the Toshiba Radius 12. That's likely due to its 4K resolution screen. That's just a lot of pixels to light up.
Bang for the buck
Price is one category where the Spectre x2 really shines. The model here you see with Core m7, 8GB of RAM and 256GB with the keyboard and LTE will set you back about $1,150. If we bop on over to Surface-land, a grand gets you a Surface Pro 4 with the bare minimum of 4GB of RAM and a 128GB SSD. You get the pen for free, but the must-have $130 keyboard brings you to $1,130 total.
To get a comparable amount of storage and RAM on a Surface Pro 4, you're looking at the Core i5 model for $1,430 with the keyboard. That doesn't even count the LTE modem in the Spectre x2, which Microsoft doesn't offer currently—and if it did, it'd probably cost $100.
One advantage you get with the Surface Pro is Windows 10 Pro vs. Windows 10 Home on the Spectre x2. To get Pro on the Spectre x2, it's another $70 and closes the price gap. For most consumers it won't matter but you won't be able to run BitLocker with Win10 Home. At least there's device encryption though. Here's the official OS comparison.
Business sensitive users may also be put off by the apparent lack of Intel's vPro that makes it easier to manage a fleet of machines. I say apparent because HP tells me vPro isn't available on the Spectre x2 instead you need an HP Elite x2. What's a little unclear to me is why Intel's ARK shows the the Core m7 with vPro support. For vPro support, you also need a chipset that supports it but the Core m7 is a package deal with chipset on it so I would imagine that if the CPU supports it, Intel ships a chipset with it. I'm working to clarify this.
The Spectre x2 is such a deal, it really competes with the budget Surface 3 too. Yes, the Surface 3 is smaller and lighter, and that plays well to its basic computing use but the base Spectre x2 with a Core m3 chip, 4GB of RAM, 128GB SSD and keyboard included will set you back $800. To get to the same RAM and storage as the Spectre x2 with a Surface 3 will cost you $729.
I've made my peace with Atom, and Atom X7 is definitely an improvement over the previous iteration but you're getting a lot more computer for Spectre x2's extra 11 ounces of weight.
Conclusion
So is the Spectre x2 a better Surface than the Surface Pro 4? I had high hopes, but it looks like Microsoft's higher-end components are paying off.
For a first attempt, though, this ain't bad. I really see the Spectre x2 as more of a half step back behind the Surface Pro 4. For people who just want the same form factor for general use, the Spectre x2 is a worthy alternative and certainly gives you more value against the Surface Pro 4, and more performance against the Surface 3.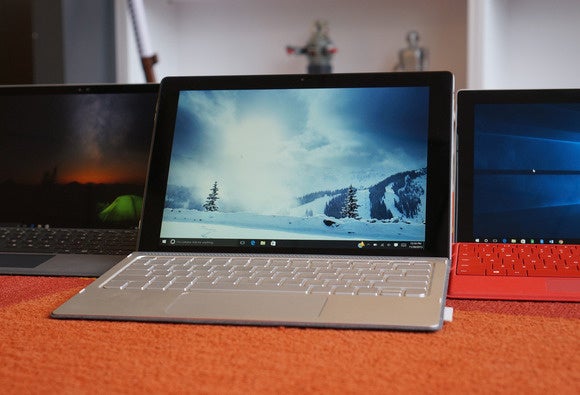 Correction: We re-measured the Spectre x2 and have updated our measurement for thickness to reflect the unit's overall dimensions.
Best Prices Today: HP Spectre X2