If you purchased your computer in the last decade, it probably has a 64-bit-capable processor. The transition to 64-bit operating systems has been a long one, but Google is about to give Linux users another push. In March 2016, Google will stop releasing Chrome for 32-bit Linux distributions.
In an update posted to the Chromium-dev mailing list, Google's Dirk Pranke wrote:
"To provide the best experience for the most-used Linux versions, we will end support for Google Chrome on 32-bit Linux, Ubuntu Precise (12.04), and Debian 7 (wheezy) in early March, 2016. Chrome will continue to function on these platforms but will no longer receive updates and security fixes.

We intend to continue supporting the 32-bit build configurations on Linux to support building Chromium. If you are usingPrecise, we'd recommend that you to upgrade to Trusty."
If you're still using a 32-bit version of a Linux distribution, you should probably upgrade to a 64-bit version. Your computer almost certainly supports it unless it's 10-plus years old. But what if you can't?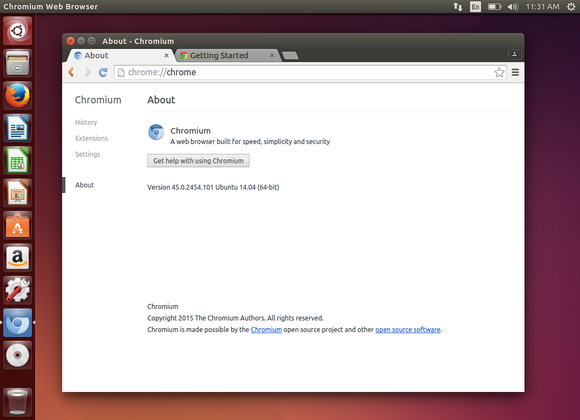 Well, don't worry. If you love Chrome, you can install Chromium from your Linux distribution's software repositories. The Chromium source code that Chrome is based on will continue supporting 32-bit Linux systems, so it will continue receiving updates. It's almost the same, and it even includes support for syncing your Google account. It just doesn't contain a few closed-source or patent-encumbered features, like the integrated Flash plug-in and support for H.264 (MP4) and MP3 media.
You can also continue using other browsers, like Mozilla Firefox. As Pranke said, the 32-bit version of Chrome won't suddenly stop functioning, but it will stop receiving security updates—you shouldn't continue to use it past the March, 2016 cut-off date.
Want to stay up to date on Linux, BSD, Chrome OS, and the rest of the World Beyond Windows? Bookmark the World Beyond Windows column page or follow our RSS feed.
This is just another sign of the times. Mainstream Linux distributions recommend you use the 64-bit releases if possible. You can still continue using the 32-bit version, and Google is still supporting it somewhat by ensuring the open-source Chromium code continues to build for 32-bit. But Google is spending less time and effort supporting it and is encouraging users to move on.