At a Glance
Expert's Rating
Pros
Clean, minimalist design
Smallish form factor takes little room
Cons
Limited to a single graphics card
Our Verdict
Starting at a little over a grand in a minimal configuration, this smallish and modestly adorned gaming PC caters to the bling-averse user. Our $1899 test unit was impressively fast, quiet, and well-assembled.
There are people who want their gaming PC to embody the fantasy: super-sized case, neon backlighting, strobe lights. Others just want to play and keep the means as far removed from their consciousness as possible. If you fall into the latter category, then Velocity Micro's Raptor Z40 should be on your short list.
Design
At only about 13 inches high and deep, and 8 inches wide, the Raptor Z40 will fit places that can't house a massive tower. That's its first trick for staying out of the way. The second is minimalist styling—the box and chassis are constructed entirely from black aluminum, and the brushed exterior lends an air of class.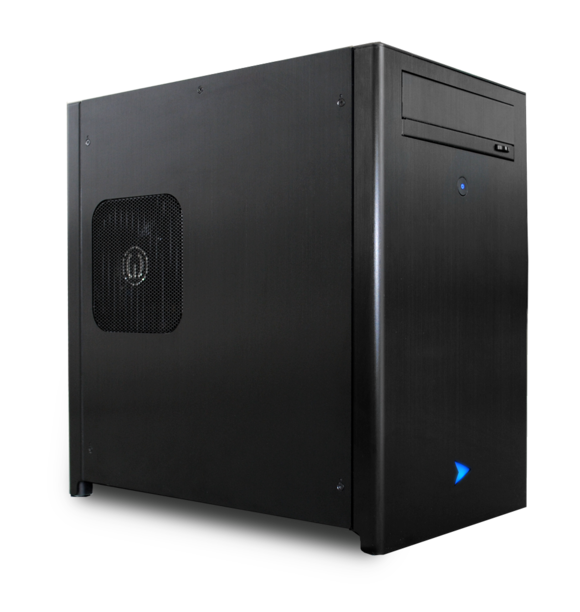 About the only possible distractions on the Z40's exterior are the power button, a small logo, the optical drive (an Asus 24X DVD burner), and two USB 3.0 ports on the lower right side of the faceplate. I'd rather they were at the top as I generally place my desktops on the floor, but that's a minor complaint.
The interior is very clean, with no cable clutter. Although there's enough space to accommodate the largest graphics cards, the interior is snug otherwise. The CPU cooler on our system was a low-profile Phanteks PH-TC12LS that barely whispers. All the fans were quiet, so the white-noise factor for the Z40 is mild indeed.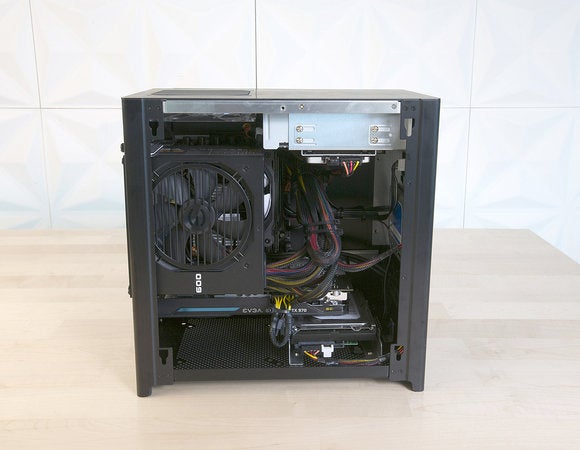 Components
The $1,899 mid-range configuration we tested contains a Core i7-6700 CPU, 16GB of DDR-2400 memory, plus the capable but slightly infamous GTX 970 GPU (512MB of the card's 4GB of VRAM are considerably slower than the rest). Storage consisted of two 250GB Crucial BX100 SSDs combined in RAID 0 for running the OS and apps, plus a 7,200rpm, 2TB Seagate hard drive for storing your other stuff. There are lesser configurations available, starting at $1,089. You can jack up the price to nearly $4,000 if you opt for a GTX Titan, larger SSDs, etc.
This is a Skylake system, so power usage is fairly parsimonious, but nonetheless, our configuration had a slight uptick from stock in the form of a EVGA 600W Bronze 80+ power supply. It's modular, which is handy given the tight quarters.
The motherboard is an Asus Z170I, which features Intel's Z170 chipset. It's a very nice board, with a colorful and easily navigable BIOS. If Asus is going to advertise the ability to assign applications an Internet pathway (gigabit ethernet or 802.11ac Wi-Fi), however, it would be nice to have dual ethernet connectors on the motherboard. Just sayin'.
Having recently reviewed Samsung's new 950 Pro M.2 NVMe SSD, I'd also rather have seen a 256GB version of that product in the Z170I's M.2 port than the RAID setup. It's a little more expensive, and you only get half the capacity, but you're talking twice the sustained read speed, and faster everything else.
Well, at least that was the way I was thinking before Velocity Micro informed me that it was named in a Samsung had brought against Nvidia, simply because it bundles Nvidia graphics boards—as every other PC vendor in the world does. So maybe a Kingston HyperZ Predator M.2 drive then.
Regardless, the M.2 slot is there as an upgrade path, and Velocity will honor any request to configure the Raptor Z40 with an M.2 SSD, even though there's no option for one on the Z40 configuration page.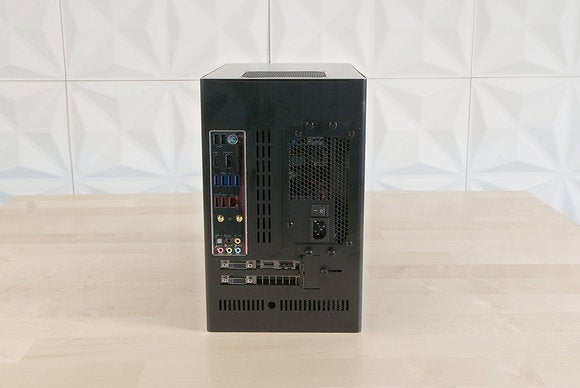 Ports
On the back of the Z170I are eight USB ports: two type 3.1 courtesy of ASMedia, four type 3.0 from the Intel chipset, plus two type 2.0. There are two more USB 2.0 types available via a motherboard header (the USB 3.0 motherboard header provides the aforementioned faceplate ports). The Z40 also has full-size DisplayPort 1.2 and HDMI 1.4 ports, a single gigabit ethernet port, dual Wi-Fi antenna jacks, and the usual 7.1 analog and optical surround audio outputs.
That's a well-rounded selection, but what truly made my day was the PS/2 port on the back. As the proud owner of three IBM Selectric-style model M keyboards from the 80s, this was a cherry on top.
The GTX 970 in this Raptor Z40 had two DVI ports, DisplayPort 1.2, and one HDMI 2.0 port. This particular combination of ports wasn't capable of driving the Dell 2715K display I used for testing at its full native resolution (5120×2880), but it'll handle 4096×2160 at 60Hz or 4K Ultra HD (3840×2160) just fine.
This configuration of the Z40 also offers no HDCP 2.2 support—not through the integrated Intel HD 530 graphics, nor the GTX 970. In the future, you may have issues with copy-protected UHD or 4K content if you order a system with the GTX 970. The GTX 960 and 950 do support HDCP 2.2, so if UHD media is more your thing than 2500×1600 gaming, you could back off a notch on your chosen video card and save a couple of bucks.
Performance
Our Raptor Z40 racked up a fairly impressive system performance, scoring 3,694 in PCMark 8's Work Conventional benchmark and taking about 46 minutes to convert a 30GB 1080p MKV file to a 720p tablet-friendly MP4. That's a decent step up in performance from our reference system with its Core i7-4770K.
The tandem SSDs read data sequentially at 1,044MBps and wrote it at 724MBps. Not M.2/NVMe-like performance, but still much better than a single SSD. Even the hard drive was decently fast, reading at almost 200MB/s.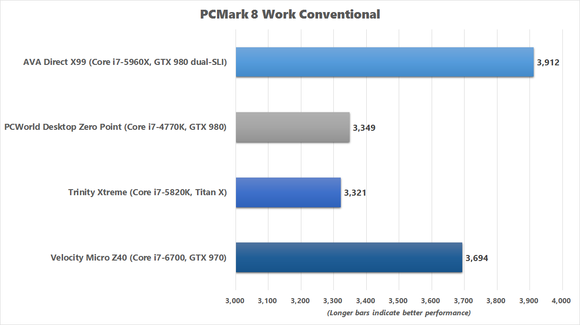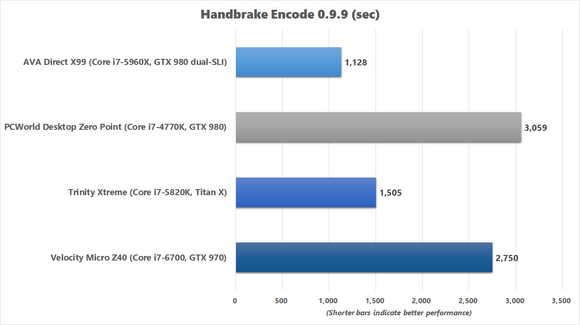 The Z40's gaming scores were about what you'd expect from a Skylake system with a GTX 970 pushing pixels: 5,364 on in 3DMark's FireStrike Extreme, 58.5fps in Tomb Raider on Ultra settings at 2500×1600, and 70.03fps in BioShock Infinite on Ultra settings. Not bad.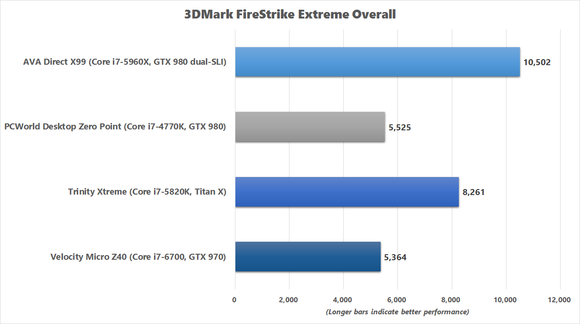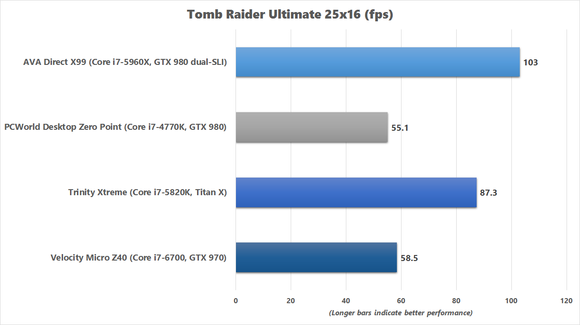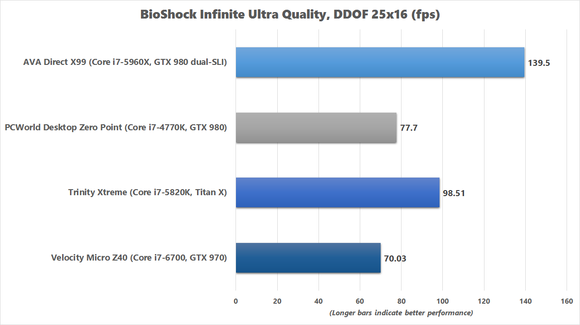 Conclusion
I like this box. It stays out of the way, and there's plenty of power and room for a more powerful single-slot GPU should you feel the need. Then there's that M.2 slot just waiting to double your data throughput. To boot, at $1,899 Velocity isn't charging you an arm and a leg for professionally wrapping these components in a nice neat package. It even includes a one-year warranty on the build, in addition to the various component warranties.