The Amazon Fire tablets' blend of affordable pricing and its killer FreeTime parental controls have long made them a top choice for a child's tablet—I picked one up for my daughter just last year, in fact. Some new features that Amazon's starting to roll out today help to amplify that kid-friendliness.
The Fire OS 5 "Bellini" update for the Amazon Fire HD 10, Fire HD 8, and Fire tablets most notably adds a new child-centric browser within the cordoned-off FreeTime section, though you'll have to activate it. Amazon teamed with Common Sense Media to hand-pick more than 40,000 curated websites and YouTube videos for children, which can all be accessed for free via the FreeTime browser. Parents can also whitelist specific websites of their choosing.
If your kid's outgrowing the confines of FreeTime—which is mostly designed for younger children—but you don't want to grant them unfettered, unmonitored access to the wild, wild web, you'll want to check out the Fire tablets' new Activity Center for parents. While it won't let you lock down your child's experience, Activity Center will let you visit a secure webpage on any device to peruse how much time your child spends playing games, watching videos, and reading on her tablet. You can also peek at your child's browsing history in Activity Center, as well as the specific apps, books, and videos that were accessed.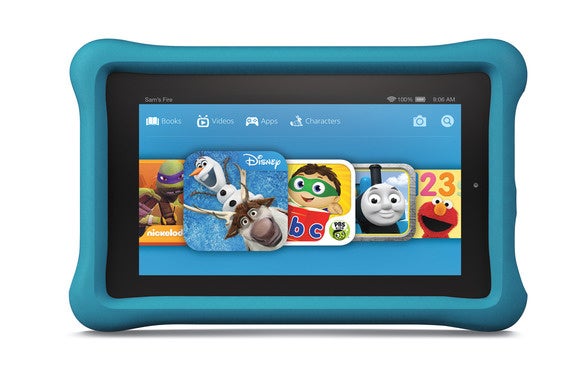 Finally, the Fire OS 5 Bellini update's tossing adults a bone, too, with a new "Blue Shade" feature that "adjusts and optimizes the display on Fire tablets for a more comfortable nighttime reading experience." Blue Shade reduces exposure to blue light at night—medical research shows blue light can affect how you sleep—and offers warm filters and low-brightness options for better bed-time reading.
Amazon says the Fire OS 5 Bellini update is starting to roll out today, and everyone should receive it in the next couple of weeks.
The story behind the story: Where the Fire Phone went the gimmicky route and failed miserably for it, Amazon's focus on its tablets has been to deliver features that are truly useful to customers, and it's paid off. Amazon's Fire tablets may not be flashy, but they've been some of the best-selling Android tablets since the very day they've launched, and earlier this week Amazon boasted about record Fire tablet sales over Black Friday weekend.