Google just stripped a major feature from Chrome—but it's one you'll probably never notice is gone, and it's just the latest casualty in the new war on browser bloat.
On Tuesday, Google pushed Chrome 47 to the stable channel, an update that removes the browser's notification center on Windows, Mac, and Linux. The notification center delivered all kinds of information to your desktop, including package tracking updates, weather, sports scores, and other information typically seen on Google Now. It also saved notifications from Chrome apps in a central spot in case you missed them.
It sounded like a good idea at its introduction in 2013, but Google said in October that no one really used the feature. With notification center gone, web developers must now turn to web push notifications, which first appeared in Chrome beta builds back in March.
Browser bloat
Both Google and Mozilla are streamlining their browsers by removing rarely used features. The end of Chrome's notification center comes after "Ok Google" hotword detection was removed from the browser in October.
Mozilla, meanwhile, recently said it would get rid of two long-running features in Firefox. Tab groups, a method for managing a large amount of tabs by organizing them into categories, is set to disappear from Firefox in the near future.
Similarly, complete themes for Firefox are also hitting the scrap pile in the coming months. Complete themes, as the name suggests, completely change the interface elements in Firefox. You can get a walnut theme that makes Firefox look more like a wooden board, for example, or one of the many dark themes that give Firefox a "classic black" overhaul.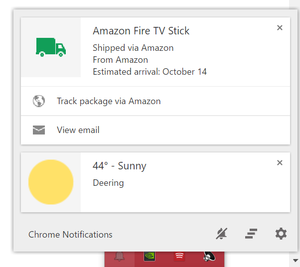 Google appears to be dumping features simply because not enough people were using them. Mozilla, meanwhile, is getting rid of features like Tab Groups as part of its "great-or-dead" effort—the idea being that features that are used by a sliver of the user base but require a big effort to maintain and improve should be dumped.
Once Mozilla developers are freed up from maintaining a sprawling list of features they can focus on moving faster to get newer versions of Firefox out the door.
Cutting rarely used features is a great move for both Chrome and Firefox since browsers have a very fine line to walk in 2015, especially on PCs.
The web browser is one of the most important and oft-used programs on anyone's desktop. On the one hand, all you really want to do is use it to view websites and work on web apps. But since it's so important, it also makes sense to add extra features that try to solve common browser problems like managing desktop notifications or massive amounts of tabs. If people aren't taking advantage of these features, however, developers either have to cut them or come up with better solutions.
If little-used features aren't removed, browsers risk becoming slow, weighed down by useless bloat. That's a problem Chrome has arguably had for a while on Windows with its noticeably long start-up times.
Hopefully, both browsers will continue to innovate with new features that better integrate the web with desktop PCs, while always keeping a watchful eye on just how big their feature lists are getting.