Printer maker Epson just revealed a new machine that spits out pages at a stunning rate of 14 per minute. Wait! Don't stop reading yet. That pace only sounds bad when we're talking about printers. This behemoth isn't printing paper—its making it, from materials you'd otherwise toss in the trash.
The company recently announced PaperLab, the world's first in-office paper recycling system, as Ars Technica first reported. You stick used paper in this machine and a few minutes later, fresh sheets of A4 or A3 paper spit out.
Epson says this is the first "compact office paper making system" that can recycle paper without the use of water—an important ingredient in traditional paper recycling. "Given that water is a precious global resource, Epson felt a dry process was needed," the company said in its PaperLab announcement. Despite the water-free claim, Epson says PaperLab does need a small amount of water to maintain humidity within the machine.
Epson will show off a prototype of PaperLab during the Eco-Products 2015 conference beginning next Thursday in Tokyo. Then in 2016, PaperLab will roll out in Japan as a test market, with further international releases "to be decided at a later date."
The current prototype will take up a good amount of space at 8.5 feet wide, 3.9 feet deep, and nearly six feet tall. That's not something you'd want to keep in your living room, but could work well in an office with a big storeroom.
Epson has yet to announce pricing or a specific launch date in Japan.
Why this matters: The ability to make your own paper at the push of a button could be a huge win for companies looking to save money. But there are a lot of unknowns about this machine right now. We don't know how much waste paper it takes for PaperLab to make 14 fresh sheets, for example, or how much energy this machine consumes. Those are both key points that will help determine if using PaperLab makes more economic and environmental sense than dumping waste paper in blue buckets.
PaperLab's three-step process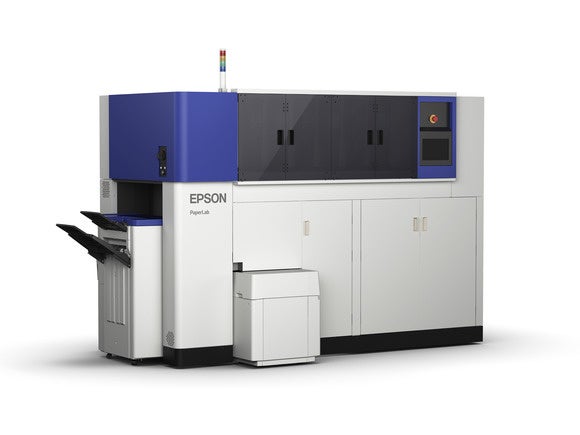 Although Epson is staying mum on how much power and waste paper the device requires, the company did explain its three-step process for creating new paper.
Once you put waste paper into the machine, PaperLab turns the sheets back into fibers, which Epson says destroys confidential documents—making this a paper shredder and paper maker in one.
Next, the fibers are bound together with other material to increase paper strength and whiteness. At this stage, the machine can also add color, fragrance, or flame resistance to your new batch of paper.
Finally, the machine uses pressure forming to create the final product, which can be business cards, A4, or A3 paper at various thicknesses.
PaperLab may not be coming to the U.S. anytime soon, but this is a fascinating idea that offices around the world will want to watch closely.