Most people when trying to maximize their gaming experience focus on the quality of the game and their computer's processing power. But an often-overlooked variable that can greatly affect the experience is a decent gaming headset. It's especially important if you plan on getting the best out of multiplayer games, where you're just as likely to use your headset to chat with friends as you are to use it as a strategic tool to help you win.
As you'd expect, there's no shortage of gaming headsets out there. No one wants to wade through the myriad options only to settle on one that ends up leaving you disappointed. That's why I've done all the heavy lifting for you, testing a ton of different headsets to find the best. Below you'll find my curated list of the very best gaming headset models. I've included both wired and wireless models as well as premium cans and budget-friendly options that won't break the bank.
My quest for the best gaming headsets is ongoing, so expect this list to change and evolve over time.
Why should you trust me? Because I'm a hardcore gamer and tech user like you, which means I'm always on the hunt for better gear to improve my own experience. More than that, I've spent many years weighing up the pros and cons of the latest new release gaming headsets, so you could say I know more than a thing or two about them.
Consequently, you can rest assured that if a headset is good, I'll let you know about it. Likewise, if a device doesn't cut it, I'll be as quick to say just that. I totally get that modern gaming headsets are expensive too, and I want you to get maximum bang for buck on your next purchase. To see the criteria I use to test each product and some helpful buying advice be sure to read on below the picks.
Updated 09/13/2023: We have a new addition to our list, with the Roccat Syn Max Air being both the best RGB headset and the best headset for people who wear glasses. Practicality meets pizzaz. Seriously, this flashy wireless gaming headset's programmable RGB cups are stunning. Read more about it below.
Logitech G935 – Best mid-range wireless gaming headset
Pros
Leatherette is a classy change from the G933's sports mesh
Hidden microphone and dongle storage are great features to have
One of the best-sounding headsets at this price
Cons
Still bulky and boxy compared to the competition
Mediocre battery life
Very little noise isolation
Price When Reviewed:
$169.99
At $170, the G935 is a mid-range gaming headset, costing half the price of some premium headsets. Yet its generous feature-set includes a few high-end luxuries. They include a folding boom mic, dongle storage compartment, and stylish leatherette earcups. These features somewhat make up for things like its boxy design and mediocre battery life.
It also excels in the audio department, with its 50mm drivers providing a deeper, more authoritative bass presence than you'll get from the 40mm drivers in some mid-range wireless gaming headsets. Add to that easy-to-use controls, and you can see why the G935 is an excellent option for gamers on a budget.
Read our full
Logitech G935 review
HyperX Cloud Core Wireless – Best budget wireless gaming headset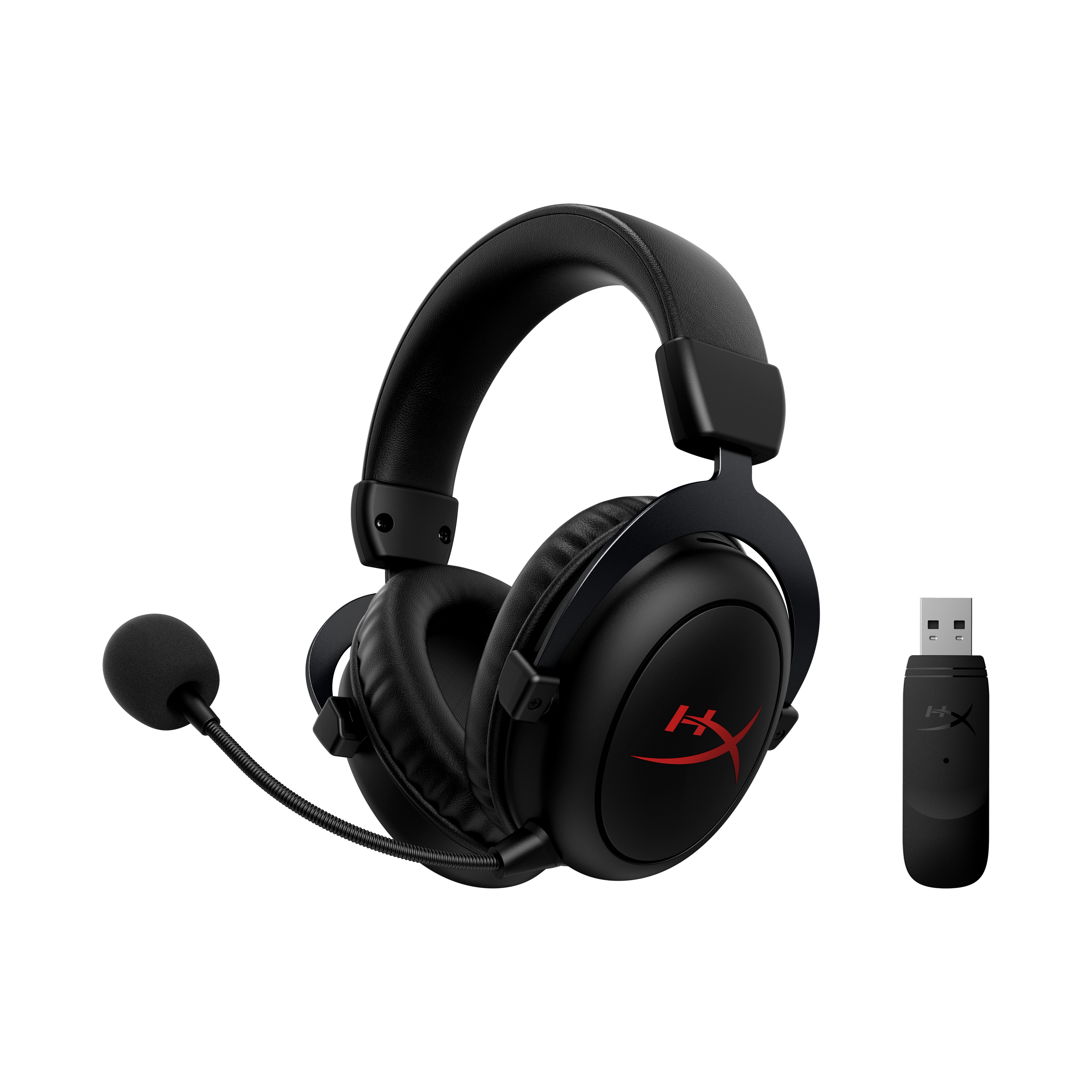 Pros
Decent audio quality, with deep bass and clear mids and highs
Durable, strong and portable design
Highly comfortable earcups with memory foam cushioning and leatherette coverings
Cons
No Active Noise Cancellation
Metal headband attachments can sometimes trap your fingers
Price When Reviewed:
$99.99
The HyperX Cloud Core Wireless headset delivers the outstanding audio you would expect from a much more expensive model, but for only a fraction of the cost. At less than $100, it is hard to go wrong with this quality gaming headset—especially if you're on a budget.
By focusing on the things that matter most to gamers without worrying about extraneous software support or expensive sound enhancement settings, HyperX has been able to provide an excellent product at an incredibly affordable price. The lack of setting controls might not appeal to audiophile tinkerers, but its ease-of-use, quick connectivity, and excellent spatial audio make it a gamer's dream. It also sports a super compact design and cross-compatibility with consoles.
Read our full
HyperX Cloud Core Wireless review
How I test gaming headsets
Because no two gaming headsets are the same, I put each product through a thorough testing protocol. I analyze everything from how comfortable and durable they are, to how they perform in games and the software support they get via their manufacturer's apps. Here's a list of the main categories I look at:
Design and comfort
You'll spend an awful lot of time wearing a gaming headset, so it's vital that it feels comfortable. Here I look at design features that either add or subtract from your overall comfort experience—features like a headset's shape and weight, how well it fits on your head, and the amount of padding in the earcups. But design also plays a big role in a headset's functionality, so I also look at how adjustable the band is, and how accessible the controls are.
Audio quality
There's no point owning a headset with comfortable leatherette earcups if it can't muster a decent sound. That said, I do a lot of listening to get an overall impression of a headset's audio quality. I take notes on the clarity of the sound, how well the headset produces pitch, and in the case of wireless headsets, how much signal interference there is. My listening is guided by what I know about the headset's hardware or software. For example, if a headset has Active Noise Cancellation (ANC), I'll investigate how well the headset can isolate sound and block out noise. I also test the microphone, listening for muffled sounds, static, robotic noises, and any echoes—all signs there could be a problem.
Software support
With audio technologies getting ever more complex, gamers have more tools at their disposal than ever via headset apps. Technologies like Hi-Res audio, Spatial Surround Sound, and Parametric EQ all spring to mind, which is why I look closely at the kind of software support on offer.
FAQ
---
1.
Should I get a wired or wireless gaming headset, or one with both connectivity types?
Historically, gamers have mostly chosen wired headsets over wireless ones. That's because, until recently, wired headsets were considered much better at delivering fast and secure audio signals than wireless headsets. Nowadays, thanks to the adoption of faster 2.4GHz Wi-Fi band technology, wireless headsets can also transmit audio signals very quickly and with minimal interference.
Consequently, if you're a casual gamer and not too fussy about the very miniscule risk of your audio dropping out, a wireless headset should be completely fine for your gaming needs, the main advantage being you'll get tons of extra mobility while still being able to listen to your game's audio—something you don't get when you're tethered by wires.
Admittedly though, if you're a serious gamer or esports player, you may still want to avoid that small chance your wireless signal will suffer some degree of loss or interference—even if that's less likely than ever. If the stakes are high, a wired set will provide a little more surety that you won't miss any crucial game moments, which could make all the difference in a closely contested match.
If you can't decide, there are headsets now like the SteelSeries Arctis Nova Pro Wireless that provide both wireless and wired functionality in one easy unit and can switch between these modes in less than a minute. These headsets can cost significantly more, so be willing to pay for the privilege.
2.
What else should I know about gaming headset connectivity?
Another thing to consider is which devices you might want to connect to, since wired and wireless headsets have different compatibilities. For example, most wired headsets connect to your computer via a USB-C connection, but unlike many wireless units, some also have 3.5 mm audio jacks, so they tend to be compatible with a broader number of devices—like smartphones, gaming consoles, and tablets.
Wireless devices on the other hand, connect to your device via a USB-C dongle or Bluetooth connection, which does narrow the number of devices you can use them with to either those that are Bluetooth compatible, or that come with USB-C ports.
3.
Why is comfort so important in a gaming headset?
While you can possibly do without fancy styling, you should never buy a headset that's going to cause you discomfort. That's because even a small amount of force or abrasion from wearing your headset can be extremely unpleasant and result in neck pain, a rash, cranial pressure or worse.
A huge consideration here is how your headset fits on your head and ears. Granted, you won't always have the opportunity to try them on, it pays to look closely at PCWorld product reviews where our reviewers have done the wearing for you and have summarized how they feel, even after extended periods of time with them on.
You should also pay close attention to product descriptions for the features that indicate that a manufacturer has made comfort a priority. Things you'll want to tick off your check list are:
a) The headset has a flexible band to minimize pressure and that the band is height adjustable to fit your ears.
There is sufficient padding on the earcups and the material is hypoallergenic so it won't cause skin irritation.
b) The earcups are easily rotatable—since this will ensure they move with your head as it moves.
If possible, you should avoid headsets that are excessively heavy, or tightly fitting, since the added weight and clamp force will undoubtedly cause problems. When it comes to comfort, the more premium headsets tend to do better, so again it can be a matter of paying more to get more.
4.
What kind of build quality and styling should I look for in a gaming headset?
Although wear and tear is an inevitable result of using a gaming headset, some will stand up to the rigors of gaming better than others simply because they're made from tougher stuff. Ideally, you'll want a gaming headset that has a metal frame and headband for durability, since plastic ones break quite easily. Metal bands also look more premium, so it's a win-win.
Cushioning for the headband and earcups can be made from leather, velour, pleather, or foam. Leather and pleather (fake leather) look and feel luxurious. They also tend to be the most resistant to wear, but these materials aren't very breathable and can cause sweaty ears during long gaming sessions. Foam is the opposite in that it'll keep your ears cool, but disintegrate quicker. Sitting between the two, velour keeps your ears relatively cool but tends to be fairly resistant to wear and tear.
That's more of a general rule than an absolute. If you do prefer a material other than velour you can buy anti-sweat or abrasion-resistant covers for your headset's earcups, which will help them last a little longer.
If your headphones do succumb to wear and tear, some manufacturers offer the option of purchasing and swapping out damaged parts. Replacing your earcups can refresh your headset's look and feel. But having a headset with replaceable cabling can actually save you from having to buy a whole new set if the cabling wears right through.
5.
Is noise isolation important in a gaming headset?
How well your gaming headset isolates noise makes a big difference to its sound quality. This is especially the case when you're playing first-person shooters (FPS), where external noise can make it more difficult to locate the direction of sounds, like the footsteps of approaching enemies. In marketing materials, manufacturers will often use terms like Active Noise Cancellation (ANC) and passive noise isolation, but these terms mean quite different things. Here's a quick definition of each:
a) Passive noise isolation: How well a headset can block out external noise just by forming a physical noise-blocking barrier over your ears.
b) Active Noise Cancellation: A technology incorporated into your gaming headset that actively blocks or filters out ambient noise so the sound you hear is the clearest it can be.
If possible, you'll want a headset that sports both passive noise isolation as well as ANC, since these noise-blocking measures both have benefits. Passive noise isolation tends to be better at blocking out higher-pitched sounds, whereas ANC is more effective at blocking out lower-pitched sounds—like background noise and the sound of traffic. How well ANC and passive noise isolation work can vary greatly among headsets, so it's worth doing your research to find a headset that makes the cut.
6.
Why is surround sound important for a gaming headset?
Of all the technologies that come packed into gaming headsets, this one provides arguably the best tactical advantage for gamers. Headsets with surround sound utilize spatial audio technologies like Dolby Atmos to create a 360-degree soundscape. Multiple speakers deliver the sound at different positions in each earcup, telling your brain its precise location in your games.
If you play FPS games like Overwatch, Fortnite, or any of the Call of Duty or Battlefield games, this can have real-time benefits, like being able to hear players sneak up on you from behind, or pinpointing the direction of grenades rolling towards you, so that you can react accordingly. It's the kind of technology that takes a bit of getting used to, but when you do, it can be a real game changer.
Headsets with surround sound technologies tend to be expensive, so if they're out of your price range don't worry too much. Most headsets also come with decent stereo, which will still do a good job relaying the general direction of sounds.
7.
What kind of microphone is best for a gaming headset?
Most games use either in-game chat or external chat apps like Discord, so a decent microphone is a must-have. Mics in gaming headsets tend to come in two flavors: hyper-cardioid, that pick up the sound directly in front of them, or omnidirectional, that pick up sound from different directions.
If you plan on using your headset just for gaming, a cardioid mic should do the trick, since you can use it to chat to folks in your game and then move it away from your mouth to chat to others in the same room. If however, you plan on also using your headset for, say, work meetings as well as gaming, an omnidirectional microphone will better pick up the sound of both you and your colleagues talking. Additionally, if you plan on using your set as a pair of headphones, you'll need to make sure your headset's mic is detachable.
The sound clarity and ease-of-use of your microphone is also important. We suggest looking out for features like noise cancellation and sound dampening for a better-quality sound experience. For convenience, an automatic mute button is useful when you want to quickly block out any sound from your end.