Microsoft's Bing has launched an election site for those who prefer their nuanced political positions boiled down into easy-to-read charts and graphs—and yes, Bing will try and predict the outcome at a later date.
On Tuesday, Microsoft launched the Bing Political Index, an informational box that will appear when users access the site through a direct link, Bing.com/elections. But a candidate-specific box will also appear when users begin searching for that candidate's name, such as "Donald Trump".
The site lists the candidates alphabetically by name in a horizonal carousel, with candidates who have withdrawn from the race (Bobby Jindal, at press time) at the end. Bing breaks down each candidate by their position on the issues, a timeline of key quotes and events, how the candidate has fared on Twitter or Bing by number of queries, and, finally, a general biographical overview complete with funding numbers.
Why this matters: It seems a little condescending to boil each candidate's viewpoint on a given issue down to a numerical score—though, if you try to follow the twists, turns, and quotes from each candidate on a daily basis, it begins to make a bit more sense. Voters start to tune in as the primaries draw closer, and the political winds can dramatically shift, and fast. One example: though Donald Trump is considered to be the de facto front-runner for the GOP nomination at this stage of the game, FiveThirtyEight.com considers him to be an absolute non-entity, considering his lack of endorsements from established politicians. Soon, we'll know who was right.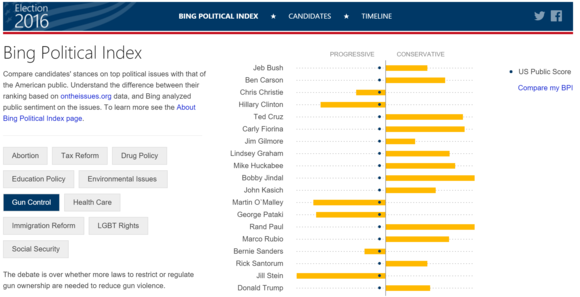 Scoring the liberals, conservatives
Most of the site is devoted to what Bing calls the "Bing Political Index" (BPI), a relative position on abortion, tax reform, environmental policy, gun control, health care, and more. The comparison, according to Bing, relies on two scores— a "Candidate Score," derived from issue analysis work done by ontheissues.org, and a "Public Score," the public's consensus on a given issue, using data collected by the Bing Predicts team and its predictive learning algorithms. Each BPI score will be updated on a monthly basis, reflecting the evolving positions of the public and each of the candidates.
By default, each candidate is compared against the Public Index across a variety of issues. Users can also compare each candidate to another. Alternatively, users can track a given issue, and see where each of them stands on it. And if you'd like, you can take a short quiz designed by Ontheissues.org to determine how you lean on each issue—then find the candidate who is most aligned with your views.
Bing, however, has developed a reputation for its "Bing Predicts" algorithms, which have had varying degrees of success. In the knockout rounds of the last World Cup, Bing correctly predicted the outcomes of each match, including the final; Bing didn't fare nearly as well in last year's NBA playoffs, with just 61.7 percent accuracy, according to its own estimates. Bing has also predicted the winners of reality programs such as Dancing With the Stars (95 percent) and The Voice (85 percent) whose outcomes are at least partially determined by social media.
As for the 2014 midterm elections, Bing claimed to be 97 percent accurate in predicting the outcome of the Senate races, 96 percent accurate for the House, and 89 percent accurate in predicting the various governors.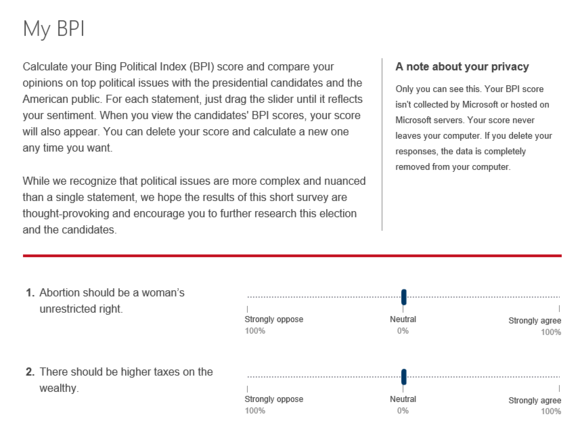 Not surprisingly, Bing will throw its hat in the 2016 elections, a spokeswoman confirmed. "Microsoft will be coming out with predictions in the coming months," she said in an email.
Bing will contend with traditional pollsters and gurus, such as Nate Silver, who correctly predicted the winner of the presidential election in each of the 50 states. Silver now somewhat inexplicably works for ESPN.