While other operating systems dabble with mobile or push the bleeding edge, Mint's shaping up to be the Old Faithful of the Linux desktop world.
Linux Mint 17.3 "Rosa" continues a series of stable releases built on the Ubuntu 14.04 LTS code. Rather than hacking away on experimental features or adding all the latest low-level software, Mint's developers have been spending their time polishing the Cinnamon and MATE desktops. "Rosa" is yet another solid release that will please fans of Mint and anyone who misses the more traditional Linux desktop.
The latest release of Linux Mint is now out. Linux Mint 17.3 "Rosa" is based on the stable Ubuntu 14.04 LTS code, just like the other Linux Mint 17 releases before it. It contains both updated software and improvements to the Cinnamon and MATE desktops.
Want to stay up to date on Linux, BSD, Chrome OS, and the rest of the World Beyond Windows? Bookmark the World Beyond Windows column page or follow our RSS feed.
What's new? Polish, polish, and more polish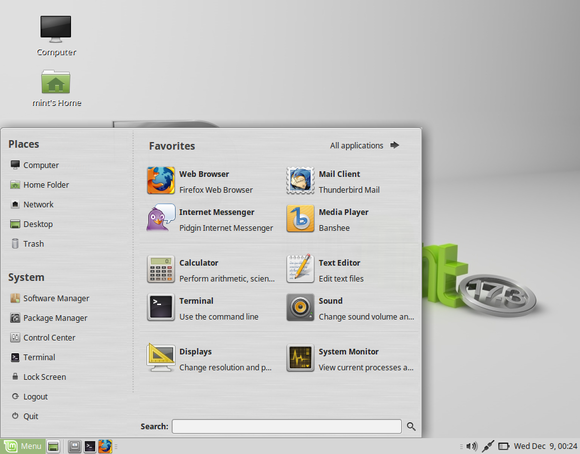 Linux Mint 17.3 bumps the underlying Linux kernel to version 3.19, which should offer improved hardware support. Version 4.2.0 of the kernel is also available in the repositories, but is known to cause problems with AMD's proprietary fglrx graphics drivers and ndiswrapper, which is used to make some Windows Wi-Fi drivers work on Linux.
LibreOffice was updated to version 5, and the MDM display manager—the login screen—features improved high-DPI support and an on-screen keyboard for touch-screen devices. Linux Mint 17.3 contains a new selection of high-quality background wallpapers, too.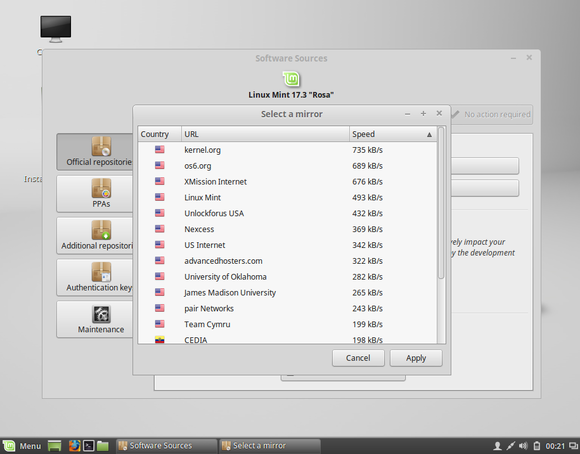 Linux Mint's software installation tools were updated with a focus on speed and reliability. The Software Sources tool now automatically detects your location and runs a speed test to find the fastest mirror near your location to download packages from. The Update Manager tool will warn you if you're using a mirror that's out-of-date, corrupted, or just slower than an alternative mirror. The Driver Manager is more robust, will load faster, perform more checks, and provide more information.
Cinnamon and MATE see some real improvements, just as they did in Linux Mint 17.2. Cinnamon 2.8 offers the usual bug-fixes and performance improvements, of course. Aside from those, Cinnamon now has redesigned sound and power applets, a workspace switcher that provides a visual representation of your open windows, a system tray that supports "indicators" like Ubuntu's Unity desktop does, and thumbnails of windows when you mouse-over them on the taskbar.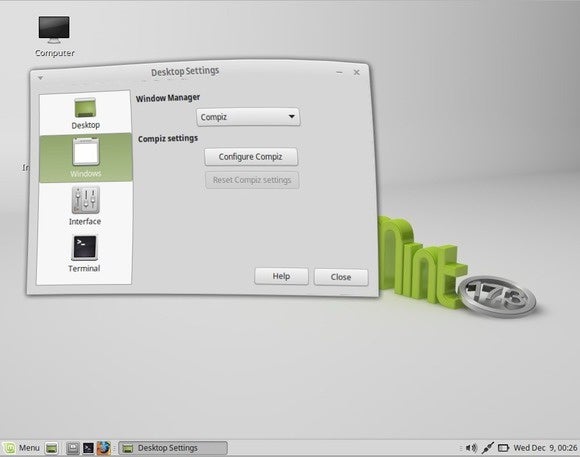 MATE 1.12 sees an improved application launcher with a frame, border, and shadow. Its Desktop Settings tool allows you to switch to other window managers more easily, and a help screen will explain the differences. Compiz and its fancy 3D effects were made easy to enable in a previous release, but it's been improved again. Wobbly windows—where windows wobble about as you drag them around—have been activated by default to improve the "wow" factor. The latest version of MATE used here also includes improved touchpad configuration and multi-monitor support.
If you already have Linux Mint 17.2 installed, you should be able to automatically upgrade to 17.3 soon. If you don't, you can download it from Linux Mint's website.