Earlier this year, HTC said its Vive VR headset would launch in limited quantities before the holidays, ahead of a wider consumer rollout sometime early in 2016. Well, it's December 8, and there's hasn't been another peep about the Vive's availability since then—until today. Tuesday evening, HTC announced the virtual reality headset's launch is being delayed until next year.
"We will be starting the new year by making an additional 7,000 units available to developers, followed by commercial availability in April 2016," the company announced on its Facebook page.
The news doesn't exactly come as a surprise. HTC's timeline for the Vive always seemed wildly ambitious, even with Valve handling the work on the software side of things. Developers have been toying with the Oculus Rift for well past two years now, but the Vive was only revealed this past March.
While many of the lessons learned from tinkering with Oculus can no doubt carry over to HTC's headset, the Vive's take on VR is far more complicated, consisting of two extra hand-held controllers tracked by a pair of "base stations" that allow you to roam around a 15-by-15-foot physical space. The Oculus Rift will ship with a traditional gamepad and is designed for seated use.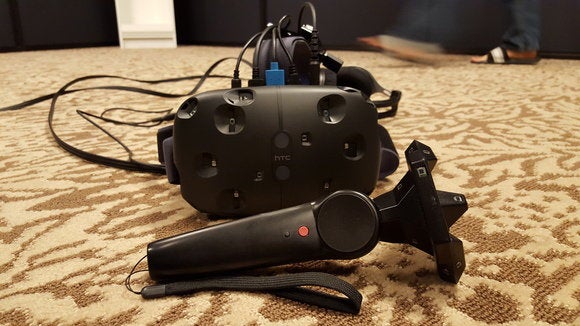 But hey: Virtual reality's still a bold new frontier. Even the recently launched Samsung Gear VR fails to offer the same powerful, tethered-to-a-PC experience as the Vive or Oculus Rift. You only have once chance to make a first impression, and it's better to have everything lined up and ready to rock than push something out early and risk having early adopters either blow chunks all over their monitors or have no games to play whatsoever.
Further reading: The state of VR: Where Oculus Rift, HTC Vive, Gear VR, and others stand right now
The story behind the story: Besides the extra mobility provided by the hardware, being the first major VR experience to market was going to be a major advantage for the HTC Vive. Now, the Oculus Rift (which is also scheduled for release in the first quarter of 2016) and HTC Vive are due to launch in the same basic time frame. We've got us a standoff, folks. Will consumers prefer the presumably lower cost of the Oculus Rift, or the superior VR experience of the Vive? We'll know for sure sometime around April.