On paper, it's hard not to get excited about a handheld gaming PC.
That may explain why the Smach Z, formerly known as the Steamboy, has already raised about $150,000 in its first day on Kickstarter. For a regular price of about $350, Smach is promising the Linux-based Steam OS on a portable device that looks a tad larger and chunkier than a PlayStation Vita, with support for "more than 1000 games out of the box." (Smach is careful to say that it's not making an official Steam Machine with Valve's blessing.)
Dreamy as that sounds, PC gamers should treat this project with plenty of skepticism, as Smach is making some promises that could be very hard to keep.
Let's start with processing power. Smach says it's using an AMD embedded G-Series chip (formerly codenamed "Steppe Eagle"), along with a "Jaguar" CPU and GCN-based Radeon graphics. Both of these chips were introduced in 2014, so they'll be more than two years old at Smach's estimated December 2016 delivery date. And as VentureBeat has noted, the GPU is roughly equivalent to an AMD Radeon 8400E or Nvidia GT 740M.
What does this mean for game support? It's hard to say for sure, but benchmarks of the Radeon 8400E show that a significant number of modern PC games are unplayable even at low settings, including Metro: Last Light, Bioshock Infinite, Dishonored, and Deus Ex: Human Revolution.
Despite those benchmarks, Smach says its machine is powerful enough "to play any game on the market," including Metro: Last Light. That's an extremely dubious claim, especially given that Smach hasn't demonstrated a working product.
Smach is also promising five hours of battery life, another claim that seems suspect for actual gaming. It's hard to find even a full-sized laptop that lasts as long under heavy CPU/GPU loads, and while dedicated gaming handhelds like the PlayStation Vita and Nintendo 3DS can hit five hours, those devices and their games are optimized for portable play.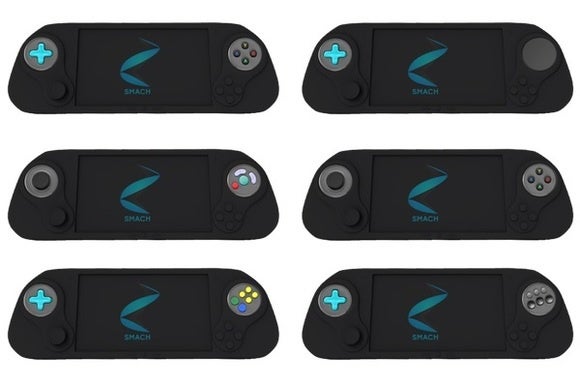 Performance concerns aside, Smach is introducing some ambitious concepts for its controls. In addition to a left thumbstick and right face buttons, Smach's plans call for a pair of haptic touchpad controls, similar to those of Valve's Steam Controller. Smach also wants to offer "Magic Z-Pads," a set of interchangeable buttons and thumbsticks that connect atop the haptic touchpads. This is a neat idea, but at the moment it appears to be entirely conceptual, with no description of how it actually works.
None of this is to say that a handheld Steam PC isn't worth pursuing. This type of device could have value even as a way to play indie or older games, or to access high-end PC games through in-home streaming. But it's worth noting that a PlayStation Vita or Nvidia Shield Portable can offer some of the same experiences today. By comparison, $350 is a lot to wager on an unproven concept that won't materialize for at least a year.