This time last year, just as Apple Pay was being launched, tech enthusiasts were pouring scorn on rival payments system CurrentC, because it depends on barcodes rather than the newer NFC wireless technology picked up by Apple.
The jury is still out on CurrentC — a year on, it still hasn't launched — but on Thursday Walmart announced a payment system of its own that uses barcodes, and it doesn't look too clumsy.
In a video provided by the retailer, a customer starts an app on an Android phone with a credit card and a gift card stored in it. The customer selects Walmart Pay on a self-serve checkout machine and a barcode displays on the machine. He points his phone at the barcode and the two link-up, identifying the customer. To complete the identification, the phone needs some kind of network connection.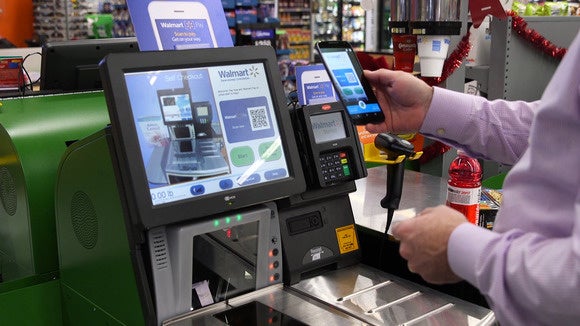 The customer then scans his purchases, hits the "I'm Done" button and the payment is processed.
The advantage of using barcodes is that the system can work on any smartphone, not just one with an NFC chip and antenna. Most high-end smartphones have the NFC hardware, but many older or cheaper phones do not. Shoppers then require only the Walmart app, which is available for iOS and Android.
Walmart Pay will launch in some stores this month and be in all stores by the middle of 2016. Only when it gets into the hands of consumers will a real test be possible.
While Walmart is one of the backers of CurrentC, it's keen to point out that its system was developed in-house. It said it remains committed to CurrentC and will try out the technology when its ready.
Here's the video: