A British company says it may have a solution to one of the most frustrating issues of drone flying: short battery life.
In tests, a DJI Matrice 100 drone fitted with a hydrogen fuel cell from Intelligent Energy was able to stay in flight for more than an hour—significantly longer than the 20 minutes available with its standard battery.
Hydrogen fuel cells convert hydrogen gas into electricity through a chemical process that has water vapor as its only by-product. The fresh fuel comes in cartridges, and because swapping out a cartridge takes a matter of seconds, the drone can be back up in the air quickly when it gets low on fuel.
"There's an obvious barrier in battery life, and we saw an obvious need to increase that," said Julian Hughes, head of the company's consumer electronics division, in an interview.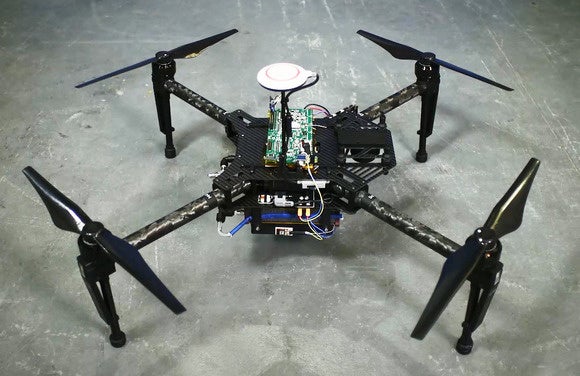 To date, Intelligent Energy has completed a series of flights with prototypes. One used just the fuel cell and the other was a hybrid in which the fuel cell constantly charged a conventional battery.
The latter is a similar arrangement to the way fuel cell-based cars work and has some advantages despite being more complicated.
While the fuel cell can provide a constant stream of energy, it cannot respond to momentary demands for more power that might be required by the drone, for example as it tries to battle a strong gust of wind.
Hughes said drones have successfully flown with both power packs and the company is now evaluating which might be better.
Intelligent Energy will display the results of its engineering work at January's CES in Las Vegas. The company hopes it will be able to attract drone manufacturers to offer the hydrogen fuel cell power source as an option. It's not planning an after-market product for consumers.
Intelligent Energy already has one hydrogen fuel cell on the market for consumers. The Upp product is a portable USB charging device that can replenish portable gadgets. Fuel cartridges are sold across the U.K.