Cars look certain to be among the stars of January's CES show in Las Vegas — testament to the advanced technology work being done by the auto industry today and a lackluster electronics sector that is still searching for the next big thing.
Most of the world's major automakers will be at CES and are expected to detail their latest work on autonomous car technology and next-generation electric and hydrogen drive systems. The world's top car maker, Toyota, will be there, as will Chevrolet, Audi, Hyundai, Daimler Benz, Fiat Chrysler and others.
It's good news too for the Consumer Technology Association, the industry association and lobbying group that puts on CES. With the contraction of the PC industry and retreat of several once-major exhibitors such as Dell, HP and Microsoft, the arrival of automakers helps fill show floor exhibit space. From last year, auto exhibits account for 25 percent more floor space this year.
"More and more of the announcements are being done here," said Jeff Owens, chief technology officer of auto-parts maker Delphi. "More of the keynotes are being done by auto manufacturers where it used to be Bill Gates."
This time, organizers have taken the unusual step of scheduling an additional Tuesday evening keynote, the day before the show begins: It will go to Volkswagen passenger car division CEO Herbert Diess.
And on Wednesday, GM CEO Mary Barra will deliver a keynote address at which she is expected to unveil the first production version of Chevy's Bolt—an all-electric compact car that was first shown off as a prototype in early 2015.
But if pre-event buzz is anything to go by, there might be even bigger news coming at the show. Ford is reportedly ready to announce it's forming a joint venture with Google to produce autonomous cars.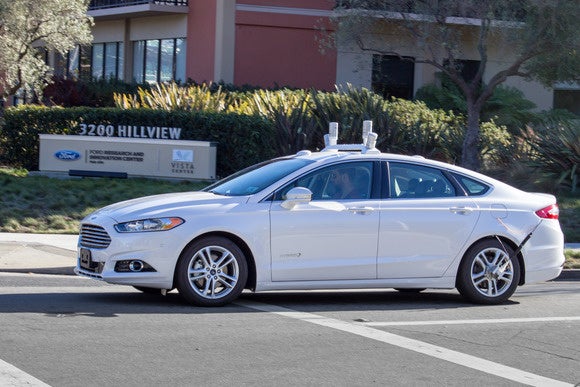 One of the most anticipated auto-related events at CES 2016 will happen on Monday evening when Faraday Future, an electric car start-up formed by former Tesla engineers, is promising to unveil a prototype car.
The company has kept its development work a closely guarded secret, so not much is known about what will be unveiled but the expectations are high.
Cars aren't a new sight at CES. Delphi has been at the show for at least a couple of decades and showed off a connected car in 1996. Twenty years on, about 60 percent of the technology in that car has made it into production cars, said Owens.
The ascension of CES as a major event for automakers comes at the cost of the Detroit Auto Show, which takes place one week later. As technology has gotten more important, car makers are choosing CES for their technology announcements and Detroit for the unveiling of most production cars and design prototypes.
At CES 2015, Audi drove an A7 autonomously from the San Francisco Bay Area to Las Vegas, BMW showed an i3 that could find a parking space by itself, and Mercedes unveiled its futuristic F015 luxury car.
Toyota also used the show to announce its Mirai hydrogen-powered car would be on sale by the end of 2015 — something it succeeded in doing in November when the first Mirai was delivered to a customer in California.