Feeling nostalgic for a time when gaming "laptops" were liable to snap your spine in half? Lenovo is, apparently. Monday, the company took to CES to show off its new IdeaPad Y900, a laptop in name only. Weighing in at over 10 pounds and 1.4 inches thick, the 17-inch IdeaPad Y900 is nearly twice as heavy and thick as its similarly-sized brethren, the Razer Blade Pro. It's massive.
But for good reason. Unlike Lenovo's stripped-down Y50 line of gaming laptops—great entry-level machines—it's clear that the IdeaPad Y900 caters to the hardcore, with a laundry list of specs you'd expect from a full-fledged desktop machine.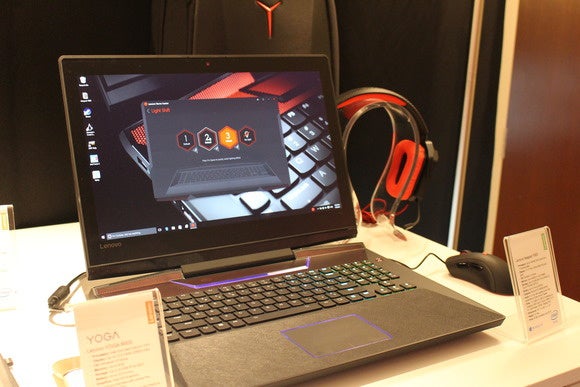 We're talking an overclockable Intel i7 CPU, an Nvidia GTX 980M graphics card in either its 4GB or 8GB variant, up to a 512GB PCIe SSD and 1TB HDD, and (most insane of all) up to a whopping 64GB of DDR4 RAM. Plus there's a Turbo button if you (a) want to boost your CPU/GPU/RAM clock speeds or (b) just want to relive the glory days of the 1990s.
Oh, and did I mention that (like MSI's GT80 Titan) the IdeaPad Y900 boasts a built-in mechanical keyboard? Yes, in a laptop. I'm not sure whether Lenovo's features Cherry switches, given the low profile, but hopefully it feels better than your average scissor-switch laptop keyboard. And Lenovo's is set toward the rear of the laptop like normal, unlike MSI's weird and uncomfortable keyboard-forward configuration.
This is all housed in the aforementioned spine-crushing enclosure with a 17.3-inch, 1920×1080 IPS display, a whole host of ports (including one USB-C), a 2.1 speaker system, and what Lenovo's termed a "colorful highlighted touchpad." There's also a 90Wh battery that Lenovo says will last "up to five hours," though I'd be shocked if you came anywhere close to that number when playing games. Though to be honest, I'd be even more shocked you were running the machine on battery power in the first place—this is the type of machine you plug in, set on a desk, and never move except in an emergency.
Why this matters: The IdeaPad Y900 sounds like a hell of a machine, made even more intriguing by the fact it comes from Lenovo—heretofore a company that seemed content dabbling in the low end of the gaming market, never directly competing with mainstays like Origin/Alienware/Razer/et al. I don't know how well the IdeaPad Y900 will sell, given its size, but the idea that a Lenovo machine might deliver benchmark scores towards the top of our current charts? Surprising, to say the least.
The IdeaPad Y900 will start at $2,000 when it hits stores in June of this year. Stay tuned to PCWorld all week for more news from CES 2016.