For CES 2016, HP Inc. is looking to make a statement after the PC maker's recent split from HP's enterprise unit. On Tuesday, the company took the wraps off its upcoming ultraportable notebook, the HP EliteBook Folio G1: A new laptop designed to compete directly with the MacBook Air.
In the Folio G1, HP looked to create "a device so sexy that a consumer wants to have it, but it has the security, durability that IT needs," said Mike Nash, HP's vice president of customer experience and portfolio strategy.
The sleek 12.5-inch Folio G1 doesn't have any features that are particularly jaw dropping, but it does have everything a road warrior needs in an ultraportable notebook.
The base configuration of the Folio G1 features a non-touch 12.5-inch 1080p display with 352 pixels per inch (ppi)—there's also 1080p and 4K 3840-by-2160 touchscreen options. Under the hood, the new Folio G1 has a 1.1GHZ dual-core Intel Core m5-6Y54 processor, 8GB RAM, and a 128GB SSD. The device also comes with two USB-C ports that are compatible with Thunderbolt 3, 802.11a/b/g/n/ac Wi-Fi, Bluetooth 4.2, a full-size backlit keyboard, and a gesture-enabled clickpad for Windows 10—the Folio G1 come with either the Home or Pro version.
The Folio G1 will ship in March with touch and non-touch configurations starting at $999.
CES 2016 is HP Inc.'s first chance to really show what it plans to do as the newly formed company. The first product to roll out from HP Inc. was the ZBook Studio back in November. That device was a 4K laptop speedy enough for gaming but also designed to appeal to mobile workers. Now comes the Folio G1, which is also targeting people on the go, but with a focus on users who need less heft and power in their mobile PC. In other words, the same kind of people who might look at the MacBook Air.
How does it compare?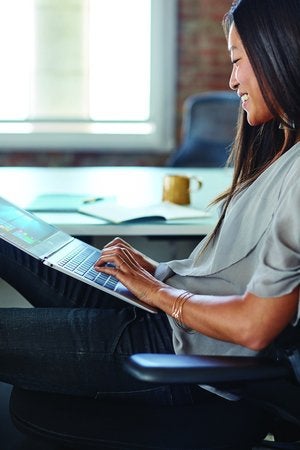 The whole point of the Folio G1 is to take on the MacBook Air by offering a solid Windows-based option that is priced right and designed well.
HP certainly built a nice-looking machine that clearly borrows design touches from Apple's MacBook Air. Nevertheless, it is still unique enough to make it clear this is an HP machine.
Pricing is solidly in line with Apple's ultraportable with both machines offering a base price of $999. The Elitebook Folio G1 beats the MacBook Air in terms of thinness with the new device height coming in at just 0.47 inch (0.49 inch with the touch version) compared to 0.68 inch for the Air. Presumably, that 0.47 inch measurement is at the device's thickest point, but the company did not specify.
The Elitebook is also smaller in terms of width and depth, measuring 11.5- and 8.23 inches respectively. But that's to be expected since the new EliteBook has a smaller screen at 12.5 inches compared to 13.3 for the MacBook Air.
Getting into the guts of both machines, the Elitebook has a slower processor at 1.1 GHz compared to the Air's 1.6GHz Intel Core i5, although the Core M is a newer processor and both have a maximum turbo boost of 2.7Ghz.
The two laptops also match evenly with storage configurations starting at a 128GB SSD. That said, the Air's SSD connects over PCIe while the Folio G1 uses a SATA interface, suggesting Apple's laptop would have better storage performance than HP's.
But what the EliteBook loses in storage performance it makes up in RAM, with all configurations of the new laptop rocking 8GB compared to 4GB in the base version of the Air.
Everything else is pretty evenly matched, including Wi-Fi and Bluetooth configurations, webcam quality, and so on, although the EliteBook is rocking Thunderbolt 3, which Apple has yet to add to the MacBook Air. That could change this spring if Apple refreshes the Air, as it has in recent years, around May.