Move over, Mac Pro. Apple might have been the first out of the gate with a powerful PC disguised in a compact, modish cylindrical chassis, but now proper PCs are getting in on the action. Take MSI's diminutive Vortex gaming tower, which, to be fair, looks more like a glowing, badass knight's helmet than a dumb black trashcan.
MSI's striking new PC owes its name to a unique "360-degree Silent Storm" cooling system, which sucks in air from the top and swirls it down, around, and through the case before exhausting it out of the bottom, ensuring that every part of the interior is cooled, according to MSI reps. That cooling is certainly needed: The Vortex gaming tower packs a desktop-class quad-core Intel Skylake Core i7 chip, DDR4 RAM, and not one, but two of Nvidia's powerful GeForce GTX 980 mobile processors, which offer true performance parity with the company's GTX 980 desktop graphics cards.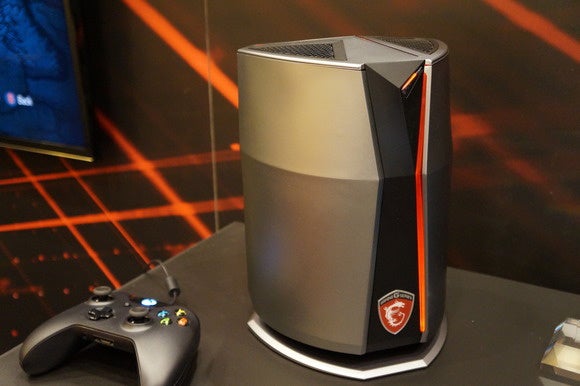 Suddenly the Mac Pro's dual Radeon D500 graphics don't look so hot—though Apple's 6- and 8-core CPU options likely outpower the Vortex's Skylake chip. MSI created the Vortex in such a way that DIYers will be able to swap out at least some of the components, though reps wouldn't say whether a motherboard upgrade was possible, which would enable a more powerful Haswell-E or Xeon processor. Considering the tricky engineering it likely took to stuff a desktop chip and two graphics cards into a petite 6.5L enclosure, smart money says no motherboard upgrades.
Sadly, MSI wouldn't crack open the Vortex for a peek inside, nor would it commit to a firm price or release date beyond "2016." But, hey, the Mac Pro's design was nothing short of revolutionary, and with PCs seemingly in a race to grow smaller yet more powerful, it's gratifying to see Apple's workstation get some Windows-based competition.