Here at PCWorld, we like to preach a smart, practical approach to PC hardware. That hot new gear? You probably don't need it. But there's no denying the gut appeal of amped-up, gloriously excessive hardware that cranks things to 11 just for the hell of it. It's why we stuffed 128GB of DDR4 RAM into a PC. It's why mad tinkerers did, well, this in the quest for lower temps. And it's why I fell head over heels in love with MSI's ostentatious new 3-way and 4-way SLI bridges the second I laid eyes on them.
SLI bridges are the little connectors that allow you to use multiple GeForce graphics cards simultaneously in a single PC. (AMD uses a similar technology dubbed CrossFire, but recent Radeon models have ditched the connectors and allow GPUs to communicate via your motherboard directly.) Since most people use single-GPU configurations, you might know them as "one of those extra bits that come packaged with swanky gaming motherboards." But there's actually a market for fancier aftermarket SLI bridges constructed from more premium parts, to better suit your flashy multi-GPU gaming setup. Asus ROG and EVGA both offer premium SLI bridges for example.
Enter MSI's new models.
These bad boys aren't just "forged out of high-quality materials." No, that's not nearly enough. They're also emblazoned with MSI's dragon-y GAMING logo, and it's LED-lit, too! Now we're getting somewhere—but that's still not excessive enough. The icing on this deliciously over-the-top cake is its fan.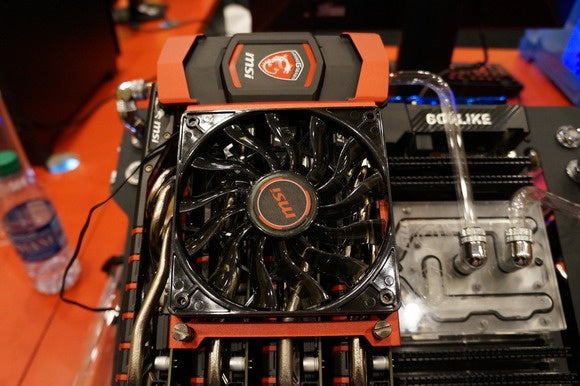 Yes, these tricked-out SLI bridges come bundled with their own "silent" Cooler Master fan accessory that can be attached directly to the bridge to keep air flowing better than ever between your broiling graphics cards. It even offers rubber standoffs at the end of the fan to accommodate graphics cards and custom coolers of varying sizes, and you can shift the fan up or down along the length of the bridge to focus airflow on the top three cards, or the bottom three.
That's ridonkulous. That's the definition of "doing it because you can." As far as I can tell from a quick Google search, the fan's a first for a fancy SLI bridge. And did I mention the competition for this is something that possibly shipped for free with your motherboard?
MSI's shamelessly catering to an exclusive, enthusiast niche with these SLI bridges. I love it.
We'll have to see if the infatuation lingers after MSI comes clean about the price of these SLI bridges, though. A few lights and a superfluous fan may win over my heart, but I'm not crazy.