Luxury, thy name is LaCie Chrome—and you're easily one of the fastest portable hard drives in the world.
Everything about this drive absolutely screams excess, in the most glorious way possible. Its looks are what first snagged my eye from across the room at the crowded Pepcom exhibition at CES 2016. Standing tall and clad in mirrored, uh, chrome, the LaCie Chrome demands to be ogled, more closely resembling a trophy or work of modern art than a typical hard drive. That's intentional; once I was drawn into the LaCie Chrome's aura, a product representative explained that its aesthetics were crafted by Neil Poulton, a Scottish designer who has won numerous awards.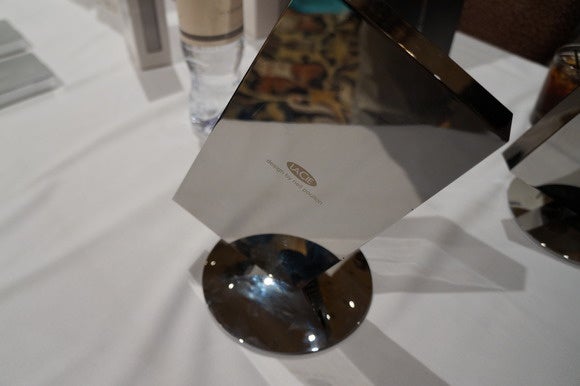 But as ever, it's what inside that counts. LaCie stuffed this paragon with supercharged parts to create what it claims is the fastest portable hard drive in the world.
LaCie (which is owned by Seagate) slipped two 500GB SSDs into this functional sculpture, then configured them in a RAID 0 array to hit face-meltingly fast 940 MBps speeds. Of course, no matter how quickly that data flies, you'll likely need to move it to another device at some point. For that, the LaCie Chrome relies on a single USB-C connection, stocked with cutting-edge USB. 3.1 speeds. Luxury means cutting no corners, after all.
And that includes the price. The LaCie Chrome will set you back a cool $1,400 if you're interested in one of the best portable drives ever created. Not that LaCie expects to sell many. "This is sort of like our concept car," a Seagate rep told me at Pepcom—right before ushering me along to slick new LaCie Porsche Design drives packing USB-C ports, USB 3.0 speeds, and much more palatable price points, starting at $110 for 1TB mobile variants and $210 for 4TB desktop models.
Halo products sure do have a way of making their more mainstream siblings feel like better bargains.