EVGA is best known for its popular lineup of kick-ass GeForce graphics cards, but at CES 2016, the company revealed its intentions to capture even more of your computing attention, with the SC-17 Gaming. This is the company's first ever laptop, and it was built from the ground up by EVGA's own engineers.
The SC-17 Gaming is surprisingly sleek for a 17-inch gaming laptop, at a comparatively svelte 1.05 inches thick and 8.5 pounds. Perhaps more impressive is how expertly EVGA's crew designed the lid, which smoothly lifts and closes with just single-finger effort—a far cry from the two hands you need to crack open most 17-inch gaming laptops.
And yes, this thing can game. It's loaded with a GeForce GTX 980M graphics processor, which can deliver some serious oomph to the 4K, 60Hz display. Sadly, that display isn't equipped with Nvidia's game-smoothing G-Sync technology, but a follow-up variant with G-Sync capabilities is planned for later this year. EVGA's still putting the final touches on the hardware list, so it couldn't say much more about the internals, except that the memory will be clocked at 2666 MHz.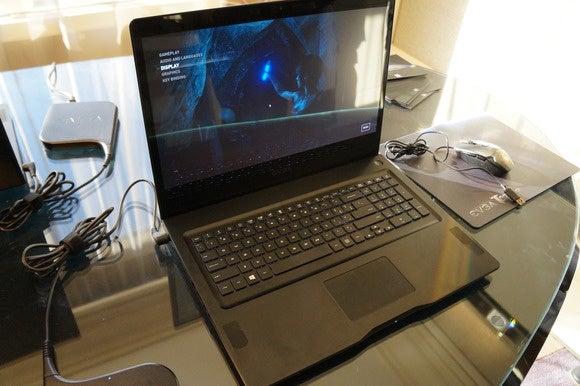 But let's talk about the SC-17 Gaming's design itself for a second. This is a seriously slick gaming laptop. The speakers were created by the same group that designs audio for Bose and Apple, representatives say. EVGA's particularly proud of the cooling system; this bad boy runs virtually silent even while running Tomb Raider at Ultra graphics at 1080p (I had my ear against the laptop!). There's USB Type-C, HDMI, a pair of DisplayPorts, and even a fairly small and flat power brick.
EVGA's hoping to put the final polish on the system and get it shipping later this quarter.