Stock CPU coolers don't get much respect among enthusiasts most of the time, but that's just silly: The vast majority of people don't overclock their processors, and if you don't overclock your processor, a stock cooler works just fine. And soon, it'll work even better, thanks to the new Wraith cooler AMD just unveiled at CES 2016.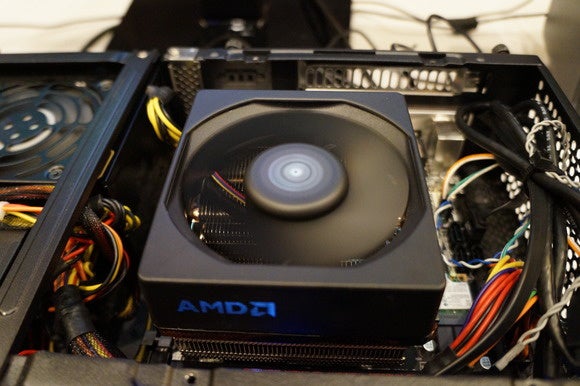 The Wraith cooler is larger than AMD's previous stock cooler, and features a larger fan spinning consistently at a lower speed. That helps the new cooler run far quieter than its predecessor—I heard it myself, barely, during an AMD booth tour on Wednesday—and since the fan churns constantly, you'll never be bothered by the sound of a fan activating or deactivating. It truly offers a significant acoustic reduction compared to past AMD coolers, as you can hear in the AMD-supplied video below.
AMD isn't saying which processors will ship with the Wraith cooler later this year, though the demo model that representatives handed me was housed in a FX-8370 box. Don't expect to see it on the beefiest FX chips, though. The Wraith cooler is rated for 125W, and AMD reps say that high-end FX chips that suck more energy than that were primarily designed for use with water-cooling systems rather than stock coolers.