If there's one thing that can make you look bad to your colleagues—I mean, besides that giant coffee stain on your shirt—it's weak writing. You know what I'm talking about. All those emails that start out, "I just wanted to check…", or "I'm no expert, but shouldn't it be…."
A new Chrome extension for Gmail called Just Not Sorry aims to help you make stronger statements in your email correspondence and eliminate all those weak qualifiers. The extension was designed with the intention of encouraging women in the corporate workplace to make stronger statements. But it can be used by anyone who needs help making their emails more direct and to the point.
You can download the extension from the Chrome Web Store. Once it's installed, all you have to do is log in to Gmail and you'll see the extension's icon in the address bar.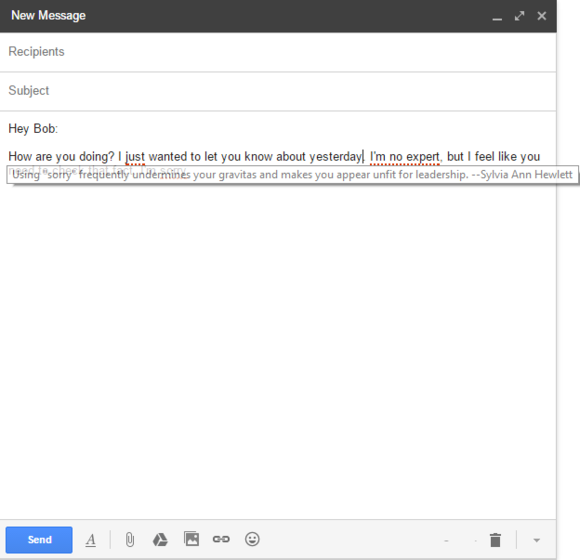 Now just type your email as you normally would and whenever you use one of the common phrases that weaken a message, Just Not Sorry will underline it in red. Hover your mouse pointer over the word or phrase and the extension gives you an explanation as to why that phrase is weak.
It's not clear how many phrases Just Not Sorry tracks, but for now it does seem limited. Nevertheless, it hits many common "weak points" and is a great tool for anyone looking to bump up their email composition game.