Say you're a Windows user who prefers Google's Chrome browser—it is, after all, easily one of the best browsers today, and far superior to Internet Explorer. Still, you've probably been frustrated at times by Chrome's built-in Google bias, particularly if you use Microsoft services such as Office Online. A Chrome extension from Microsoft, aptly dubbed Office Online, has you covered.
The Office Online extension imbues Chrome with an Office-first mandate and gives you one-click access to your Office documents.

Get started by installing the Office Online extension from the Chrome Web Store. Next type chrome://extensions into the address bar and scroll down until you see the listing for Office Online. If you want to upload documents to OneDrive from your hard drive using drag-and-drop, click the box that says "Allow access to file URLs."
Once that's done, close the extensions tab, and then click on the Office logo next to the address bar to sign in to the extension with your Microsoft account. You can use either a free Microsoft account or your business account.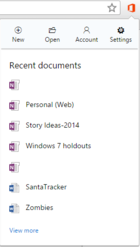 Once you've signed in, clicking on the Office logo will show you your most recent documents. At the top of the extension's drop-down window you will also see options to create a new document using Office Online. The extension supports all the major Office file types including Word, Excel, PowerPoint, OneNote, and the relatively new Sway. The Office Online extension also has an option to open a document in Office Online that is either stored in OneDrive or saved to your local drive.
Beyond the basics, the Office Online extension allows you to drag-and-drop files into the browser, which automatically uploads them to OneDrive. Provided you adjusted your settings as described above.
Also, when you run across Office document formats on a web page, such as resumés or academic papers, they will automatically open in Office Online. PDF files will continue to open in Chrome's native viewer.
One day, Microsoft may catch up to Chrome with the new Edge browser in Windows 10. For now, however, most of us need tools like Office Online that integrate Microsoft's digital ecosystem with third-party programs.