Google is continuing its push to make the Apps collaboration suite useful for enterprises with a new feature that lets administrators manage how their users are able to share files.
When users send a link to a spreadsheet, document or presentation that's saved in Google Drive to people who don't have access to it, Google automatically prompts senders to allow those recipients to access the file. The update unveiled Monday makes it possible for Apps administrators to restrict how that sharing happens by reducing the options available to users.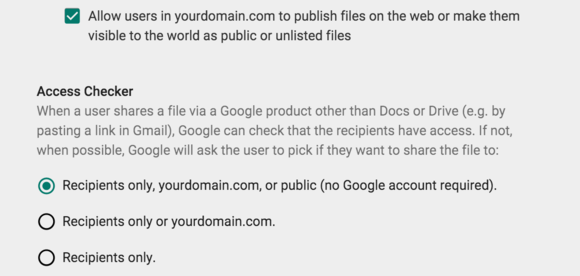 At its most permissive, the sharing dialog lets users choose share files specifically with the recipients of the email, with people in a shared domain (all users at yourcompany.com, in other words) or with anyone in the world who has access to the link. Apps Administrators can now restrict permissions, so users can be given options that would allow sharing just with message recipients and other users in their domain, or only with message recipients.
It's a complicated set of choices, but that all ultimately translates into Apps administrators having better, finer-grained controls over what their system suggests as sharing options to users who want to give other people access to documents. Choosing a more restrictive sharing option will help encourage people to keep documents limited to those folks who need to know, even if they're technically able to share more broadly.
If users at an organization are already prevented from sharing files publicly, this update won't change that. By default, they'll only be able to share a document with users of their domain or those people who are included on the email.
Giving administrators finer-grained control over these sorts of dialogs is another step for Google toward making its product better suited for enterprise use. The company is working hard to compete with Microsoft in the enterprise collaboration market, going so far as to offer companies that commit to a year of Google Apps free access to those tools for the length of their enterprise agreement contract with its competitor.