Edward Snowden's favorite secure operating system just got a major upgrade. Version 2.0 of the Amnesic Incognito Live System, better known as Tails, rolled out recently. Tails 2.0 brings a new desktop environment, sandboxing for services via the always controversial systemd, and a new build of the Tor Browser.
More importantly, Tails 2.0 makes it easier for new users to try out the operating system thanks to a revamped installation process. The new process begins in the browser, with step-by-step instructions and a new Firefox add-on that helps you verify the downloaded Tails ISO.
Why this matters: Tails may not be widely used, but for those people who put a premium on security, such as Edward Snowden, it's an important tool. Tails is designed to run off a USB stick and attempts to wipe any traces of use after it shuts down. The OS also comes with built-in encryption tools and attempts to keep its users anonymous in as many ways possible, such as routing all Internet connections through the anonymizing TOR (The Onion Router) network.
Gnome classic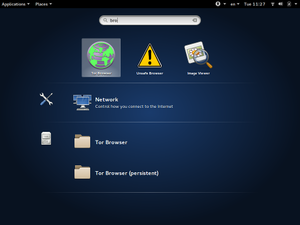 Listed at the top of the new features is the Gnome shell desktop environment. Tails is using Gnome 3.14 in classic mode to give it that Gnome 2.0-like feel. Previously, Tails was using Gnome 3.4, an older version of Gnome 3 that lacks the Gnome classic mode so many users love.
Tails 2.0 is based on Debian 8.0 (jessie), the current stable release, which came out last April. Along with Debian 8.0 comes the controversial systemd, an underlying init system that I won't bother explaining here. Its critics call it a monolithic piece of software that ignores the Unix-like concept of small, interdependent utilities. If that sounds like riveting stuff then check out our systemd primer from October 2014.
Back to Tails 2.0, the new OS comes with Tor Browser 5.5, which is based on Firefox 38.06. Firefox is already on version 44, but software upgrades move far more cautiously in security-focused systems like Tails.
Finally, the big feature that new users should be most excited about is the new installation assistant that's supposed to make it easier to get started. I haven't tried it out yet so I can't say if it's that much better than previous versions. If you've been scared off by Tails' complexity before give the new installation assistant a whirl.