If you are a OneDrive user and want to keep your 15GB of free storage, you have only a few hours left to ensure your OneDrive space doesn't disappear on you.
In November, Microsoft announced that it was reducing its free OneDrive plan from 15GB of storage to 5GB. A sizable backlash ensued, and Microsoft offered 15GB of free storage plus 15GB of Camera Roll storage to existing OneDrive users. The catch? You need to claim your free 15GB, and today—January 31st—is your last day to grab your extra free storage.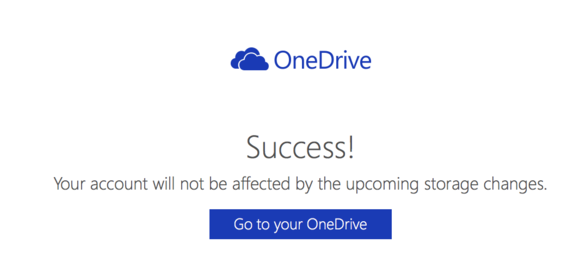 To make sure you don't lose your 15GB, you'll need to head over to a special page on Microsoft's OneDrive site. Click Keep your free storage, sign in with your Microsoft account, and follow the onscreen instructions. Once you're done, you'll get a screen confirming that you'll keep your 15GB of storage plus 15GB of Camera Roll space.
The story behind the story: The change in free OneDrive plans was part of a larger rejiggering of Microsoft's cloud storage plans. Along with reduced free storage, Microsoft also discontinued unlimited storage for Office 365 home subscribers (replacing it with 1TB), discontinued the paid 100GB and 200GB OneDrive plans, and introduced a new $1.99-per-month 50GB OneDrive plan.
When it announced the changes, Microsoft cited some users who backed up massive amounts of data to OneDrive as justification for cutting storage plans, saying that it "want[ed] to remain focused on delivering high-value productivity and collaboration experiences that benefit the majority of OneDrive users." Although the company cut free users a break, Microsoft did not offer a similar "keep your space" offer to paid OneDrive users.