At a Glance
Expert's Rating
Pros
Solid performance across the board
Option to have more than one storage drive
Inexpensive
Cons
High power consumption for its size
Incredibly noisy fans
Our Verdict
This inexpensive bare-bones system isn't quite as cheap as it seems, due to its higher power consumption. And thanks to its loud fans, the Brix GB-BXA8-5557M also won't work out well in scenarios that require quiet. Still, it's hard to argue with the amount of performance you get from it.
When choosing between quiet, power, and affordability, Gigabyte opted for the latter two in its Brix GB-BXA8-5557. The result is an affordable, compact system that you can't quite hide away and ignore: Its fans spin audibly when writing a document, looking up something on Google, or watching a movie.
But if you can handle a little noise, you get a peppy system that doesn't dig deep into your wallet. It evenly handled the spread of tasks thrown at it—and with a relatively small gap in performance compared to more expensive mini-PCs.
Specifications
Inside this version of the Brix is an AMD quad-core A8-5557M APU running at 2.1GHz, Radeon HD 8550G graphics, an mSATA slot, a 2.5-inch SATA 6Gbps slot, a replaceable Azurewave AW-CB161H dual-band 802.11ac Wi-Fi/Bluetooth 4.0 wireless card, and support for up to 16GB of DDR3L/1600MHz RAM. For benchmarks, I installed a 500GB Samsung EVO 850 mSATA SSD, and 16GB (2x 8GB) of Crucial RAM.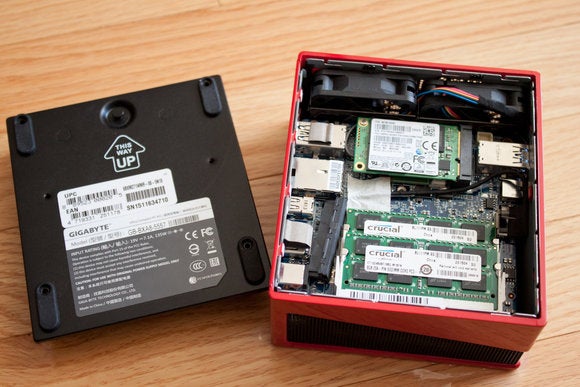 Along the front are two USB 3.0 ports and a headphone jack. On the back of the machine you'll find a full-sized HDMI port, a mini DisplayPort with a maximum resolution of 4096×2160 at 30Hz, a gigabit ethernet jack, two additional USB 3.0 ports, and a Kensington lock port.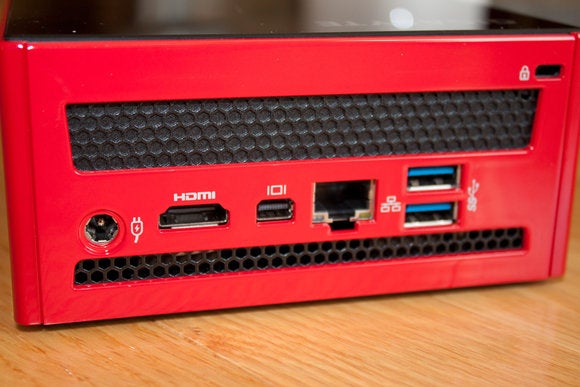 The BXA8-5557 is among the larger mini-PCs in both width and height, measuring 2.35 x 5.04 x 4.54 inches (59.6 X 128 x 115.4mm). While it has a decent amount of heft once you've installed components, it isn't so bulky that you can't attach it to the back of a monitor—Gigabyte has included a VESA mount and the ability to power the Brix on via USB. (You just need to toggle that feature on through the BIOS menu.)
Performance and use
Despite its low price tag, the BXA8-5557 plowed through basic tasks with aplomb. It posted a score of 2,376 in PCMark8's Work Conventional benchmark, trailing not too far behind other mini-PCs that cost hundreds of dollars more.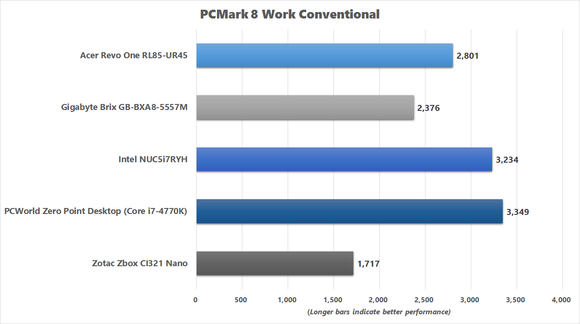 You will notice that it's a little less powerful, however, as it occasionally pauses while doing more intensive tasks. And there's still a notable difference when completing multi-threaded tasks, like encoding videos in Handbrake. The BXA8-5557 took about 2 hours and 47 minutes to convert a 30GB 1080p MKV file to an Android tablet–friendly MP4. The next fastest mini-PC in our roundup, the Acer Revo One RL85-UR45 (running an Intel Core i5-5200U Broadwell-U chip), was about a half-hour faster. That's tangible, even if 2 hours and 19 minutes isn't particularly quick.
Still, the BXA8-5557 smokes other cheap mini-PCs that prioritize quiet over performance—for example, the Zotac Zbox CI321 Nano (not part of this roundup, but a bare-bones system that also had a street price under $200 when it was available last year) crawled along at 7 hours and 9 minutes before finished its Handbrake encoding. To be fair to Zotac, it is a fanless design, whereas the Brix definitely has a fan. (I'll speak more on that in a little bit.)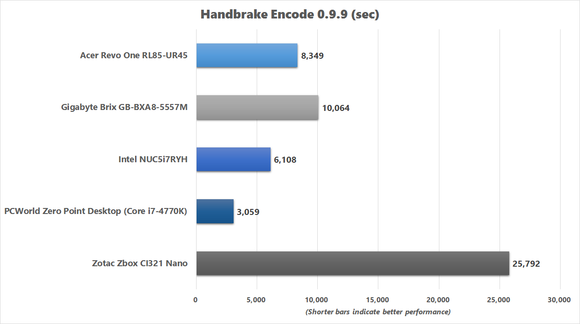 While this Brix's gaming performance won't mean much to hardcore gamers, it still boasts results about on par with Intel's NUC5i7RYH and its more expensive Broadwell-U processor in our Tomb Raider and BioShock Infinite benchmarks. With a price difference of about $300 between the two bare-bones systems' street prices (and possibly more overall, depending on how you configure each), these numbers further illustrate the bang you get for your buck.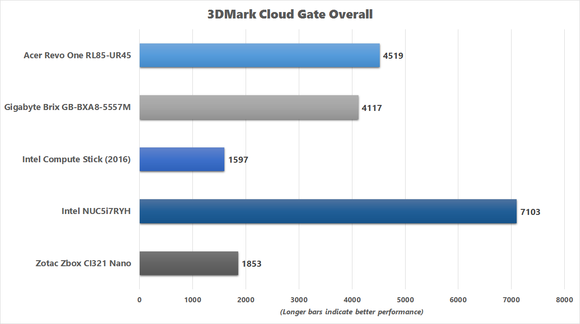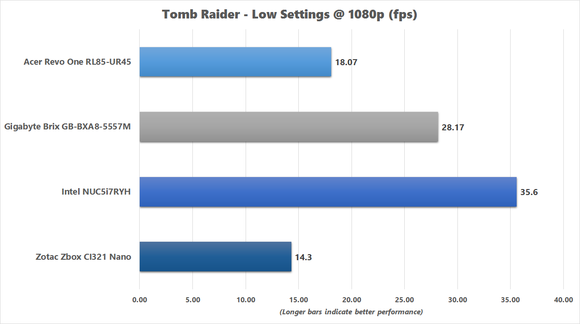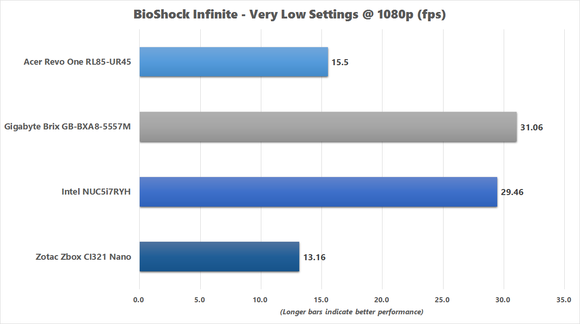 In practice, though, the kind of games you'll play on this machine (if you do at all) will be the less demanding sort. And for any AAA titles, they won't look pretty.
As for storage, having both an mSATA and a standard SATA slot is a nice touch. You can enjoy SSD speeds for your primary drive, while taking advantage of a cheaper 2.5-inch hard-disk drive for bigger quantities of data. For example, with a Samsung EVO 850 mSATA drive, this Brix got an average of 444MBps sequential read speed and 418.5MBps sequential write speed in CrystalDiskMark 5.0.2. Pair that with a $60 1TB hard-disk drive, and you'll get quicker boot and load times while still having a decent amount of room for local media files.
The drawbacks
So what's the catch? You'll still be paying more for this level of performance even though you won't see that in the up-front price. For a mini-PC, the Brix all but guzzles electricity, particularly in comparison to its competition. Its peak draw was 75.6W during the gaming benchmarks, and often hovered in the low 50s. In contrast, the Intel NUC5i7RYH had a max draw of 54.4W, while the fanless Zotac Zbox CI321 Nano topped out at 25W.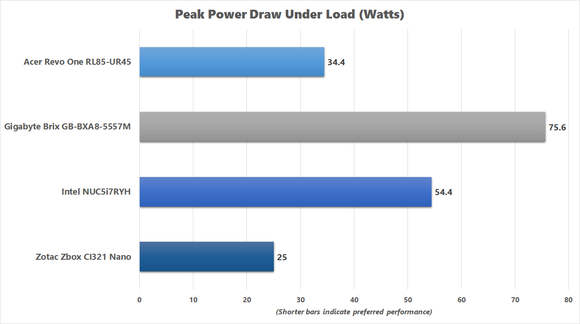 The Brix BXA8-5557 is also loud. During normal use, the volume of music or video has to be decently high to drown out the fans. Under load, the machine sounds like a miniature jet engine—one that's so noisy, you can hear it very clearly from other parts of an office or home. It's tolerable if you need power without too much impact on your wallet, but it won't work out well if peace and quiet is a high priority.