After a lengthy public spat with Canonical and the Ubuntu Community Council, Kubuntu founder Jonathan Riddell stepped down as release manager for that "flavor" of Ubuntu. He's now back with a new project named KDE Neon, which provides stable Ubuntu systems with the latest KDE software.
No, KDE Neon is not a Linux distro
KDE Neon is a product of the upstream KDE community, an international body that works to advance the development and availability of free software for both Unix-like and Windows systems. One such piece of KDE software is the Plasma Desktop, a popular and customizable desktop environment used with many Linux distributions. KDE Neon will provide packages of the latest Plasma Desktop as well as other KDE apps for long-term-service versions of Ubuntu: currently Ubuntu 15.10, but also Ubuntu 16.04 when it's released in a few months.
But KDE Neon isn't just a package repository. It'll provide installer images you can place on a USB drive or disc and boot as a live environment or install to your computer. These images will feature the very latest KDE software as it's released. There will be two versions of this: a User Edition featuring the latest stable software targeted at average users, and a Developer Edition featuring prerelease software for contributors who want to hack around with the current code.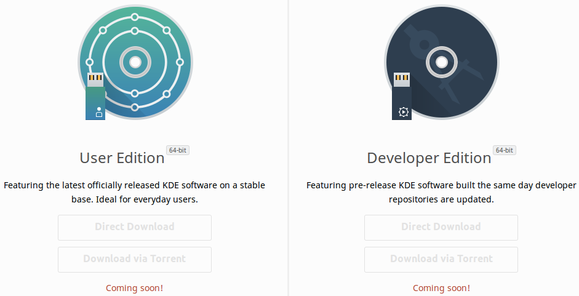 More current than Kubuntu
KDE Neon might sound similar to Kubuntu—the official Ubuntu flavor with a KDE desktop—but it's not. Like other Ubuntu flavors, Kubuntu offers up a stable version of the Plasma Desktop and doesn't upgrade this software until the next release of Ubuntu occurs.
The KDE Neon project is more like a continuously updated rolling release, with the latest KDE software arriving as an update as soon as it's available. However, it won't have the same potential for instability as a rolling release, because while the desktop software will be continually upgraded, the base of the system will be a stable Ubuntu 15.10 or 16.04 LTS core.
In an interview with CIO.com, Riddell explained KDE Neon as being "ideal for people who relish having the latest features today and get frustrated at the need to add extra archives or even compile from source just to try out what they read about in KDE's announcements."
If you're a fan of KDE, then a KDE Neon desktop is a compelling option. As an official KDE project, it's the best way to experience the latest KDE software in action.