If you were intrigued by InFocus' Kangaroo portable PC, but turned off by the meager storage and RAM, a new "Plus" model might do the trick.
The $169 Kangaroo Plus comes with 64GB of storage and 4GB of RAM, both doubling the original $99 model. The hardware is otherwise identical, including an Intel "Cherry Trail" Atom-x5-Z8500 processor, microSD expansion slot, fingerprint reader for Windows Hello, 802.11ac Wi-Fi, and Bluetooth 4.0. An internal battery provides about four hours of runtime.
As with the original Kangaroo, the new model comes with a proprietary dock that clips onto the device's bottom edge, adding USB 2.0, USB 3.0, and HDMI ports. Users can then connect the dock to an external monitor via HDMI, or use an iPad as a touchscreen monitor with a USB-to-Lightning cable. (The latter requires a free companion app for iOS and server app for Windows.)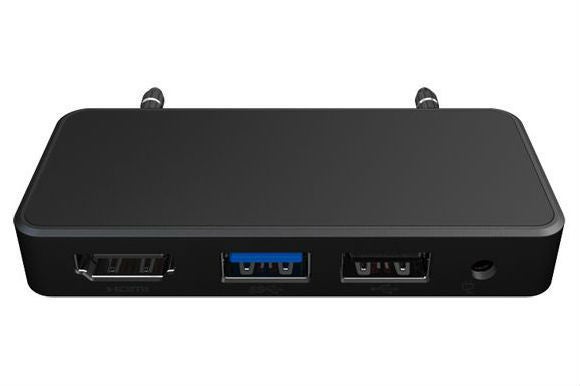 There's just one major catch with the new version: It no longer comes bundled with Windows 10. Although InFocus' press release pitches this as a benefit—"allowing users the freedom to install the OS of their choice"—the lack of pre-installed Windows effectively adds $120 to the price for anyone who's not planning to run Linux. It also adds more work to the setup process.
The Kangaroo Plus is available now through Newegg. The original Kangaroo remains on sale through Newegg and the Microsoft Store, and additional docks sell for $39 apiece.
Why this matters: Although the much higher price tag may dampen some of the appeal for this mini PC, the docking station concept should still allow for some interesting uses. For instance, users could set up docks at home, at the office, and in the living room entertainment center, and can switch between screens without dragging any cables around. Compared to other lightweight portable PCs, that added convenience could be worth the extra cost.