Update, February 6, 1:37PM PST: Since we originally published this article, Twitter co-founder and CEO Jack Dorsey responded to the outcry in a series of tweets. "We never planned to reorder timelines next week," the series of tweets reads in part. "Twitter is live. Twitter is real-time. Twitter is about who & what you follow. And Twitter is here to stay! By becoming more Twitter-y."
Hello Twitter! Regarding #RIPTwitter: I want you all to know we're always listening. We never planned to reorder timelines next week.

— Jack (@jack) February 6, 2016
Dorsey goes on to cite Twitter's "While you were away" feature as an example of the sort of work it's been doing, and says that the company is "going to continue to refine it to make Twitter feel more, not less, live!"
While Dorsey's statement seems to put the kibosh on an imminent major algorithmic retooling of Twitter, it doesn't rule out the possibility that we'll see more recommendations or highlighted tweets in the future.
Our story as originally posted continues below.
You've heard about it. You've read about it. You may have even tweeted about it. But it looks as if Twitter's non-chronological "algorithmic" timeline is almost here.
According to a BuzzFeed report published Friday, the company plans to unveil its algorithmic timeline "as soon as next week." An algorithmic timeline, unlike the current chronological timeline that's been a mainstay of Twitter from the beginning, would primarily show tweets on topics that Twitter thinks you'd want to see.
If this sounds familiar, it's because it's similar to the approach Facebook takes with its News Feed, which shows posts from friends based on an algorithm that tries to determine if you'd be interested in the contents of that post.
Although BuzzFeed reported that it was "unclear" if the new algorithmic feed was mandatory, Josh Steinberg of NBC News tweeted Friday evening that, according to sources inside the company, the algorithmic timeline would be opt-in. In other words, if Steinberg is correct, you would be able to choose between the standard chronological timeline and the new algorithmic timeline.
The story behind the story: It's no secret that Twitter has been toying with the idea of a non-chronological timeline for quite some time. In fact, the company has been testing the waters for nearly two years. In May 2014, then-CEO Dick Costolo said that Twitter was experimenting with a timeline algorithm. In October of that year, the company formally announced that it had been testing various alternate timelines, including ones that make use of algorithms. News of Twitter's interest in algorithms surfaced again in December of last year.
The impact of a non-linear timeline
Nonlinear timelines have their pros and cons. An algorithmic timeline may make it easier for new and casual users to follow Twitter and sort their way through the barrage of tweets that users publish on a daily basis. On the other hand, an algorithmic timeline is less useful in times of disaster or in disseminating news and information—one thing Twitter's real-time communication approach does well.
And as tech journalist Josh Centers points out, an algorithmic timeline would also make it harder to post a "tweetstorm"—that is, an extended string of related tweets, often used to delve deeper into a controversial topic. Whether that's a good or bad thing depends on how you feel about tweetstorms, though.
The algorithm is already here, sort of
Although tweets still appear in chronological order, Twitter already includes some features that call attention to certain tweets. For example, certain tweets on users' profile pages appear in a larger text size, and a "While you were away" feature shows a handful of tweets you may have missed since you last visited Twitter. Also, search results default to a "Top tweets" view that surfaces highlights of tweets on whatever you searched for rather than all tweets (the "Live" tab will show you all such tweets in chronological order).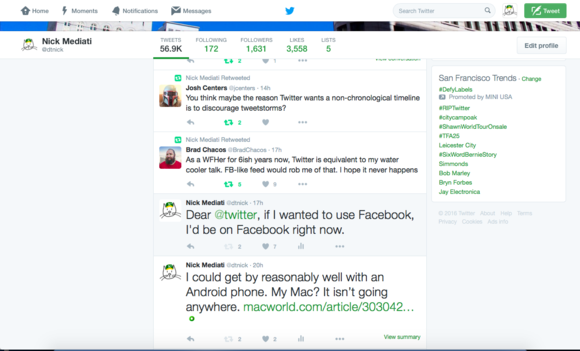 BuzzFeed noted in its report that Twitter is actively experimenting with non-linear timelines on users. Sure enough, we've noticed that the timeline for PCWorld's Twitter account has appeared in non-chronological order at times—with no opt-out button—and we're not the only ones who have noticed this sort of thing.
#RIPTwitter: The backlash begins
As you might have guessed, the news is not going over well with longtime Twitter users who value Twitter's timeline for what it currently is—a live-updating stream of posts from those you follow. As of this writing, the hashtag #RIPTwitter—which users are employing to protest the reported change—is the top trending topic on Twitter.
Aside from taking exception with the idea of an algorithmic timeline itself, many users have expressed concern that Twitter is ignoring other issues that should to be addressed and not listening to its users. Others are concerned about the ongoing "Facebookification" of Twitter as the microblogging site borrows more ideas from its larger competitor.
Of course, we users don't yet know what an algorithmic timeline would look like, but we might not have to wait much longer to find out.