It's a good day for fans of open-source software. The Document Foundation is releasing LibreOffice 5.1 for Windows, Linux, and Mac. On tap are reorganized menus, integrated support for remote servers like Microsoft SharePoint and Google Drive, improved compatibility with Microsoft Office documents, and too many smaller improvements to count.
LibreOffice 101
LibreOffice is the product of more than 1,000 developers, most of whom are volunteers, and has an estimated 100 million users worldwide. Born in 2010 as a fork of OpenOffice, LibreOffice has taken the lead and left its progenitor in the dust. In keeping with the Document Foundation's time-based release schedule, this latest release comes six months after LibreOffice 5.0—and will be followed by another release in six months' time.
Make no mistake: If you want an open-source office suite, LibreOffice is the one to use. Heck, if you just want a desktop office suite that's free to use, LibreOffice is the best option. That's why it's included with most Linux distributions by default. But it's available for Windows and Mac, too.
Reorganized menus
After spending the LibreOffice 3.x series cleaning up the code, and the 4.x series rearchitecting it, LibreOffice's developers are using the 5.x series to focus on the user interface.
The menus have been reorganized in Writer, Calc, and Impress—LibreOffice's word processor, spreadsheet, and presentation program, respectively. The new menus are designed to provide faster access to the most-used features. Writer gained a "Styles" menu, Calc gained a "Sheet" menu, and Impress gained a "Slide" menu.
The sidebars also got some attention, with the addition of a new Chart sidebar that allows quicker access to chart-editing options. While menus and sidebars don't sound the most exciting things, a streamlined interface is the kind of unexciting feature that will save many people time.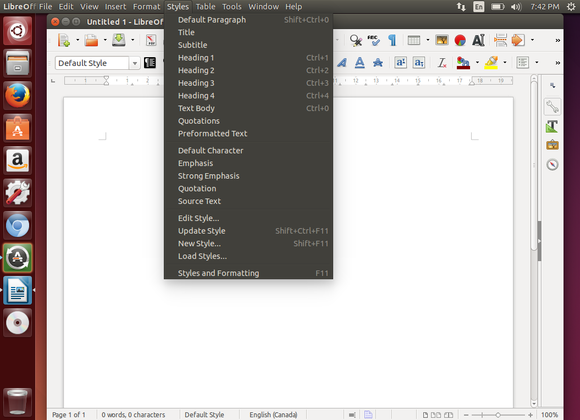 Saving and loading from remote servers
LibreOffice 5.1 features new integration with remote servers such as Microsoft SharePoint, Google Drive, Microsoft OneDrive, Alfresco, WebDAV, and FTP servers. You can open files directly from—and save files directly to—these services without any additional software. Any server that supports the CMIS (Content Management Interoperability Services) protocol should work.
The "Open a Remote File" and "Save to Remote Server" options under the File menu give you easy access to this feature. After you set up a remote server once, it'll take just a few clicks to access it in the future.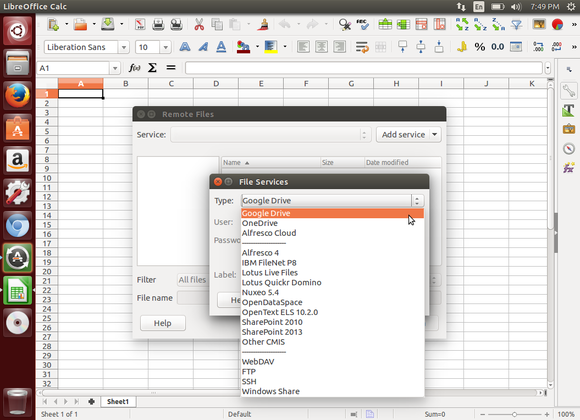 So many improvements
LibreOffice 5.1 promises significantly improved performance on Windows systems compared to previous versions. It also now lets Windows users insert characters using Alt-key codes.
Little improvements are everywhere. Impress's transitions were ported to OpenGL 2.1+, meaning better support for modern graphics processors. The SUM function in Calc makes better use of modern CPU features, to the tune of about five-times-faster performance. Users can easily change autocorrect settings in the spell-checking context menu. Structured references in tables have also gotten some love. The release notes for LibreOffice 5.1 are chock-full of such enhancements. It's the open-source development process at work: Volunteer developers scratch their own itches and everyone benefits.
It's still possible to embed content using an NPAPI plugin like Adobe Flash, but you're now warned that this is no longer supported. Indeed, it's being removed from LibreOffice 5.2, just as NPAPI support is being removed from browsers. Yes, LibreOffice is helping to kill Flash. LibreOffice still supports embedding ActiveX components on Windows, but this may also be removed in a future release.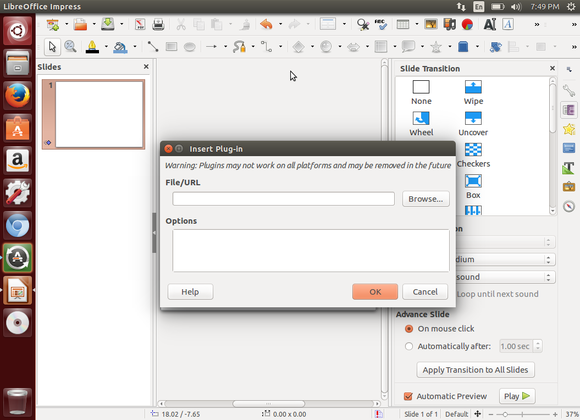 Improved compatibility with MS Office and more
The latest version of LibreOffice also features improved interoperability. As always, the developers have tweaked compatibility with Microsoft's Office Open XML format, the default file format for modern versions of Microsoft Office. While Microsoft's OOXML format is technically an ISO standard, no version of Microsoft Office—not even Office 2016—uses the "strict" version of the standard. Instead, Office still saves documents using a "transitional" version of OOXML by default. As the Document Foundation's Italo Vignoli points out, this is a transition that's been going on nine years. The Document Foundation says this standard tends to change with each new release of Microsoft Office, often in big ways, making it a challenge for LibreOffice to keep up.
There are also improvements for importing old Microsoft Office documents in binary formats—that means DOC, XLS, and PPT files. Improvements for importing RTF files and Microsoft Visio projects are also included.
LibreOffice supports new file types, too. It can now import Microsoft Write (.wri) documents and Apple Keynote 6 (.key) presentations. On Linux, LibreOffice can now import Gnumeric spreadsheet files.
The WEEKNUM function in Calc also now complies with the ODF 1.2 definition for calculating the week number. This is important for organizations standardizing on the Open Document Format, such as the UK government.
The future includes web and mobile apps
Work on LibreOffice web and Android apps is ongoing, too. All that time spent improving the suite's underlying code has made it possible for LibreOffice to go beyond the desktop and onto other platforms. While the Document Foundation doesn't have anything to announce just yet, it will be releasing more details about the web and mobile versions of LibreOffice in the coming months.