Microsoft slow encroachment on Android continues. The company recently announced that Acer is the latest in a long list of device makers that will bundle Office apps and other Microsoft services with its Android handsets.
Acer joins other companies including Asus, Dell, LG, Samsung, and Sony who have all agreed to distribute their devices loaded with Microsoft apps. Similar to the prior arrangements, Acer's deal with Microsoft is part of a patent licensing agreement.
Beginning in the second half of 2016, select Android-powered smartphones and tablets from Acer will come with Microsoft apps pre-installed. The selection will include the core Office apps—Excel, OneNote, PowerPoint, Outlook, Word—as well as OneDrive and Skype.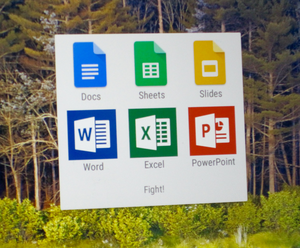 Why this matters: As the saying goes: if you can't beat 'em, assimilate 'em…or something like that. Microsoft needs a strong presence in mobile, especially with Lumia sales sinking and Windows 10 mobile off to a slow start. Getting its apps installed by default on Android devices via patent deals is one way to put its products in front of millions of users—especially since Google's Docs family of apps aren't preloaded on Android devices.
There's a chance, however, that Microsoft's aggressiveness will backfire.
Microsoft: Bloatware distributor
Microsoft's Android apps are fantastic: there's no question about it. Mobile editing doesn't get much better than the Office suite. That doesn't mean the company can escape the accusation of distributing bloatware. Simply put, if there's an unwanted app preloaded on a user's phone, it's bloatware—excluding essential system apps.
Users generally tend to rile at preloaded apps since it reduces the space for all the apps they do want. On top of the preinstalled Microsoft apps, the vast majority of phones also come with apps from the device maker and your mobile carrier. Plus, deleting unwanted apps when you first boot up a device is exactly what most people hate about getting a new PC. Encouraging that model with smartphones is not necessarily the best play.
Now that pretty much every major Android device maker is preinstalling Microsoft apps, we should find out fairly soon if users like the strategy as much as Microsoft does.