At a Glance
Expert's Rating
Pros
Good 1080p gaming performance
Whisper-quiet
Small mITX size
Our Verdict
The Sapphire Nitro R9 380 ITX Compact delivers great 1080p gaming performance in a tiny mini-ITX form factor with surprisingly little compromise.
When it comes to graphics cards, bigger has traditionally meant better: Bigger performance demands bigger graphics chips, which means bigger heat output, which means bigger custom cooling solutions, all of which results in physically larger—sometimes downright hulking—graphics cards.
But the times, they are a-changin'. Small form factor PCs have captured the public's imagination, spurred on by the rise of Steam Machines and AMD's radical, 4K-capable Radeon Nano. More and more, readers are tweeting at me, asking for mini-ITX graphics cards recommendations. But until now, the only recent mITX graphics cards we had reviewed were the Nano and Asus GTX 970 DirectCU Mini, both of which are pricey enthusiast cards that—ironically—command even higher premiums for their more diminutive form factors.
Itty-bitty gaming PCs don't have to break the bank, though, and they no longer have to trade performance for their shrunk-down size. Case in point: the Sapphire Nitro Radeon R9 380 ITX Compact, a mITX version of the best $200 graphics card you can buy. Sapphire recently upped the memory on the card from 2GB to 4GB—the perfect excuse to review an affordable mITX graphics card that still delivers big-time graphics performance.
Meet the Sapphire Nitro Radeon R9 380 ITX Compact
This card's basically a miniaturized version of the Radeon R9 380, which is itself a tuned-up version of the older R9 285. It supports AMD's far-flung software ecosystem too, playing nice with DirectX 12, LiquidVR, Eyefinity multi-monitor setups, virtual super resolution, oh-so-wonderful FreeSync displays, the new Radeon Software Crimson tools, and more.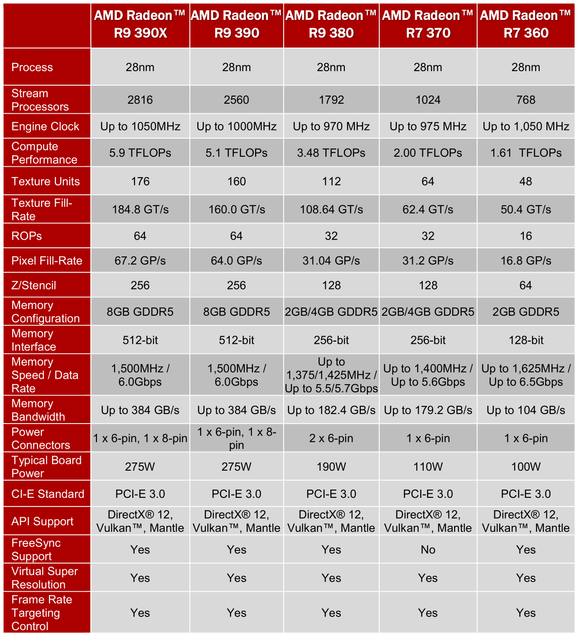 But Sapphire's added several tweaks to help this card stand out for more than just its small 6.7 x 4.57 x 1.46-inch size.
The Nitro R9 380 ITX Compact features a thick heat sink augmented with four thick copper pipes, all residing underneath a lone dual-ball-bearing fan. It dissipates heat well enough to run remarkably quiet even under heavy loads. The card was built using long-life capacitors and black diamond chokes typically reserved for Sapphire's higher-end graphics cards, such as the Nitro Radeon R9 390; Sapphire says the capacitors lengthen the card's lifespan, while a black diamond choke "runs 10 percent cooler and with 25 percent more power efficiency than a normal choke."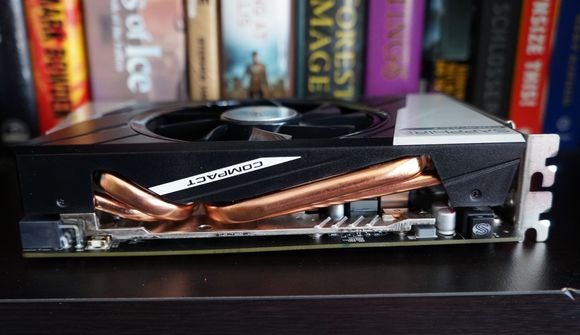 That's important in such a tightly packed graphics card, especially since the Sapphire Nitro R9 380 ITX Compact comes factory overclocked. The GPU core clock hits 1GHz, compared to the 970MHz of the stock Radeon R9 380, while the 4GB of onboard RAM runs at 1,450MHz—a 75MHz boost over default.
That extra oomph means the Nitro R9 380 ITX Compact needs a bit more juice than stock models, too. While reference designs suck down 190W, Sapphire's card demands 225W, which it gets via an eight-pin connector placed on the rear of the card instead of the side. Depending on how your mITX case is configured, that could be a blessing, or it could be a curse.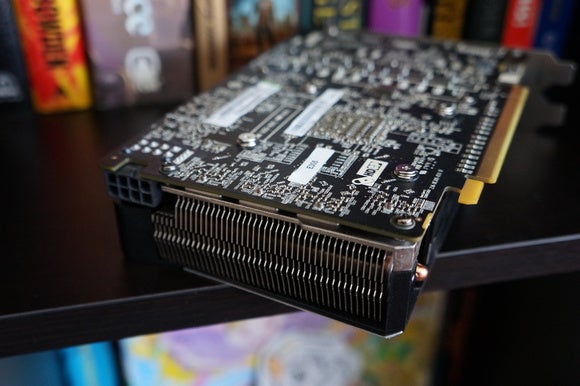 There are a few more aesthetic points worth mentioning. The Nitro R9 380 ITX Compact ships with both legacy BIOS and modern UEFI firmware for maximum system compatibility. You can switch between the two using a toggle on the top edge of the card. (It's pictured above, in the image of the heat pipes.) The card also features an unconventional set of ports: DVI-D, HDMI, and dual mini-DisplayPort connections rather than full-sized ports. Fortunately, Sapphire thought ahead and bundled a mDP-to-DP adapter in the box, along with DVI-to-VGA and dual six-pin-to-single-eight-pin adapters.
Got it? Good. Let's take this puppy for a drive.
Sapphire Nitro Radeon R9 380 ITX Compact benchmarks
We tested the Sapphire Nitro Radeon R9 380 ITX Compact on PCWorld's dedicated graphics card benchmark system. Key highlights of the build:
Next page: Performance benchmarks
Although Sapphire's card appears similar to the Radeon Nano and the Asus GTX 970 DirectCU Mini physically, those two are in a totally different league performance-wise, built for high frame rates at far higher resolutions—and they sell for much more money than the Nitro 380 ITX, which targets affordable 1080p gaming at high graphics settings. So we won't be comparing Sapphire's pint-sized graphics card against them.
Instead, we'll compare it to its closest competition—the 1080p graphics cards hanging around the $200 price point. Namely, VisionTek's full-sized stock Radeon R9 380 (which retails for $220 rather than the R9 380's $200 MSRP, but comes with a limited lifetime warranty); Sapphire's own step-up $250 Nitro R9 380X; and EVGA's $190 GeForce GTX 960 Super Superclocked, which sports a beefy factory overclock. The VisionTek and EVGA cards are 2GB models. Sapphire's Nitro R9 380 ITX Compact isn't available at online retailers yet, but representatives tell me the card will carry a $200 to $205 MSRP.
For a more holistic look at how the $200 graphics card tier compares to other price points, be sure to check out PCWorld's massive roundup of graphics cards for every budget, which includes both buying recommendations and benchmark results galore for GPUs ranging from $150 to $1000.
Every game was tested using its in-game benchmark and the default graphics settings, unless noted otherwise, with V-Sync and any vendor-specific features (including FreeSync/G-Sync/Nvidia MFAA) disabled. We tested 1080p resolution alone, since that's what these budget-friendly cards are designed to handle. You won't find any DirectX 12 benchmarks included, because there aren't any available DX12 games. The DX12 benchmarks we've seen thus far have been synthetic tests or from early builds of games, and thus not an accurate example of real-world performance just yet. Here's hoping DX12 games hit the streets soon!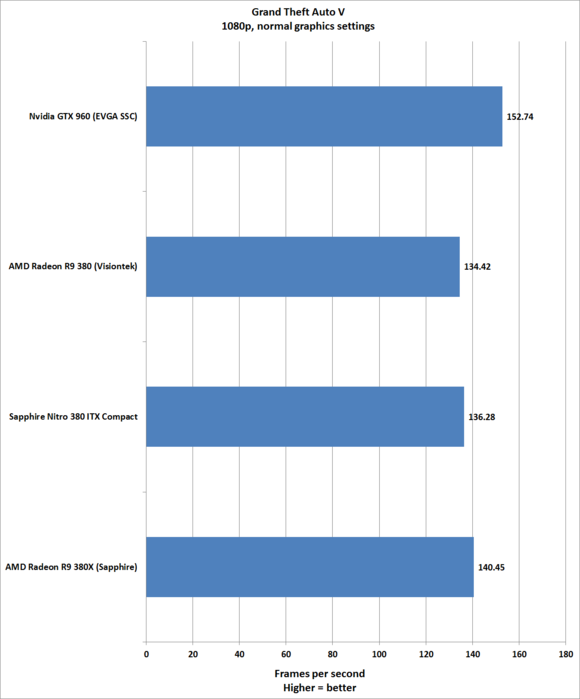 Grand Theft Auto V's memory requirements at higher settings and resolutions can hammer top-end cards, but it scales well and performs like a champ at 1080p. Because the game doesn't have overarching preset graphics settings like "Medium" or "Ultra," we tested it with FXAA enabled and every option set to Normal.
GTAV 's love for Nvidia cards shines here—it's actually the only game where the GeForce GTX 960 beats out the Radeon cards—but there's another thing to notice. The Nitro 380 ITX Compact may be smaller than a traditional graphics card, but thanks to its extra memory and boosted clocks speeds, it actually outpunches the full-sized VisionTek Radeon R9 380, which uses a reference design. Not too shabby!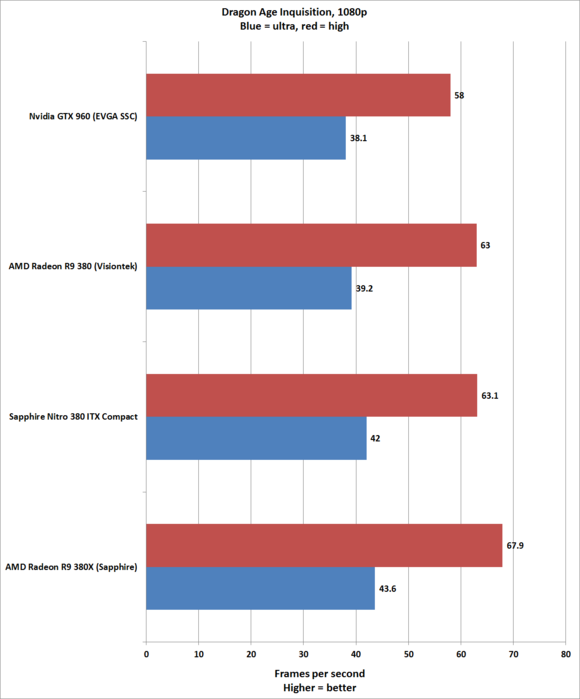 The tiny card ekes past 60 frames per second in Dragon Age Inquisition at High settings, too. Frame rates plummet to the lower 40s if you crank all the bells and whistles to 11, but High settings deliver more than enough eye candy for most users. Indeed, this is what you want to target in games if you're looking to maximize frame rates while still maintaining a fine level of graphical fidelity.
Next page: Additional games performance benchmarks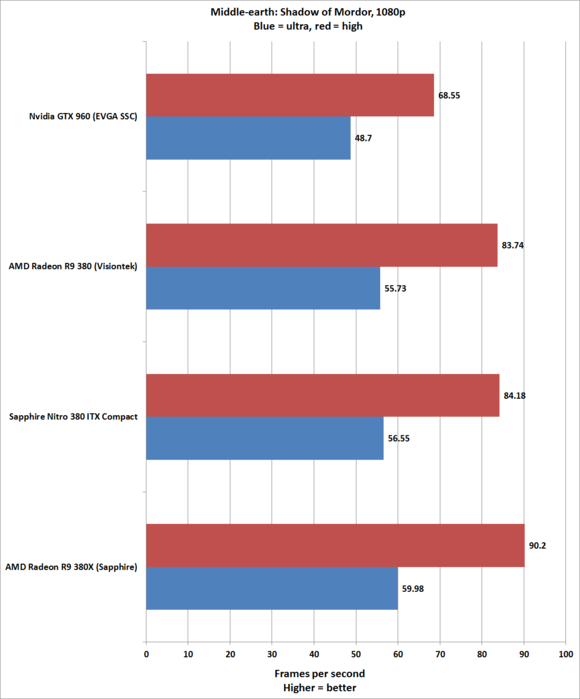 All that said, we test Ultra fidelity in Middle-earth: Shadow of Mordor by manually cranking every option to its highest setting, as the default Ultra preset doesn't actually max everything out. We don't use the optional HD Ultra Texture Pack while testing 1080p cards, though. All the cards handle this game like champions—you could use the Ultra settings and still hit damn near 60fps with the Nitro 380 ITX Compact.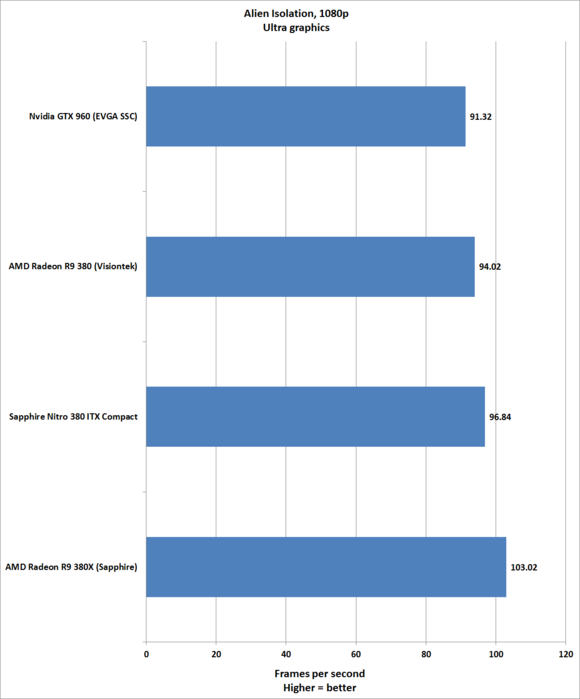 Alien Isolation's gameplay is terrifying, but its performance is anything but. Every card we've tested—even the $100 GTX 750 Ti, which isn't listed here—hits 60fps at 1080p/Ultra, while the Sapphire Nitro 380 ITX Compact flirts with 100fps.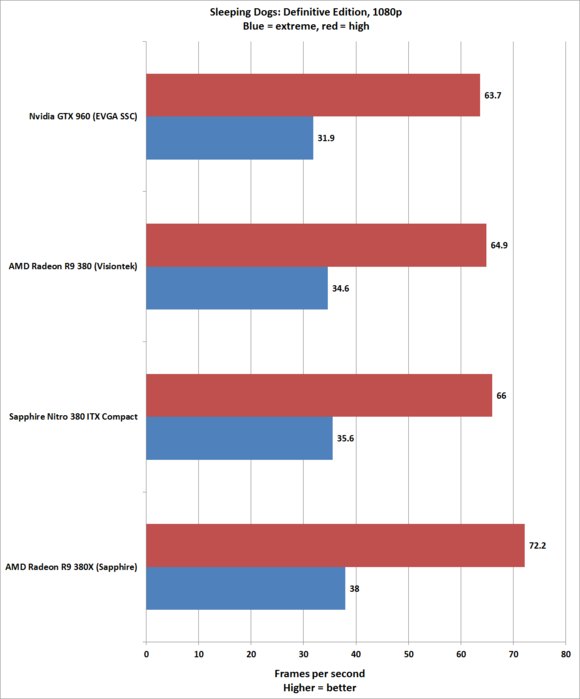 Sleeping Dogs: Definitive Edition's anti-aliasing options cripple all but the most powerful graphics cards on Extreme settings, but once again, turning things down to High lets Sapphire's card cruise past the hallowed 60fps barrier.
Next page: Additional performance tests and power draw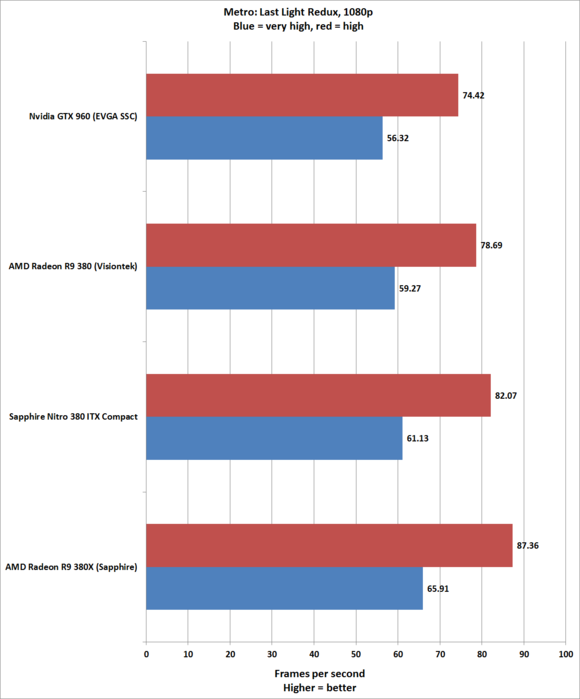 Like Sleeping Dogs: Definitivie Edition, Metro: Last Light Redux is a spiffied-up version of a superb title. We disabled PhysX and SSAO for this test. SSAO sends frame rates plummeting by 50 percent, and doesn't provide nearly enough visual benefit for that kind of performance penalty.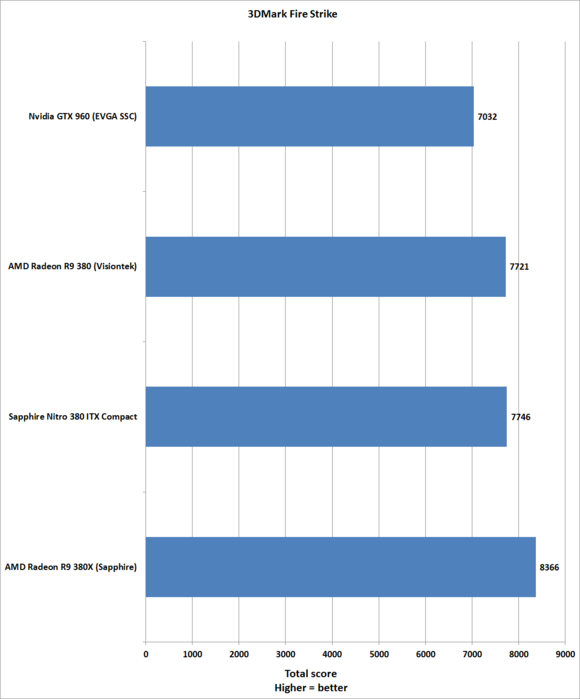 We also test all cards using 3DMark Fire Strike, a synthetic benchmark, but one that's well respected and oft-used within the industry.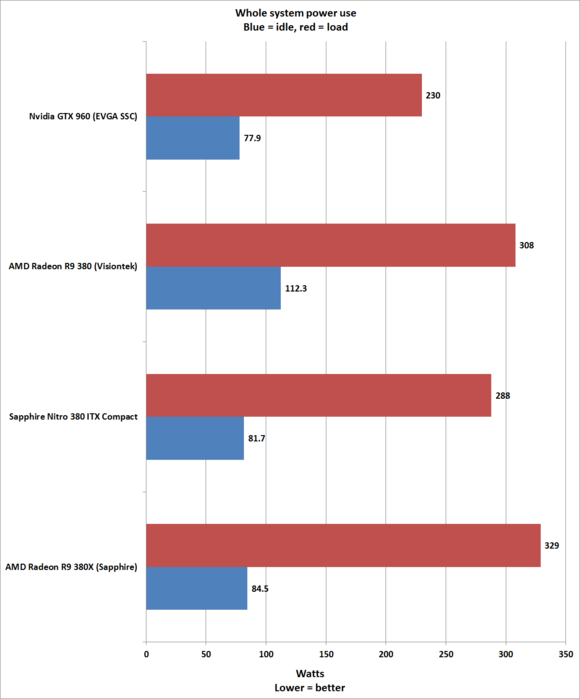 AMD's Graphics Core Next-based cards have long consumed more power than Nvidia's GeForce counterparts, and that trend continues with the R300 series cards, which are essentially faster-clocked versions of older R200-series Radeons. Sapphire's Nitro 380 ITX actually draws less power under load than the reference VisionTek R9 380 despite ostensibly demanding more on paper.
Power is measured by plugging the entire system into a Watts Up meter, then running a stress test with Furmark—which both AMD and Nvidia dub a "power virus"—for 15 minutes. It's basically a worst-case scenario.
Final page: GPU temperatures and the bottom line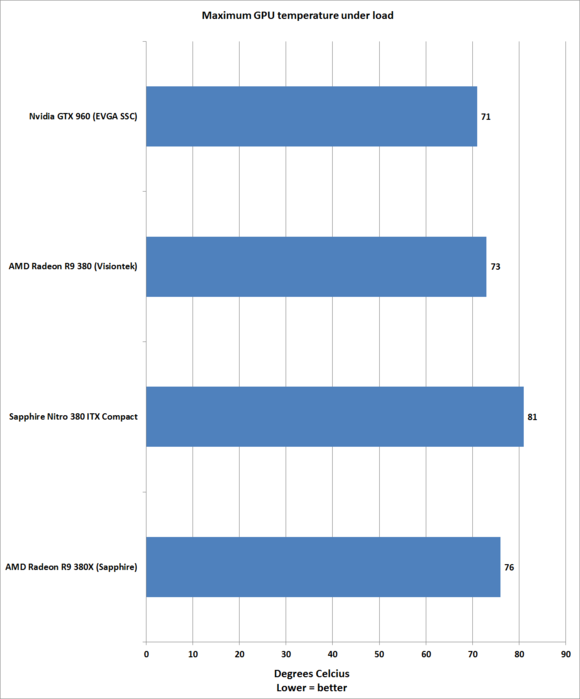 Partly thanks to that increased energy draw, no doubt, the Radeon cards run hotter than the GTX 960. The Nitro 380 ITX Compact spits out more heat than the VisionTek card while running Furmark, but that's to be expected since it's smaller, clocked faster, and has just a single fan.
Nonetheless, Sapphire's custom cooler does a remarkable job at running in near silence even under full load. I've handled several Sapphire graphics cards in the past six months and the quality of their cooling systems has blown me away every time. Noise levels are important if you plan to use this mITX card in a home theater PC, because you don't want the sound of blaring fans to drown out Shark Tank witticisms.
Bottom line
What's not to like about the Sapphire Nitro Radeon R9 380 ITX Compact?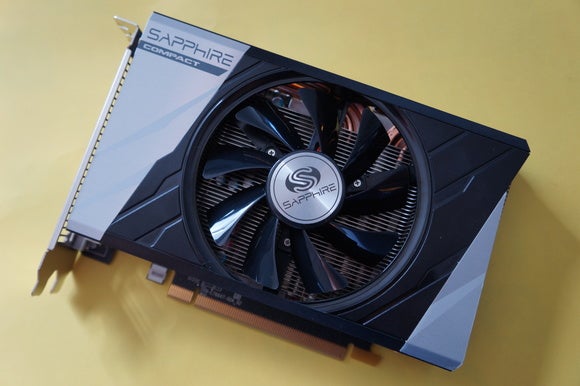 The Radeon R9 380 is already the best $200 graphics card you can buy today, capable of playing the vast majority of games out there with buttery-smooth frame rates on High graphics settings. Sapphire's mini-PC-focused variant is smaller, faster, and quieter than the reference version, yet it costs only about $10 more—and that's with 4GB rather than 2GB of onboard memory.
Slap the Nitro 380 ITX Compact into a small form factor PC and it'll deliver big-time gaming performance without breaking the bank, period.
This card's highly recommended if you're cobbling together a mITX PC for 1080p gaming. It'd be a wonderful addition to any home theater PC or portable LAN party machine. But if you're building a traditional rig, you'll probably find full-sized Radeon R9 380 models with beefier overclocks and more ornate cooling systems for less money.