I've been deliberately avoiding XCOM 2 on account of it being pretty broken on my machine, but…well, someone modded Arnold Schwarzenegger into the game and now I think I've got weekend plans.
More details on that and other news—Fallout DLC, Master of Orion's love affair with Star Trek, and more—below. This is gaming news for February 15 – 19.
Mayor for a day
Looking for something to play this weekend? The excellent city-builder Cities: Skylines is free to play on Steam from now until Sunday at 1 p.m. Pacific. As per usual, take a look in your Steam library for the install.
And speaking of free games: Sega is giving out some freebies to keep, if you're interested. As part of the Make War Not Love event you can grab Binary Domain, Condemned, and Streets of Rage II for free. Head here to claim your codes.
Crawl out through the Fallout
Bethesda showed off the start of its DLC plans for Fallout 4 this week: Three parts, with more to come in the future apparently. "Automatron" sees the return of Fallout 3's Mechanist and his robot army, and also lets you create your own robot companions from scratch. "The Wasteland Workshop" tasks you with setting up an arena for Wasteland monsters to fight in. Yawn.
And then there's "Far Harbor," which Bethesda says is the largest expansion they've ever made. And it comes with a big ol' $25 price tag too. Check out this gorgeous key art: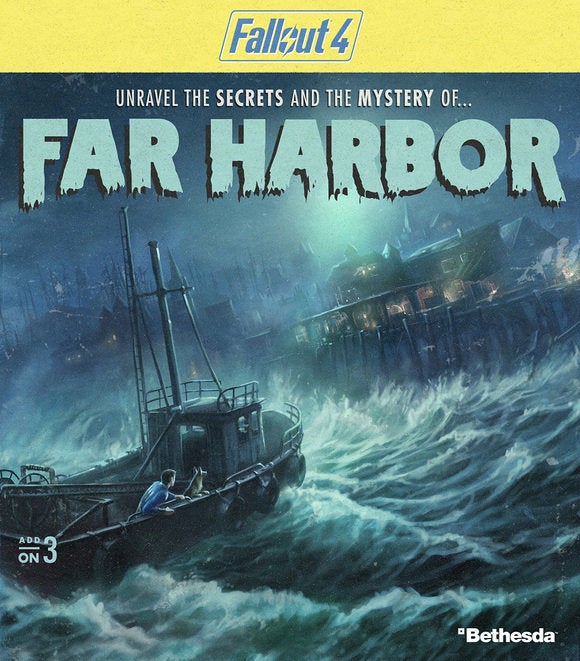 "A new case from Valentine's Detective Agency leads you on a search for a young woman and a secret colony of synths. Travel off the coast of Maine to the mysterious island of Far Harbor, where higher levels of radiation have created a more feral world."
Sounds like Fallout 3's Point Lookout DLC, at least in terms of scope. Whether it'll be worth $25? We'll see.
And while we're on the topic of Bethesda: At DICE this week, Todd Howard dropped that the studio is working on "three kind-of long term projects" right now. Maybe it's premature to think we'll hear about one at E3 this year, but Bethesda is holding another press conference…
Deja Q
Things you should know: 1) That Master of Orion reboot is just around the corner. 2) John de Lancie (Q in Star Trek) is doing one of the voices.
Oh sure, there's a whole host of other notables doing voices. Alan Tudyk, Michael Dorn, Troy Baker, Mark effing Hamill. But I have a soft spot for John de Lancie so he gets top billing. Here's a big ol' trailer full of voice actors:
More zombies
We recently played Dying Light's new expansion The Following and had a rollicking good time smashing up zombies with our dune buggy. But that's not the last we'll see of the game, according to Techland CEO Pawel Marchewka:
"To make sure that every new or veteran player gets all the fun they deserve, we have decided to continue our support for Dying Light at least till the end of this year. We are already working on new unannounced content, so stay tuned for our future news."
The devil you know
Last week: Microsoft announces Remedy's new game Quantum Break is coming to PC. Surprising, since it was originally billed as an Xbox One exclusive.
This week: In case you hadn't already inferred from the "Coming to Windows 10" language, Microsoft confirms the game is not coming to Steam. Like the upcoming Fable Legends, it'll only be available through Microsoft's store. Consider me about half as interested.
Seems familiar…
Would you play more Just Cause 3? I'd play more Just Cause 3. The first DLC is apparently called "Sky Fortress" and…well, the name is pretty self-explanatory. The important bit: You get a jetpack. Okay, you're basically Iron Man.
Oh yeah, brother
2K has yet again made the baffling decision to bring its WWE series to PCs six months later than consoles. I don't know. But if you were waiting to get your hands on WWE 2K16, it's coming. (Reviews say it's not great). Here's a picture of, I'm pretty sure, porn legend Ron Jeremy in tights: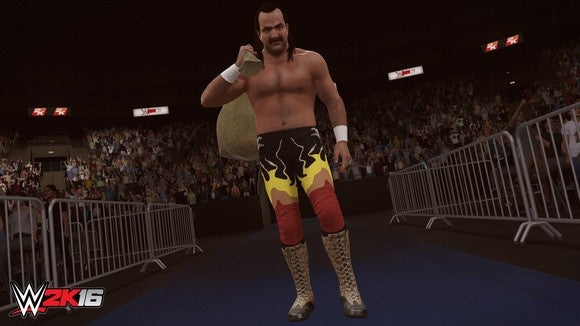 End of an era
Not only is Assassin's Creed taking 2016 off, but Ubisoft now claims the game may return as an every-other-year franchise. Ubisoft's Yves Guillemot is quoted as saying, "The goal is not to automatically come back to an annual cycle, but to come back on a regular basis…We can't say every year."
Most likely every two years, then. Which seems like a much healthier schedule for those games. (Via GamesIndustry.biz)
See you at the party, Richter
XCOM 2 is by all accounts at least partially busted. A hotfix from 2K this week didn't help matters much, either. But hey, if you're willing to put up with the lengthy pauses and herky-jerky pacing at least you can mod Arnold Schwarzenegger into your game:
You can find it in the Steam Workshop. Kudos to Steam user tdc733.