It's a hell of a time to launch a Windows phone, and yet that's exactly what HP did Sunday night at Mobile World Congress, when it debuted its Elite x3 flagship. This premium-level device enters a wasteland littered with failed phones, an ecosystem that, at last report, clings to just one percent of the worldwide market.
Despite the clear and significant risks, HP seems to have a reasonable strategy: Make it a beautiful, powerful device. Sell it into the cash-rich, Windows-centric corporate world. Finally, emphasize Continuum, that standout feature in Windows 10 Mobile, the one thing its rivals Android and iOS can't touch.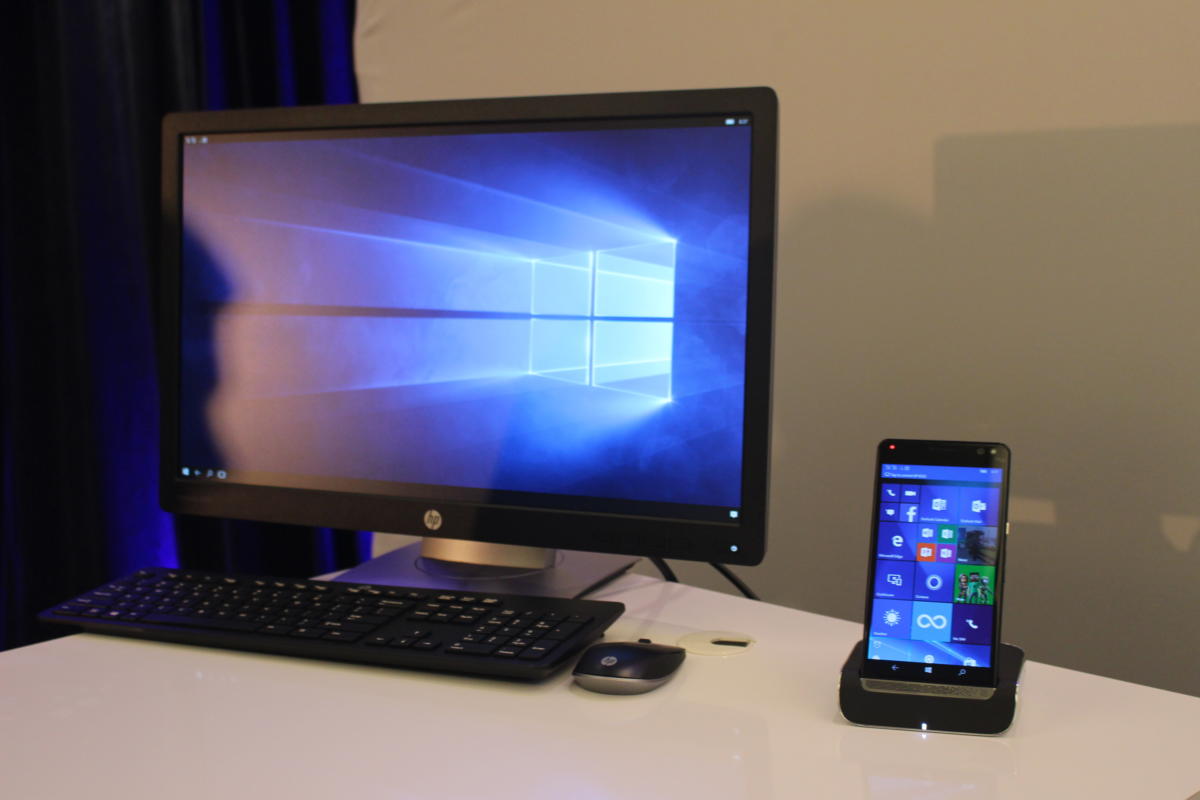 Just settle a Windows 10 phone into a special dock, and it can control a connected display and input devices, acting much like a traditional PC. Anyone who's had to lug around a laptop for work can see the appeal of running everything from your phone.
It's too early to know whether this plan can pull Windows phones back from the brink. But I will grant this to HP: It's aiming high, and that's the best chance for some sort of success, even with tough odds. Now let's take a look at the brave, shining champion HP's sending into the void.
The Elite x3: As powerful as your PC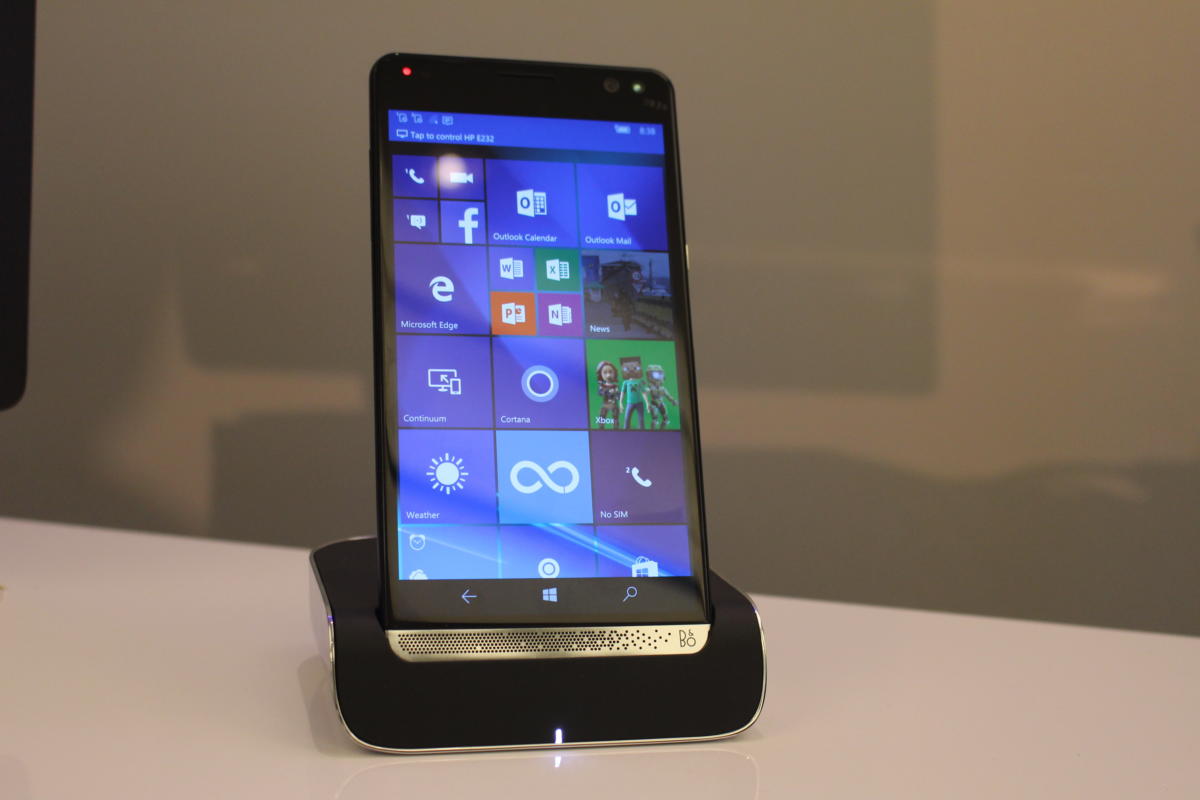 The Elite x3 is, indeed, a beautiful, powerful phone (at least on paper, as we've yet to test it). Its Desktop Dock and Mobile Extender show a compelling way to make the phone the center of your work life. HP's even working on ways to drag legacy apps onto the platform via HP Workspace (which we won't cover in this article).
HP went all-in on the Elite x3's design. "What if a device in your pocket were as powerful as your PC?" asked HP's Michael Park, during a recent briefing. Park said HP had conceived the phone as "beauty and brawn designed from the ground up for commerical use."
As he showed the sleek, phablet-sized device, he reinforced the Elite x3's flagship ambitions. "This is a device that executives would carry."
The highlight specs seem to follow through on HP's pledge to make a "no compromises" phone, with leading-edge features from the CPU on down: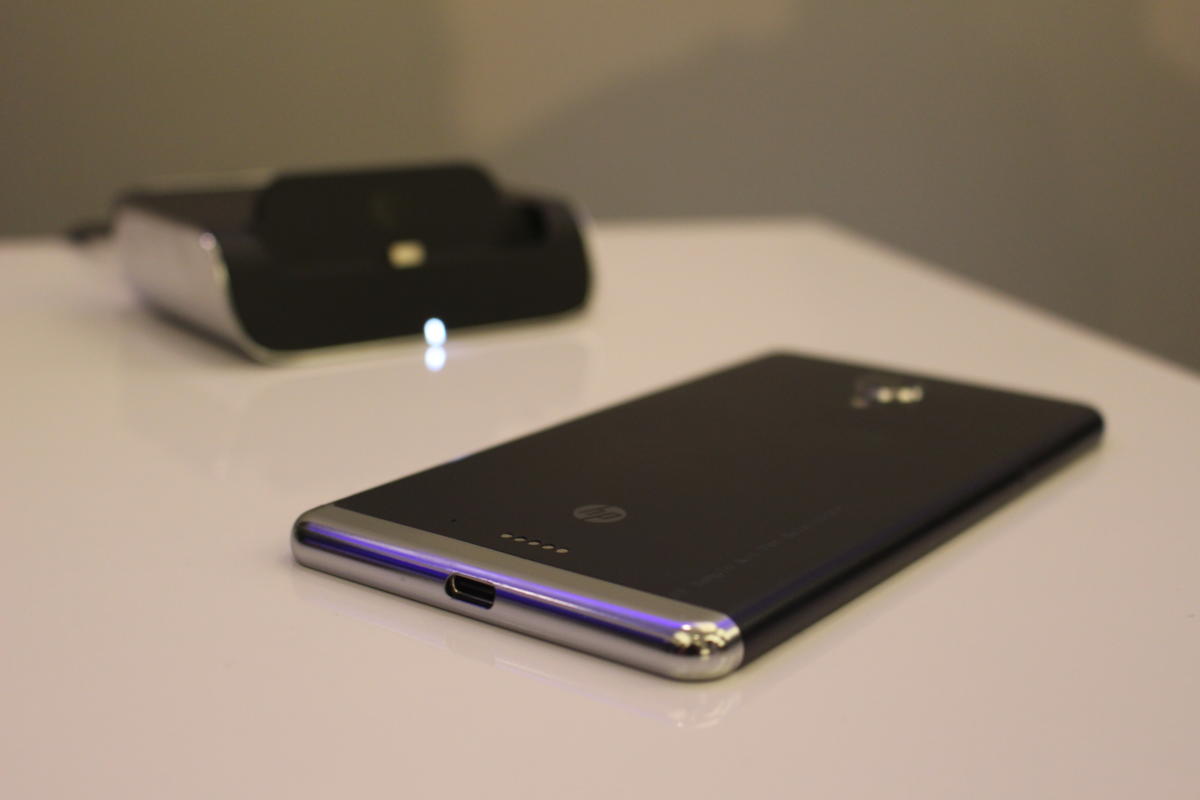 A graphite-colored body with polished-chrome accents
A 5.96-inch, 2560×1440 (WQHD) edge-to-edge display with Corning Gorilla Glass 4 and an anti-reflective coating
The brand-new Qualcomm Snapdragon 820 CPU with integrated Adreno GPU
4GB of LPDDR-4 RAM
64GB eMMC storage, SD extensible to 2TB
Cat 6 LTE ("Designed for continuity," explained Park: "We know LTE is where things are going.")
8MP front-facing camera, 16MP rear-facing camera
Dual SIM slots
A 4,150mAh battery (No life spec yet, but Park promised it would last "all day")
Dimensions: 3.29×0.31×6.36 inches
Weight: 0.43 pounds (options could add weight)
Durable: passed IP-67 and MIL Standard 810G, including a four-foot drop
I had several chances to hold the Elite x3 in my hand during the briefing. It's large, but thin and not heavy-feeling. I have a somewhat small hand and was able to grasp it comfortably, though I'd need to hold it with two hands to do more than a quick swipe or two. The textured graphite back is easy to grip.
The Elite x3 has a Bang & Olufsen sound system that was impossible to test at the crowded briefing. According to Park, it optimizes audio for Skype calling, with dual front-firing speakers and active noise cancellation.
Meet the Desk Dock and Mobile Extender
The Elite x3 is not an island. It needs the Desk Dock and the Mobile Extender to fulfill its Continuum capabilities.
The Desk Dock is a small stand with connectors that also functions as the base for using Continuum. We've seen similar docks from Microsoft for its own Windows phones, and also from the recently revealed Acer Liquid Jade Primo.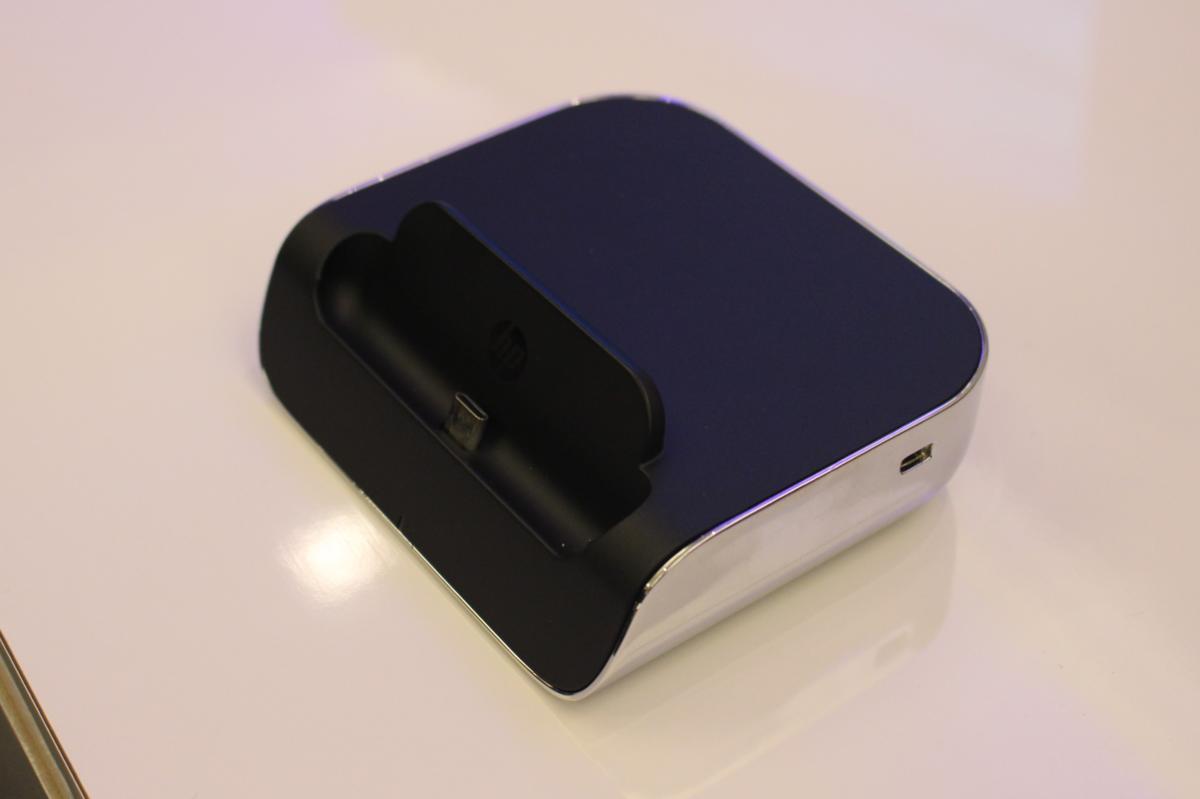 It measures 4.25×3.74×1.2 inches and weighs a shade under a pound. Its connectors include DisplayPort, two USB-A, one USB-C, and RJ-45.
While I expected a dock from any new Windows phone, I didn't expect a device like the Mobile Extender, basically a laptop-shaped dumb terminal. However, it solves the problem of what to do if you don't have a display, keyboard, and mouse waiting for you and your Windows phone on the road.
Connect the Mobile Extender to the phone, either wirelessly or via its USB-C port, and you have a somewhat-mobile computer that's really your phone. It's something you could take on a trip for times when you need to focus on work. IT managers could hand them to visitors camping in the lobby or at a mobile workstation, or even someone who needs to work from home.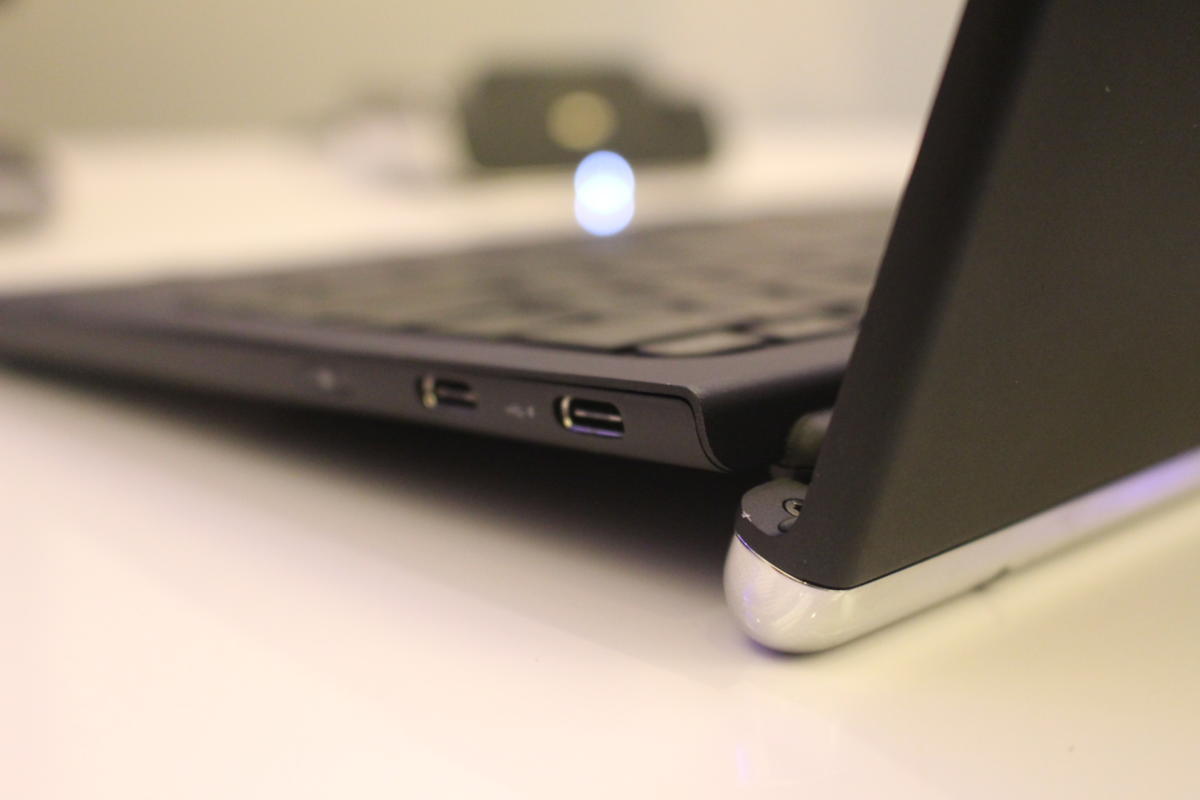 The Mobile Extender has no CPU, memory, or storage. It does have a 12.5-inch display and a backlit keyboard with a drain hole. Its three USB-C ports include one for charging the Elite x3, and two more for data and power. There's also a micro HDMI port. Its 4-cell, 46.5wH battery can last three days in standby mode, per HP's claims.
With both the Desk Dock and the Mobile Extender, HP has created accessories that aid and abet Continuum. Imagine the first deployments to mobile users, who are likely to be skeptical of the Windows phone being handed to them, They can complain about carrying a second phone. They can complain about the dearth of apps. But when they first try a Desk Dock or Mobile Extender, I'll be surprised if a little light doesn't go on over their heads.
The phone that can't fail
Windows phones have come and gone. In the wisdom of hindsight, I can hypothesize that one problem was the vendors. Partners like HTC and Alcatel who only make phones, not PCs, weren't invested in the Windows ecosystem in the same way that HP, Acer, and Vaio are.
Of course, the early Windows Phones weren't connected to the traditional Windows platform anyway. Now that Windows 10 Mobile has brought Continuum into the world, PC vendors can see as well as I can how this new feature helps Windows users complete the circle and have the seamless experience Microsoft is promising across all its devices.
Now the rest of the world needs to see this as well, and that's no sure thing. HP's already experienced one spectacular phone fail, if you remember its ill-fated acquisition of Palm. We've watched Windows phones fail as consumer devices, with lackluster low-end handsets and no good flagships to lead a charge.
At least HP's strategy of selling the Elite x3 into the corporate space is avoiding throwing good phones after bad. Granted, forcing people to use it because their companies tell them to doesn't sound like much fun initially. On the other hand, the IBM PC caught on with consumers after establishing itself in corporations, so there's an arguable precedent that a successful Elite x3 will help Windows phones sneak back into the consumer market someday…
The Elite x3 and its accessories are expected to release this summer, but pricing hasn't been set yet. HP probably didn't want the Elite x3 to be burdened with the mission of single-handedly reviving the Windows phone market. If it can't catch on, though, none of the other Windows phones have any better of a chance. What do you think? Let us know in the comments.