At a Glance
Expert's Rating
Pros
Top-notch performance
Cool and quiet
Beautiful, sturdy design
Cons
Fat and long
Consumes a lot of power
Only 4GB of RAM
Our Verdict
Sapphire's impeccably designed Nitro R9 Fury will handle high-end games without breaking a sweat or raising its proverbial voice.
There are no bad graphics cards, only poorly priced graphics cards. Shifting MSRPs can sway recommendations in the blink of an eye.
Consider the fierce battle going on in the $500 to $600 range: When AMD's Radeon R9 Fury launched, it delivered great bang-for-buck for people wanting a bit more oomph than the GeForce GTX 980, but who couldn't drop $650 on a GTX 980 Ti or Fury X. Unfortunately for AMD, a mix of supply issues and slashed costs on Nvidia's end made high-end, overclocked GTX 980s a more compelling option shortly thereafter.
But now, AMD's family of cards powered by robust Fiji chips with high-bandwidth memory can be found much more easily, and prices for Fury graphics cards have fallen as low as $500. And Sapphire, one of AMD's initial Fury partners, just released the new Nitro R9 Fury, which features some fairly substantial tweaks over its original Fury model. What better time to see if the tables have turned yet again?
Meet the Sapphire Nitro R9 Fury
At its core, the $520 Sapphire Nitro R9 Fury is built around the default Fury configuration shown below. But Sapphire's tuned and configured all sorts of things, from the physical design to clock speeds, to give this card an identity all its own.
If you've ever laid eyes on another Radeon Fury, the first thing you'll notice is how physically different the Nitro R9 Fury looks from AMD's reference design. That's because Sapphire designed a custom PCB for this card that's not only longer and leaner than normal, but also features a six-phase voltage regulator module packing Sapphire's "Black Diamond" chokes. That helps reduce VRM temperatures by 20 percent and, according to Sapphire's Ed Crisler, "allowed us to beef up the power subsystem of the card."
The design also increases the overclocking potential of the Nitro R9 Fury, which must sound like music to Radeon enthusiasts' ears, as AMD's Fiji chips are famously stingy overclockers. The Asus Strix Fury we reviewed at the Fury lineup's launch didn't even feature an overclock out-of-the-box, while we could only push AMD's flagship Fury X an extra 50MHz over factory settings. Sapphire's Nitro R9 Fury rocks a 50MHz overclock by default—pushing the 1,000MHz reference design to 1,050MHz. And between the refined power delivery, dual-BIOS support, and beefy Tri-X cooling system, it's clear this card's designed to reach even loftier heights.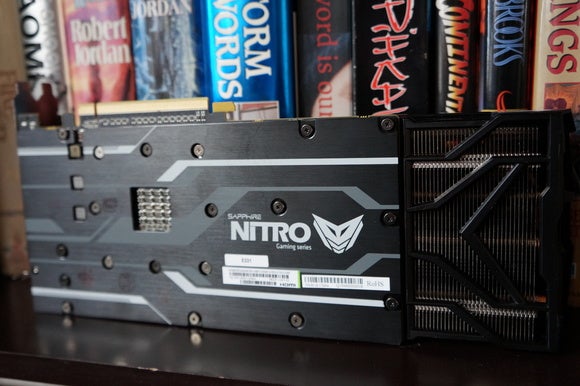 Speaking of the cooling system: It's no joke. Sapphire's graphics cards constantly amaze, and the triple-fan solution on the Nitro R9 Fury is clearly the pinnacle of the company's cooling tech. Underneath the trio of whirling, intelligently controlled blades that shut down completely at lower loads, you'll find a slew of thick copper heat pipes snaking through a heat sink that runs the length of the card and then some; if you flip the Nitro R9 Fury over, you'll see the heat sink extends far beyond the length of the PCB (which itself is covered by a snazzy aluminum backplate adorned with the Sapphire Nitro logo). This is a seriously well-built graphics card, and one that runs so cool and quiet, it almost feels like magic.
All that raw firepower and cooling hardware comes at a price, though. The Nitro R9 Fury is massive—we're talking over two slots deep and nearly 13-inches in length (though it isn't nearly as wide as the Asus Strix Fury). You'll need a big honkin' case for this puppy.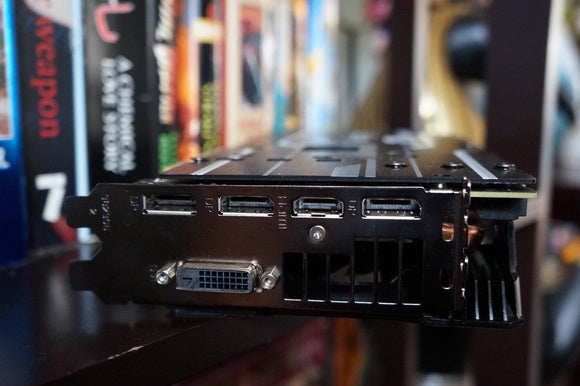 Port-wise, you'll find HDMI (1.4a, so limited to 30Hz at 4K resolution, sadly), a trio of DisplayPorts (good for 60Hz/4K, and necessary for butter-smooth FreeSync monitors), and a welcome DVI-D port, which is missing from AMD's reference Fury design. The card sucks down 375W of power over a pair of 8-pin connectors. Sapphire throws in a full-sized DisplayPort cable, too.
Of course, as Fiji is AMD's latest and greatest GPU, the Nitro R9 Fury also supports AMD's latest and greatest software features, like FreeSync, Virtual Super Resolution, True Audio, the oh-so-yummy Frame Rate Target Control, Eyefinity, and more.
Sapphire Nitro R9 Fury benchmarks
As ever, we tested the Sapphire Nitro R9 Fury on PCWorld's dedicated graphics card benchmark system. Key highlights of the build:
Next page: Performance benchmarks begin
We're comparing the $520 Sapphire Nitro R9 Fury against a bevy of enthusiast-class graphics cards: the $650 AMD Radeon Fury X, the Asus Strix Fury, the mITX Radeon Nano, and the $440 Asus Strix R9 390X, as well as the $650 Nvidia GTX 980 Ti, Nvidia's reference GTX 980, and EVGA's powerful $520 custom GTX 980 FTW ACX 2.0. We already have a general idea of how the Fury performs, so we're specifically looking for two things with this review: How the Sapphire Nitro R9 Fury compares to the Asus Strix Fury, and whether the newly lower pricing for AMD's Fury cards makes them more compelling cost-wise than a pedal-to-the-metal overclocked GTX 980 like EVGA's model.
Be sure to check out PCWorld's massive roundup of graphics cards for every budget, which includes both buying recommendations and benchmark results galore for GPUs ranging from $150 to $1000.
Every game was tested using its in-game benchmark and the default graphics settings, unless noted otherwise, with V-Sync and any vendor-specific features (including FreeSync/G-Sync) disabled. Both 4K and 2560×1440 resolutions were tested on these high-end cards. You won't find any DirectX 12 benchmarks included because there aren't any available DX12 games. The DX12 benchmarks we've seen thus far have been synthetic tests or from early builds of games, and thus not an accurate example of real-world performance just yet.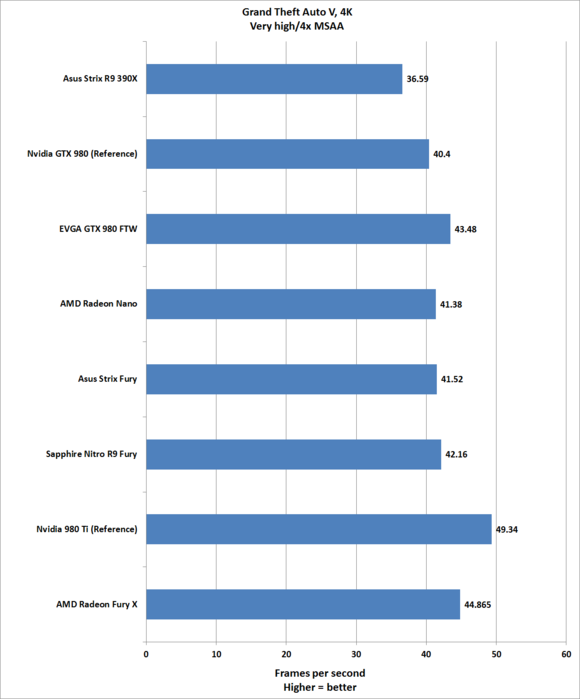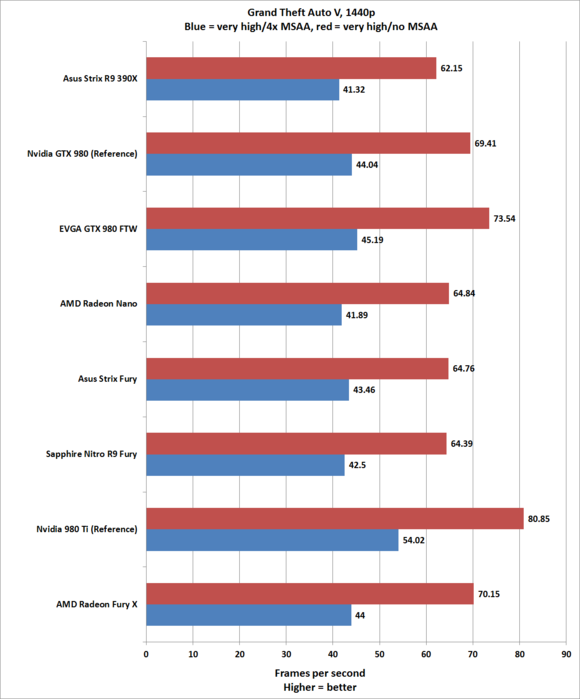 We test Grand Theft Auto V three ways: at 4K resolution with all graphics options and density sliders set to their maximum settings and FXAA enabled; at 2560×1440 with the same settings; and at 2560×1440 with the same settings and MSAA and reflection MSAA each set to x4. GTA V tremendously favors Nvidia cards, which is most obvious at 1440p without MSAA enabled. The Sapphire Nitro R9 Fury holds close at 1440p with MSAA enabled, however, and at 4K resolution without MSAA active.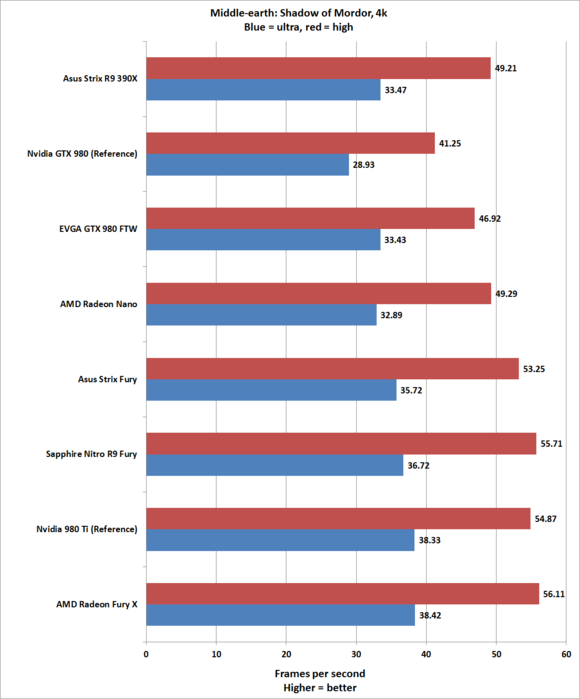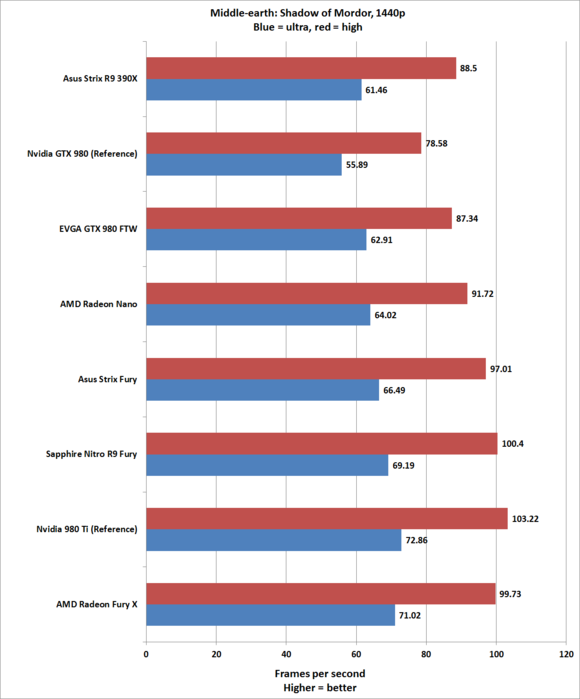 Middle-earth: Shadow of Mordor is tested with the High graphics preset, then by cranking everything to its highest available option and using the optional (free) HD Textures Pack download, which utterly chews through memory. In fact, the game suggests only using the HD texture pack if you have 6GB of dedicated GPU memory or higher, but high-bandwidth memory's blazing speed holds up just fine despite being restricted to 4GB of capacity. The Sapphire card stomps the GTX 980 at High settings here, and comes within spitting distance of the powerful GTX 980 Ti at 4K resolution.
Next page: Additional games performance benchmarks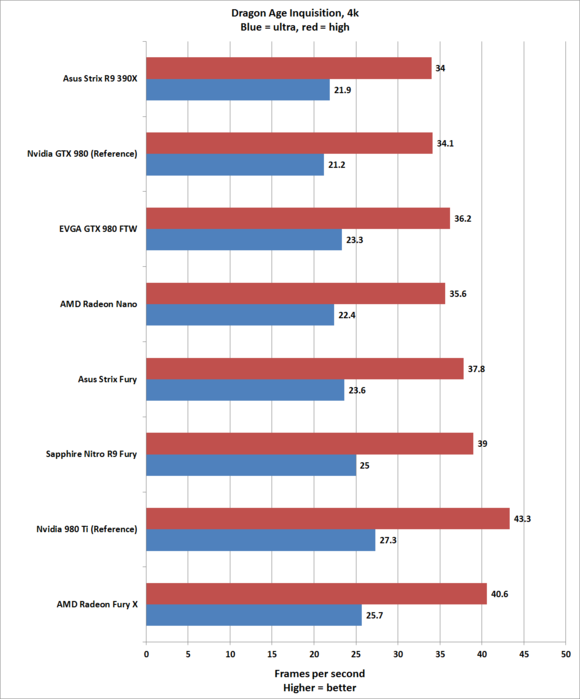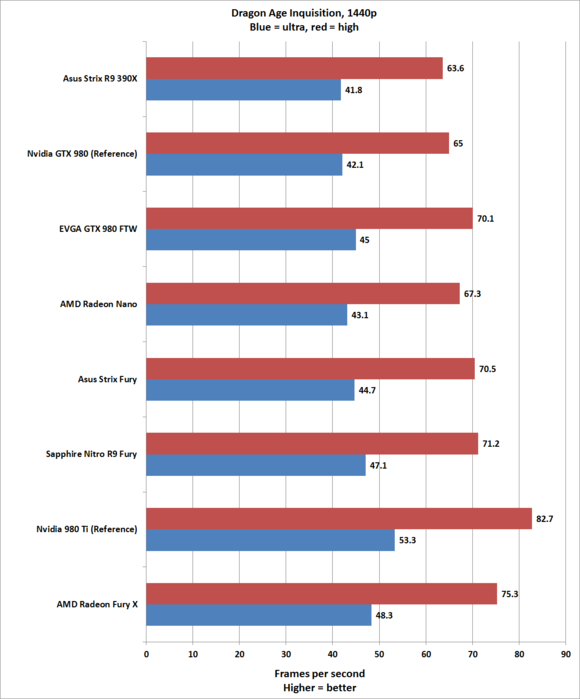 Dragon Age Inquisition uses the Frostbite engine that also powers the Battlefield series. None of the cards clear 60 frames per second (fps) until you drop settings down to 1440p/High.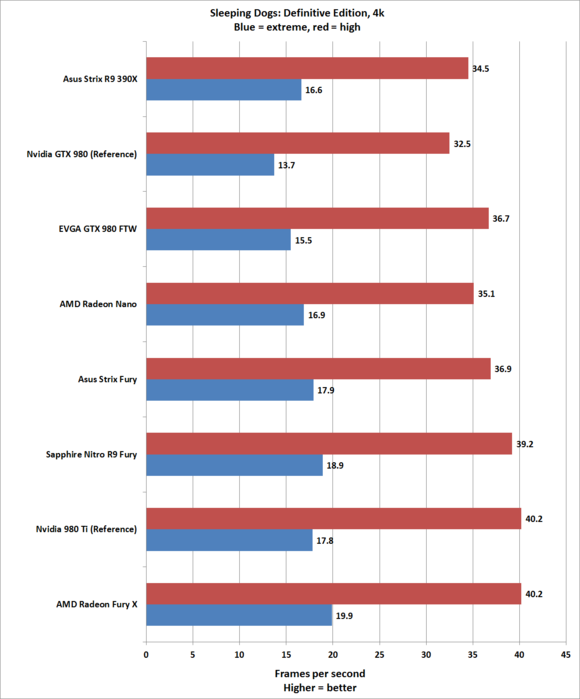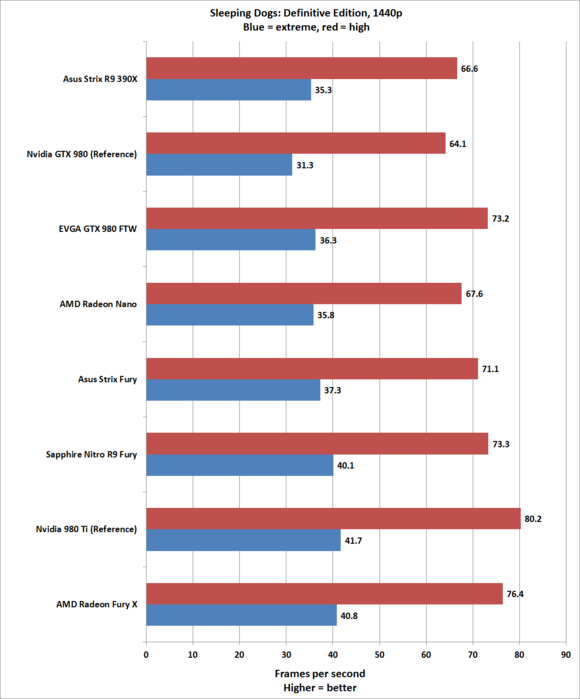 Likewise, the hardcore anti-aliasing methods in Sleeping Dogs: Definitive Edition hammer all of these cards at 4K resolution. The hefty overclock on the EVGA GTX 980 FTW helps it hang with the Fury duo, though the Radeons deliver far more performance—roughly 9fps, in the Nitro R9 Fury's case—than the reference GTX 980.
Next page: Additional games performance benchmarks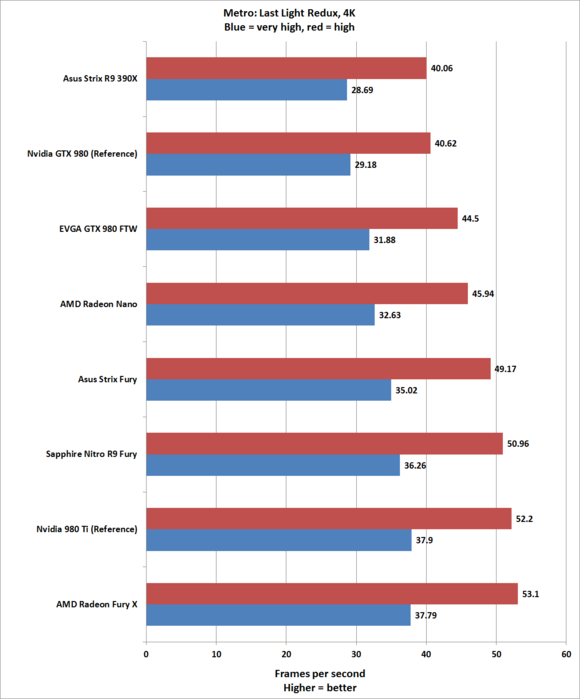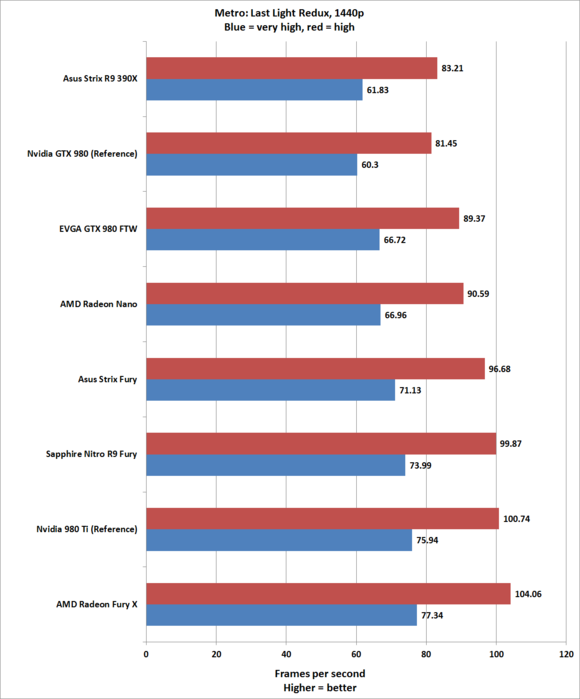 We test Metro: Last Light Redux, which runs 4A Games' custom 4A engine, with the punishing SSAO anti-aliasing disabled, as it cuts frame rates in half and the increase in visual quality doesn't justify that sort of performance hit. If you want to clear 60fps—critical in a first-person shooter—you have to drop down to 1440p rather than 4K. Here, the Nitro R9 Fury delivers notably more performance than the turbo-charged GTX 980.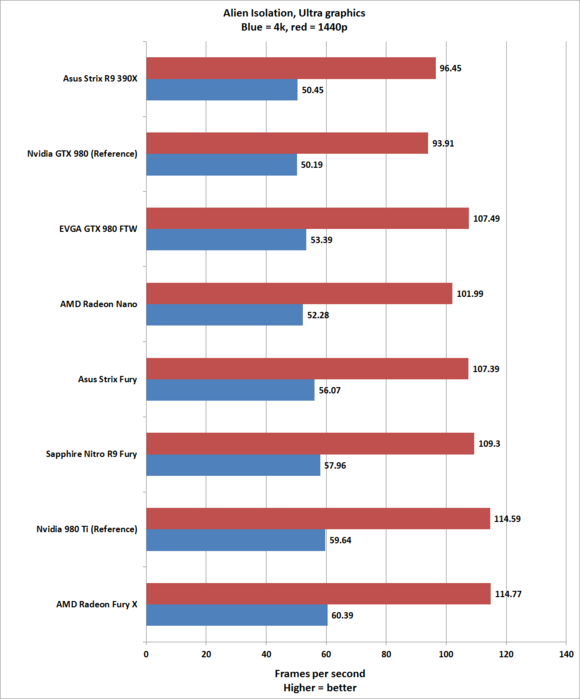 Alien Isolation scales like a champ and performs well on all graphics cards. The Nitro R9 Fury's performance falls squarely between the EVGA GTX 980 FTW's and the stock GTX 980 Ti. It's head and shoulders above the reference GTX 980, though.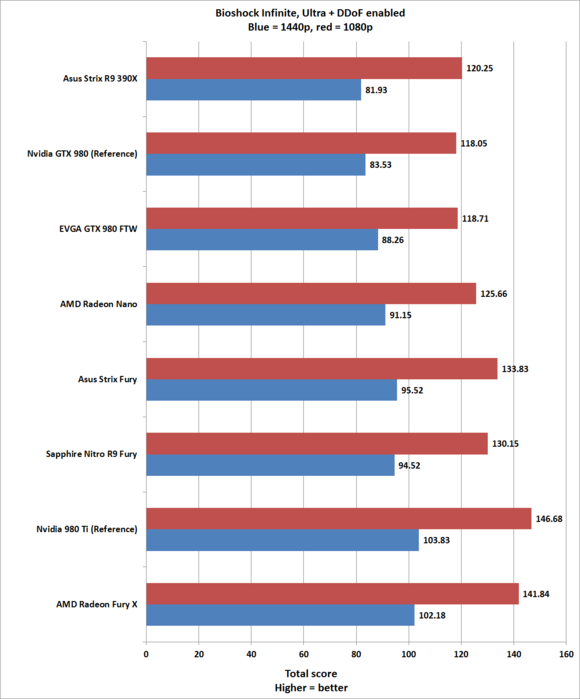 Every card also handles Bioshock Infinite capably, which is to be expected—the game's incredibly popular and has been out for a while now. Nevertheless, it's a solid representative for the extremely popular Unreal Engine 3, which powers a slew of modern games. For some reason, the Asus Strix Fury beats the Nitro Fury here, if only by a hair.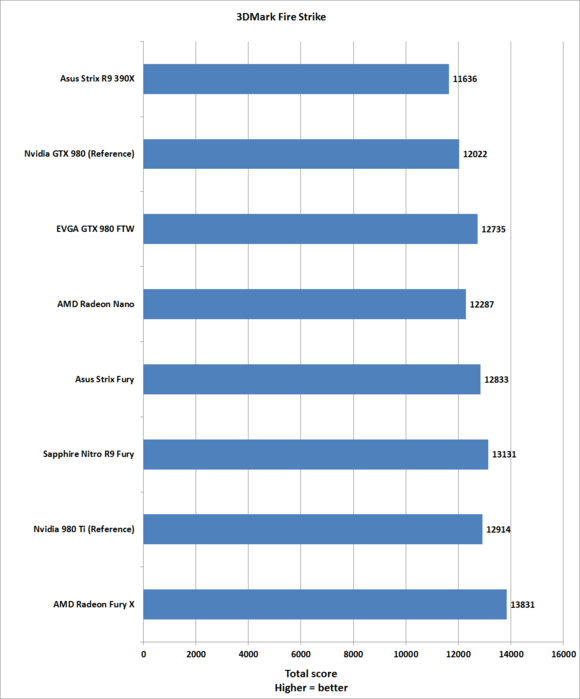 We also test all cards using 3DMark Fire Strike, a synthetic benchmark, but one that's well respected and oft-used within the industry.
Next page: Power use and GPU temperatures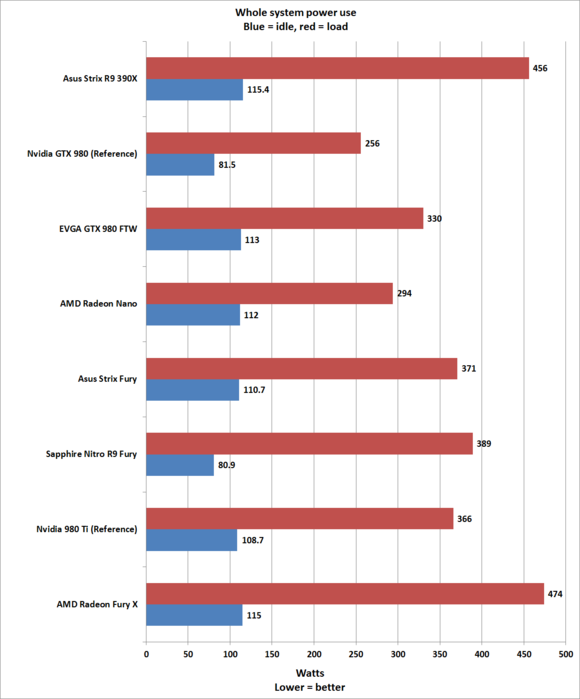 All of AMD's recent graphics cards use vastly more power than their Nvidia counterparts, full stop. The Nitro R9 Fury continues the trend, sucking down far more energy than the GeForce cards, and a full 159 watts more than the reference GTX 980 under load. Sapphire's card consumes slightly more power than the Asus Strix Fury as well, but that's to be expected given the 50MHz overclock.
Power is measured by plugging the entire system into a Watts Up meter, then running a stress test with Furmark for 15 minutes. It's basically a worst-case scenario, pushing graphics cards to their limits.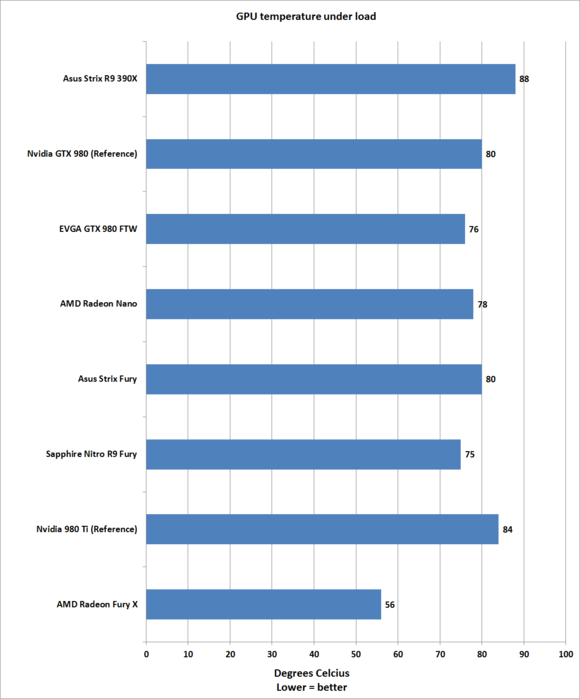 But seeing the Nitro R9 Fury blow through that much power drives home just how efficiently its custom cooling system performs. Despite the steep power draw, the card runs cooler than any other of these air-cooled heavyweights, with only EVGA's custom cooling solution coming close. That's incredible—and the Nitro R9 Fury runs very, very quietly as well, only becoming noticeable after topping temps of roughly 71 degrees Celcius, which it rarely tends to do unless you're absolutely hammering it for an extended time. Of course, the Fury X and its integrated closed-loop water cooler stays chilliest of all.
Next page: Final thoughts
Bottom line
Many of the key takeaways from our original AMD Radeon R9 Fury review still apply here.
While AMD and Sapphire promote the Fury as an entryway to 4K gaming, it's better to consider it as an option for top-notch, take-no-prisoners 1440p gaming, as the card struggles to hit the Holy Grail of 60fps at 4K resolution. Many barely squeak past 30fps at 4K, in fact, and don't forget that games will only become more graphically demanding over time, which doesn't make the 4GB of RAM feel very future-proof despite its blistering-fast speeds. For 4K, you're probably better off buying a GTX 980 Ti for $650, or dropping $550 to $600 for a pair of 8GB Radeon R9 390s.
If you do plan to pick up the Nitro R9 Fury for 4K gaming, I'd strongly suggest picking up a FreeSync monitor to go with it, as a monitor that syncs with the GPU to enable buttery-smooth, tear- and stutter-free visuals will go a long way toward making the 30-60fps at ultra HD resolutions more palatable. (Seriously, FreeSync and G-Sync monitors feel like magic.)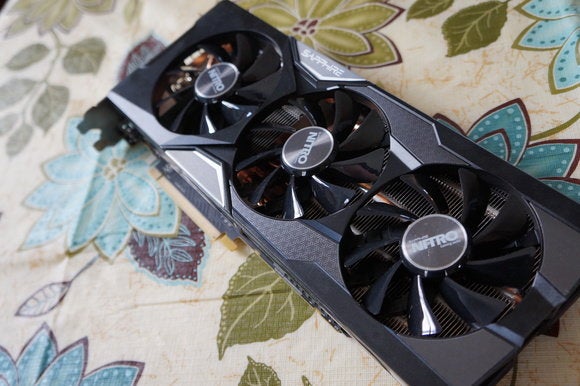 All that said, there's a whole lot to like in Sapphire's Nitro R9 Fury. It's cool, quiet, and impeccably designed. The 50MHz factory overclock gives the card enough extra oomph that it clearly tops the Asus Strix Fury in performance (albeit only by a few frames per second), whomps hard on the reference GTX 980 Ti, and comes uncomfortably close to the $650 GTX 980 Ti and Fury X. Sapphire's custom board tweaks should help you push performance even further, too, if overclocking's your thing.
And now that stocks are free-flowing and the Fury pricing has dropped from stratospheric levels, this card compares very well against monster GTX 980s, too—beating the similarly priced EVGA GTX 980 FTW across the board except in GTA V, which heavily favors Nvidia hardware. Most high-end GTX 980s with overclocks in excess of 1,275MHz (similar to the EVGA FTW) cost more than the Nitro R9 Fury's $520 these days, too. So Sapphire's graphics card outpunches its beefiest GeForce rivals, for the same price or less.
If Nvidia's exceptional software ecosystem and vast energy efficiency lead appeal for a specific reason, the GTX 980 may still be the graphics card for you. (Note that GTX 980s with monster overclocks will give up that low-power advantage!) But if you're looking for pure performance, cool temperatures, remarkably quiet noise levels, and superior multi-GPU scaling, the Sapphire Nitro R9 Fury comes highly recommended—for 1440p gaming, at least. The tables have turned yet again.