Microsoft formally announced its long-awaited $3,000 HoloLens development kit on Monday, which developers can buy as a testbed for holographic applications. But Microsoft has also announced its own games—yes, games!—and apps for the platform, some of which look pretty darn amazing.
The games complement Microsoft's own development tools, all of which can be found at Microsoft's developer site. (All of the apps are technically coded for Windows 10, but HoloLens-specific apps are referred to as Windows Holographic apps.) There, Microsoft has posted a number of videos and documentation, complete with a walkthrough on how to code a Holographic app for the HoloLens. You'll even find an entire HoloLens emulator to test code on.
But, just to show off what the HoloLens can do, there are also a few nifty apps and games—some of which we've seen before, and some which are brand new. Here they are.
Why this matters: Chances are that Microsoft developers have already had a chance to test out the hardware for themselves. But what can a polished, finished Holographic app for the HoloLens look like? Microsoft's demonstration apps will provide a bar for developers to clear.
HoloStudio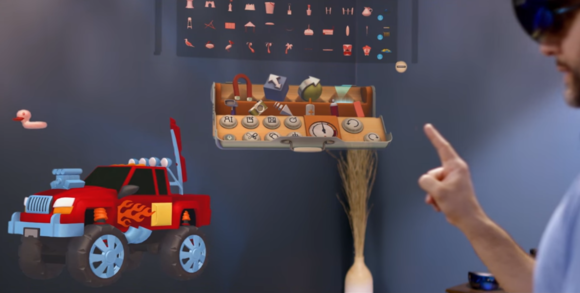 HoloStudio was one of the original demonstrations during the January 2015 introduction of the HoloLens, so I've seen it live and in person. It looked incredibly polished then, as it does now. Think of HoloStudio as sort of a 3D object construction kit: You can import files from other apps, but also create your own using a lively, cartoonish interface. All of those models hover in the air, so you can walk around them and inspect them from any direction.
Skype Holographic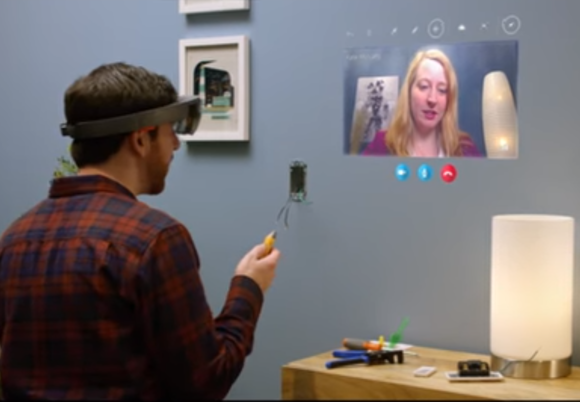 The Holographic version of Skype was another app that Microsoft showed off a year ago it was working then, so I have every reason to believe it will be an identically convincing experience now as well.
Last January, I used Skype as a communication tool to rewire an actual, physical light switch. I was able to "drag" the Skype window around, so I could interact with my guide directly or slide her to the side, so I could focus on the task in front of me. I was also able to share what I saw, so my Skype pal could highlight (with digital ink!) what I needed to accomplish. It was a powerful demonstration of Microsoft's augmented reality vision.
ActionGram
We don't know much about ActionGram, although some early developer code leaked out recently. Microsoft describes the app as a way to "blend holographic content into real world settings, allowing anybody to create emotionally compelling and humorous videos." Sounds a lot like Instagram, with holograms.
HoloTour
Microsoft didn't provide any illustrations of what HoloTour will do, but it appears to be a HoloLens-specific version of Google Earth or Bing Maps. Viewers will be virtually transported "to a different location and experience it like they are really there," according to a blog post by Kudo Tsunoda, Microsoft's corporate vice president responsible for the HoloLens. Examples include high-resolution 360-degree panoramic displays of places like Rome and Machu Picchu," he wrote.
But you just want to know what games you can play on it, right? Here they are.
Fragments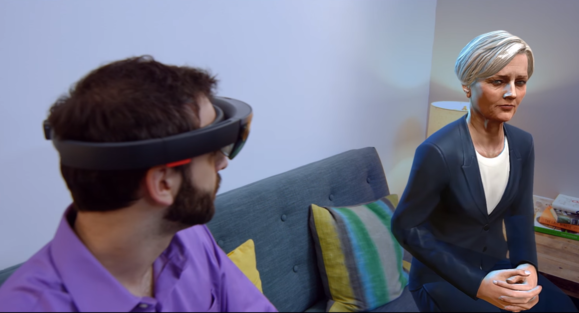 Fragments looks fascinating. Microsoft describes it is a "a mixed reality crime drama that unfolds in your own environment,"—basically a version of a Sherlock Holmes drama where the suspects actually drop in for a visit at your home in 221B Baker St. What this means is that you'll experience virtual reality "characters" literally sitting on the couch next to you, talking about their experiences.
In the video explaining Fragments, the developers actually describe how they'll hide a virtual matchbox behind your coffee table. Because HoloLens can "map" your living room, it "knows" what surfaces characters can lean against, or a wall where it can superimpose a valve or safe. And that makes it even more lifelike."When your living room has been used as the set for a story, it generates memories for you of what digitally happened in your space like it was real," Tsunoda wrote.
So far, Fragments looks amazing.
Young Conker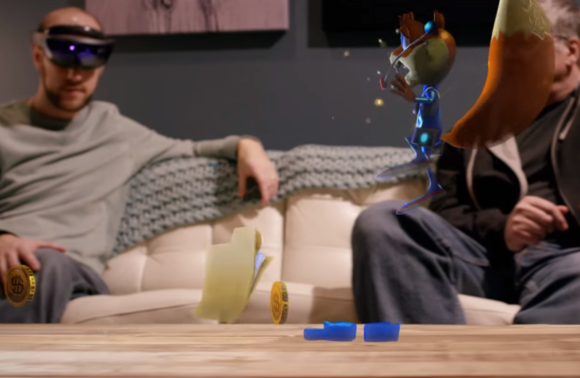 Yep, it's the same Conker that battled a giant poo monster, only a virtual version. Hopefully he's a bit better behaved this time around.
But what makes this version of Conker special is that this platform game takes place in your living room—or your bedroom, or your office. "Unlike with traditional video games, where people play the same digitally created levels – Young Conker tailors each of the levels you play to your real world," Tsunoda writes. "This means every person gets a unique gameplay experience since each gamers real world environment is unique."
That means Conker can leap across your coffee table or climb your walls. I expect that HoloLens gamers will end up wandering from room to room and from building to building, constructing their own levels from physical objects.
RoboRaid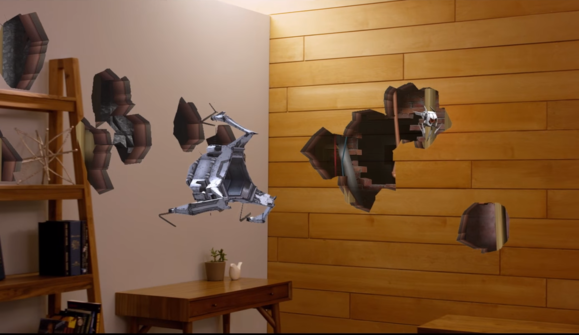 Finally, there's RoboRaid, a game that Microsoft has shown off before. If you tuned into the Surface Book launch, you might remember Microsoft employees showed off a game where virtual robots burst from the walls. That's RoboRaid (formerly called Project X-Ray.), created by a team of 8 people over the course of 12 weeks—proof positive, according to Microsoft, that you don't need a big development house to make apps for HoloLens.
The one game that Microsoft didn't include was Minecraft, which it showed off a year ago and almost certainly will make an appearance in the future. But so far, what Microsoft has planned for the HoloLens looks extremely promising.