This year we close out February, the most dismal month, with a celebration: Gun-trafficking, anti-video games ex-California State Senator Leland Yee is heading to prison for five years. Couldn't have happened to a better guy.
That plus a new Deponia, new Half-Life 3 hints, and Bob Ross in XCOM 2—this is video game news for the week of February 22 – 26.
Free-for-all
Another weekend, another temporarily-free Steam game. Head to your games collection and you'll spot Call of Duty: Black Ops III's multiplayer. It's free until 1 p.m. Pacific on Sunday if you need a quick dose of wallrunning-and-gunning.
Violent Video Games
Another bit of 1990's nostalgia out this spring: Postal Redux, an HD update of the original Postal a.k.a. the predecessor to pissing-simulator Postal 2. The original looks pretty quaint by today's standards, given the isometric art style.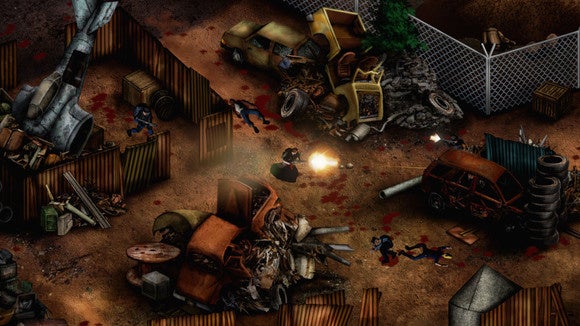 Is Postal any good? Not really. Not even as good as Postal 2. Did it deserve a remake? I don't know. Probably not. But I'm going to play it anyway, because anti-violent video games crusader Leland Yee is going to prison for racketeering and it feels like as good a means as any to celebrate. I'll be keeping an eye out for the remake.
And then there were four
Surprise! A new Deponia game releases next Tuesday. What, you didn't know? Yeah, nobody did. Somehow (and for some reason) Daedalic kept the existence of Deponia Doomsday under wraps until this week, putting out an "Announcement Trailer" four days before the game's release. If it brings its point-and-click A-game like the rest of the series, I'm definitely interested.
True colors
Straight from the land of "Dour-Version-Of-Pop-Song" Tropesville comes this new Dark Souls III trailer. It's actually pretty spectacular if you can get past the sad-sack version of Cyndi Lauper playing over top.
I'm a bus
If the people at Astragon Entertainment were really "hip to the kids," this trailer for Bus Simulator '16 would've featured a children's choir singing "Wheels on the Bus" while a broken organ wheezed in the background. Alas, it is just a boring ol' happy trailer instead.
1.21 gigawatts
Virtual reality is right around the corner, and if you're planning to drop $600-800 on a headset I'm sure you're rocking a pretty great computer. But how great? Here comes Valve with its very own SteamVR Performance Test, a pretty simplistic (and free) benchmark that simulates how your computer might handle the HTC Vive.
An ego-boost so realistic, you feel like you could reach out and touch it.
Half-Life 3 con—oh, forget it
Speaking of that SteamVR Performance Test: The Half-Life 3/Left 4 Dead 3 faithful dug up some files again. A lot of files. There's a thread over at Valve Time compiling all the weird stuff that's been found hidden inside the Performance Test, including a hi-res model of Half-Life 2's Dog and a bunch of textures hidden in a Left 4 Dead 3 directory.
Even more interesting (to me, at least) is a partial VR demo recreation of Valve's office in Bellevue. (See below.)
Na na na na et cetera Batman
Last fall I bought the DeLorean for Rocket League and it's been a fantastic investment—easily the best DLC purchase I've ever made. But now they're adding the damned Batmobile and I'm sorry Marty McFly but you might be on your way out.
Happy accidents
This week in weird XCOM 2 mods: Bob Ross. Everyone's favorite Twitch-streaming painter now has his very own voice pack, bringing a little zen to proceedings even as his entire squad is mercilessly gunned down. Happy accidents indeed.