At a Glance
Expert's Rating
Pros
Smooth and snappy performance
Compact form
Ability to add functionality
Cons
Fans can a little loud under load
Our Verdict
The Intel NUC5i7RYH offers a lot of power in just a scant amount of space. This mini-PC's only real drawback is its cost, but it's still a fair price for the form factor.
Best Prices Today: Intel NUC5i7RYH Next Unit of Computing Kit
Aside from a special red-and-gold limited-edition version that came out two years ago, Intel's "Next Unit of Computing" mini-PCs haven't historically been that beautiful. But they've offered consistently great performance for their size—similar to Microsoft's line of Surface devices, NUCs are a showcase for just what this form factor can do.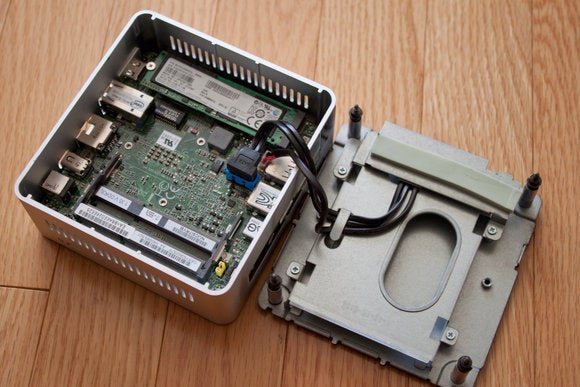 The NUC5i7RYH certainly demonstrates the kind of computing power available if you're willing to spend some money. This Core i7 system sits at the top of the current lineup of Broadwell-based NUCs, and it rules over the landscape with an appropriate iron fist—particularly since it hasn't yet been supplanted by a Skylake Core i7 NUC.
Specifications and Ports
Almost everything you could want in a miniscule computer, you'll find in the 5i7RYH. Measuring 4.53 x 4.37 x 1.92 inches (115 x 111 x 48.7mm), this bare-bones system ships with a 3.10GHz Core i7-5557U dual-core Broadwell-U processor, Iris Graphics 6100, an M.2 PCI-E SSD slot, a 2.5-inch SATA 6Gbps slot, an internal NFC connector, an Intel Wireless-AC 7265 M.2 dual-band 802.11ac/Bluetooth 4.0 card soldered to the motherboard, and support for up to 16GB of DDR3L/1600MHz RAM. You can also access two internal USB 2.0 ports via a header.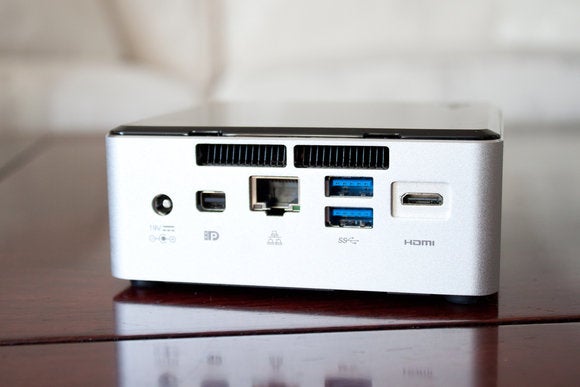 On the outside of the case are three standard USB 3.0 ports, one charging USB 3.0 port, a mini DisplayPort capable of 4K output, a mini-HDMI port, a gigabit ethernet jack, a combination headphone/microphone jack, and a Kensington lock slot. A VESA mounting bracket and multi-country AC plugs are included with the system.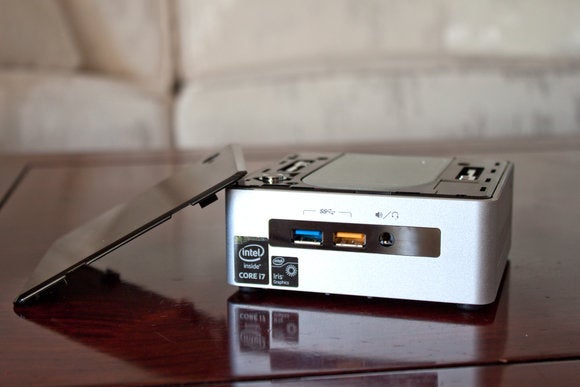 In a nice change from previous generations, the NUC5i7RYH (like its fellow Broadwell NUCs) has a removable lid. Function no longer has to completely trump form; if you have access to a 3D printer or can find a third-party manufacturer, you can personalize your NUC. And not just cosmetically—you can add functionality like wireless charging, NFC, and 4G/LTE; additional ports like USB 2.0 and VGA; and an SDXC card reader.
Performance
A fully tricked-out NUC5i7RYH doesn't come cheap, but its performance in our benchmarks makes a case for that kind of cash outlay. With a Samsung 256GB XP941 M.2 PCI-E SSD, 16GB of Crucial RAM, and Windows 8.1 Enterprise, this Broadwell-U NUC earned a score of 3,234 in PCMark 8's Work Conventional test. It also crunched down a 30GB 1080p MKV to an Android tablet–friendly MP4 in our Handbrake encoding test in an hour and 41 minutes. While this system can't beat out full desktop systems in encoding tasks (our Zero Point desktop encoded the same MKV file in 51 minutes), this machine still feels as quick as a bigger system for general computing.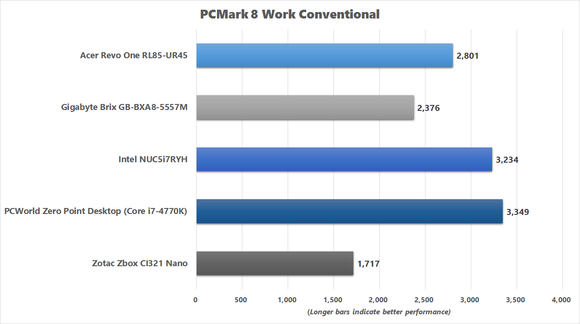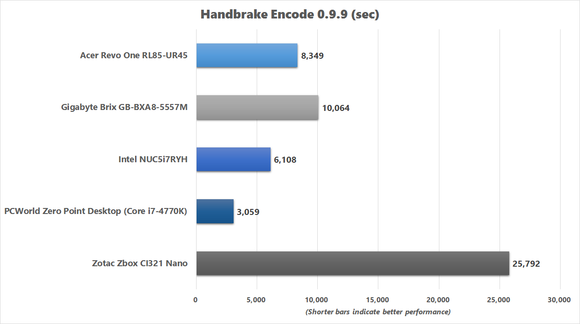 This NUC is semi-capable of some regular gaming, too. In 3DMark's Cloud Gate benchmark, the NUC5i7RYH cruised by its competition with a score of 7,103. In actual game benchmarks, it came out almost even with the Gigabyte Brix GB-BXA8-5557, its nearest rival in this roundup, achieving about 35fps in Tomb Raider on Low and just under 30fps in BioShock Infinite on Very Low at 1080p.
Hardcore gamers won't find these numbers (much less graphical settings) up to snuff, but it's still nice to see this kind of performance. Those determined to play games on this machine can get by in some older AAA titles, so long as you don't mind very ugly graphics.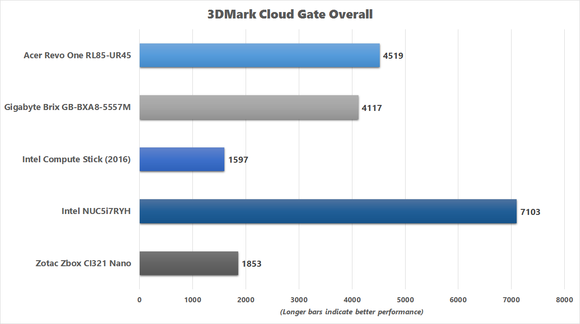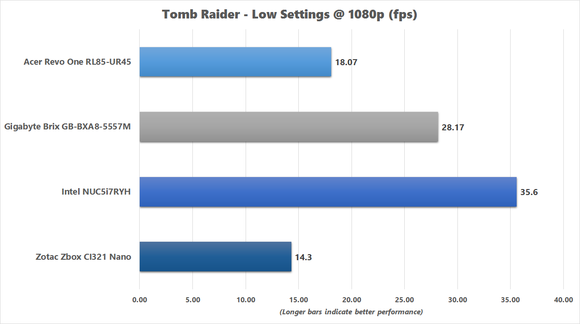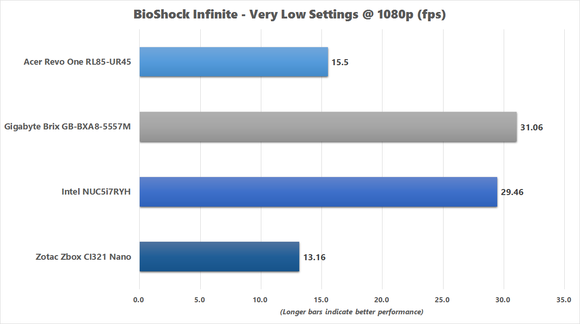 And if you do want to game, you at least won't be slowed down by a storage drive in the NUC5i7RYH's M.2 slot, which utilizes PCIe instead of SATA. Our Samsung XP941 was smoking fast, with an average of 1,054MBps sequential read speeds and 801MBps sequential write speeds in our Crystal Disk Mark 5.0.2 benchmark.
You get what you pay for
About the only weaknesses of this NUC are its power consumption and how loud it is, but both issues are much less dramatic than with Gigabyte Brix BXA8-5557 Peak power draw was 54.4W under load. While you can clearly hear the fan spinning in a quiet room when the system's under load, it's only when the system hits extremely heavy loads that its fans emit an intense, high-pitched whirl.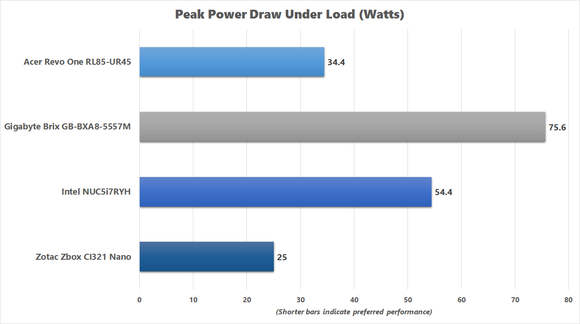 In a machine that posts such solid performance across the board, it's a bit more forgivable that you're trading quiet for power—particularly given that its price is quite tolerable. Currently, the NUC5i7RYH goes for about $450 at retailers like Amazon, and plus another $80-100 for a boot drive and RAM. You may also spend an additional $120 for a Windows license if you don't have an unused key lying around.
Paying as much as $670 may be hard to swallow for folks seeking a very basic machine, but for those who want a bit more oomph without giving up much desk space, going with this Core i7 system is a very worthwhile option. Especially since Intel includes clear, easy-to-read documentation on its website—that's a stark contrast to competition like the Acer Revo One RL85-UR45, which has a manual that barely applies to the actual machine.
Best Prices Today: Intel NUC5i7RYH Next Unit of Computing Kit