At a Glance
Expert's Rating
Pros
Sexy, thin, and a tiny power brick
Big screen with a dual-core price
Cons
Still very large footprint despite not having performance of competing laptops
Dual-core gets smacked around by quad-core competitors
With its new Spectre x360 15T, HP is offering a different approach to the high-end, high-performance 15-inch laptop. This is a laptop, the company says, that's aimed at folks who want a sizable screen and reasonably great performance wrapped in a great package.
The Spectre x360 15T certainly has the "great package" part down. It's essentially a bigger version of the beautiful 13-inch Spectre x360. Both feature a similar CNC-milled aluminum chassis, as well as a 10-point touch IPS panel that can be folded back into A-frame mode or tablet mode. Most impressive is that, despite the Spectre X360 15T having a far larger screen than the 13-inch version, the two models are the same thickness.
Our review sample measures 16.55mm (a little more than half an inch) near the hinge—that's awfully thin for a 15.6-inch laptop. Compare that to Dell's new XPS 15, which is maybe 20mm. Or Samsung's new 15-inch Book 9 Pro and the mid-2015 Apple MacBook Pro 15, which are both about 18mm.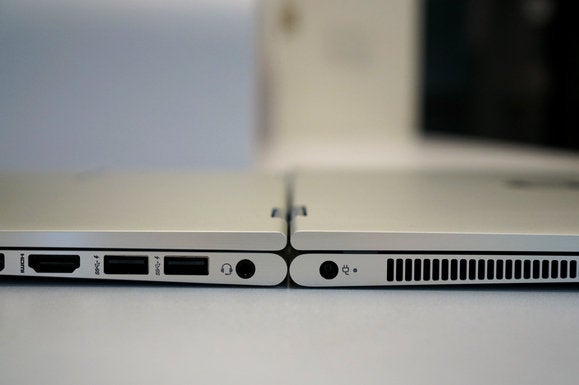 The Spectre x360 is also pretty light for its size at just over 4 pounds and 2 ounces. By comparison, the mid-2015 MacBook Pro 15 and the 15.6-inch Samsung Book 9 Pro with 4K touchscreen each push about 4 pounds and 7 ounces.
Not surprisingly, using the Spectre x360 15T feels like using a bigger version of the Spectre x360 13. Interestingly, despite the x360 15T's larger body, its keys are roughly 0.1mm smaller. Both laptops give you a top-notch backlit keyboard that doesn't feel cramped. In fact, the relative roominess is noticeable compared to typing on, say, the Dell XPS 13 for an extended period.
The trackpad has the same wide format we've seen before from HP. Its piano-style hinge gets progressively harder to push at the top, but overall, I have no complaints about the design.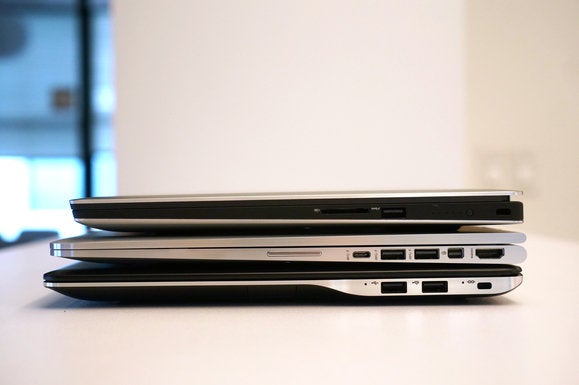 Ports, audio, and screen
The Spectre x360 15T's thin body doesn't stand in the way of a generous port selection. You get three USB 3.0 Type A ports, a full-sized HDMI port, and a mini DisplayPort, as well as an SD card reader and combo analog audio jack. HP also includes a forward-looking USB-C port, but there's no Thunderbolt 3.0 support for it—just USB 3.1 Gen 1. That means, basically USB 3.0 speeds despite the fancy 3.1 name.
In the audio department, HP has placed four speakers tuned by Bang & Olufsen inside the Spectre x360 15T's chassis, but they just aren't very loud compared to the x360 15T's contemporaries. They aren't bad, mind you—but I expected better performance from the B&O brand.
The screen on our review unit is an 1920×1080 IPS panel with support for touch. (HP offers a 4K panel, but for most people, that option is overkill.) When comparing the display to that of the new Dell XPS 15 and the new Samsung Book 9 Pro, I found the backlighting to be even. There was some bleeding at the top left and right corners when I turned up the brightness in a dark room, but generally you won't notice it.
Naturally, the HP's panel wasn't as tack-sharp as the Samsung Book Pro 9's 4K Ultra HD screen when viewing high-resolution photos. Most people would need bionic vision to see the difference, however.
CPU performance: Four is better than two
For all its good looks, the Spectre x360 15T has a steep task before it: to convince people that it's worth giving up the performance that most companies are jamming into their top-end 15.6-inch laptops. Natural competitors like Dell's XPS 15, Samsung's Book 9 Pro, and Apple's MacBook Pro 15 all sport quad-core CPUs and discrete GPUs, whereas the Spectre x360 15T packs a dual-core processor and integrated graphics.
Is that performance a big deal? In some tests, yes: It's as big a deal as Ron Burgundy is in his own mind.
First up is Cinebench R15, a real-world test based on Maxon's 3D rendering engine. Though the vast majority of people aren't doing 3D rendering on a laptop, the benchmark is a good way to measure pure CPU performance. The more cores you throw at it, the more performance you get.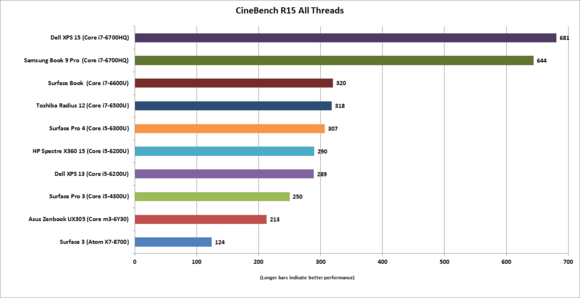 Compared to other dual-core laptops, the HP actually represents well. With its Core i5-6200U, it's just a step back from a Surface Pro 4's Core i5-6300U chip. But against the quad-core systems, the story's different. The Dell and Samsung quad-core CPUs stomp the dual-cores into the dirt. But they are bigger and heavier, too.
For another practical test, we set Handbrake 0.9.9 to transcode a 30GB 1080p MKV video file to a 720p MP4, using the Android Tablet preset. Beyond giving you an idea of how long it'd take if you indeed used your laptop for video file conversion, this test is also a good indicator of video editing performance. As with Cinebench R15, you give up performance with that dual-core.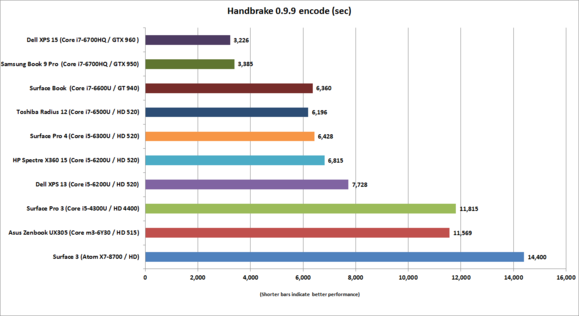 Graphics performance: Discrete > IGP
To get a quick look at the Spectre X360 15T's graphics performance against the rest of the pack, I used 3DMark's Sky Diver test, a well-respected synthetic graphics benchmark.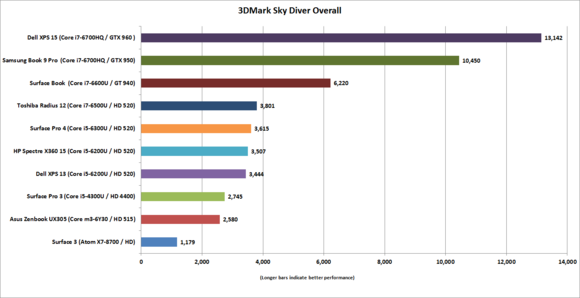 Again, the Spectre x360 15T does reasonably well, but it gets trounced by laptops with discrete graphics. The Surface Book, which has discrete graphics believed to be on par with a GeForce GT 940, does almost twice as well in Sky Diver. The Samsung and Dell boast even better discrete graphics chips, with the XPS 15 posting a score almost three times higher than the Spectre x360 15T. In general, that means you'll see better performance in games and in applications that use the GPU for computing tasks from these competitors.
For those of you who want a little more graphics pep, HP offers a dual-core Spectre x360 15T with Intel Iris graphics aboard. I can say that, yes, that's where you'll find the best integrated graphics performance today, but it still won't outdo discrete graphics.
If you've looked at those CPU and GPU charts and turned up your nose in disgust, remember HP's angle here. This is not a laptop for people who need to do heavy-duty tasks.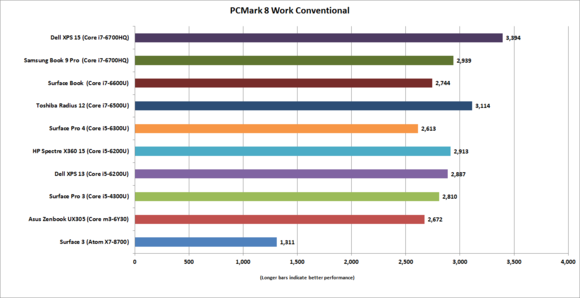 This is why I like to show the results of the PCMark 8 Work Conventional test. Few people ever need more than a dual-core machine with a solidly fast SSD and sufficient RAM—as you can see, none of the hardware differences really show during ordinary tasks on these laptops. The exception is the Surface 3 with its Atom X7-Z8700 processor. This is what HP hopes people realize when they do the obvious comparison between the Spectre x360 15T and systems like the XPS 15 and Samsung Book 9 Pro.
Battery life: Dual-core beats quad-core
There are some distinct advantages to a more modest configuration, as well. Shedding two cores and a discrete GPU can net better battery life. For our battery-life test, we play a 4K UHD resolution file using the Movies & TV player app in Windows 10, with the screen set at a fairly bright 250 to 260 nits. This brightness setting is akin to what you'd use when playing a video in an average office environment with the lights on.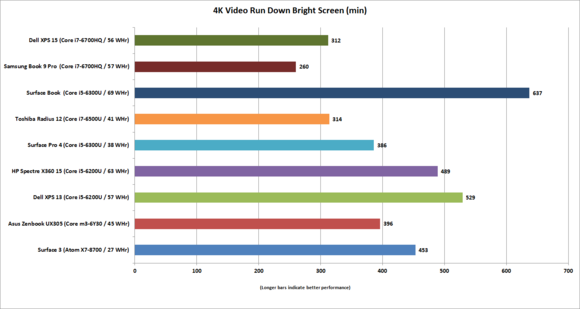 The Spectre x360 15T bests the Samsung Book 9 Pro with its big 4K UHD touchscreen. It also nicely outpaces the Dell XPS 15. In fairness to Dell, our XPS 15 review model features the smaller battery option—there's an optional cell that's about 20 percent bigger. Even with the bigger battery though, I'm not sure it would whip HP's laptop. The Spectre x360 15T does very well, especially considering it has a touchscreen, which consumes more power than a non-touchscreen.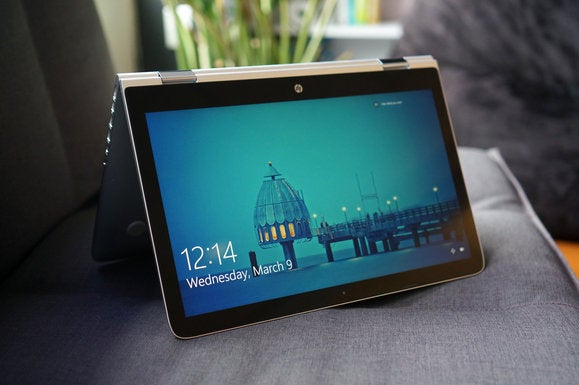 Finally, there's the Spectre x360 15T's price—maybe it's most compelling attribute. Without that fancy-schmancy quad-core processor and discrete GPU, you can save buckets of cash. The model with 8GB of RAM and a 256GB M.2 SSD lightens the wallet by $1,150, whereas a Dell XPS 15 with the same amount of RAM and same-sized SSD pushes $1,450, without a touchscreen. The Samsung Book 9 Pro is even more: $1,500. That's almost as significant a difference in price as the performance deltas above.
Conclusion
Like all things in life, HP's Spectre x360 15T's appeal comes down to your personal needs. If you want a 15-inch laptop for video editing, photo editing, or other content creation tasks, opt for a more powerful CPU and GPU, like those found in the Samsung Book Pro 9 and Dell XPS 15.
But if you have a desktop for most of your "real" work and just want a laptop that's fairly light and thin, has a large screen, and offers good battery life, the X360 15T is worth a good look.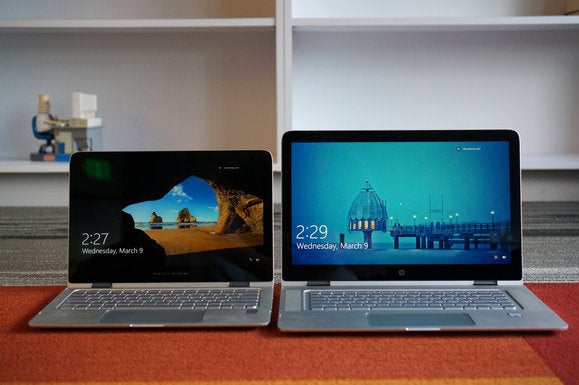 Update: Clarified the USB port speed and nomenclature.