Time online is more likely to kill productivity than enhance it. Think of all the work hours you've wasted scrolling through your Facebook feed or going down the Wikipedia rabbit hole. But with the right Chrome extensions, you can minimize these distractions and actually increase your productivity. Here are five that help you get more work done in your web browser.
Dayboard
Task managers are essential for getting things done. But they can actually impede your productivity if the software gets too complicated or you bog them down with an unwieldy amount of to-dos. Then there's the matter of remembering to open the task manager in the first place.
Dayboard is a more streamlined to do list. Dayboard lists only your five most important tasks in a minimal layout. Then it displays the list every time you open a new tab on your Chrome browser. If that's not enough to keep you on task, you can switch on focus mode. This shows you one item at a time to prevent you from multitasking.
Auto Text Expander for Google Chrome
We've said before that the use of keyboard shortcuts separates the productivity pros from the amateurs. Google Drive's apps have a boatload of them for commonly used functions. This extension allows you to create your own.

Auto Text Expander lets you add shortcuts for bits of text you use frequently—think code snippets and canned email replies. Its an easy way to reduce tedium and repetitive stress on your wrists. Once the extension is installed, your shortcuts will sync across Chrome browsers.
OneTab
Opening a dozen browser tabs at once may seem like a good productivity move until they start dividing your attention and draining your computer memory. OneTab provides a quick way to clean up the clutter.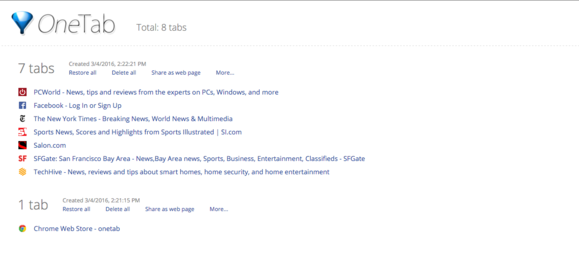 When you press the OneTab icon, it converts all your open tabs into a list, tidying up your workspace and reducing memory use by up to 95 percent. When you need to access those tabs again, you can restore them individually or all together.
TimeStats
You probably have an inkling you waste a lot of time web surfing. This extension will show you exactly how much.
TimeStats reveals the truth about your browsing habits. You can view a breakdown of sites visited, your web stats by day or month, and most importantly, the amount of time you spend browsing each day. You can also sort websites into categories to get a clearer view of how much of your time online is spent on work-related sites versus entertainment.
StayFocusd
If you don't like the reports you're getting from TimeStats, you need this extension. Rather than blocking websites outright, StayFocusd lets you allot the amount of time you can spend on your favorite distractions. But once you reach that limit, the site is blocked for the rest of the day.
StayFocusd is very configurable. In addition to blocking entire sites, it lets you control access to specific subdomains, paths, pages, and content (videos, games, images, etc).