When it comes to online privacy, Mozilla's open-source Firefox browser is probably the best choice for keeping your data away from prying eyes. Even though Mozilla does have some behavior-based advertising on its new tab page, it's still by far the browser maker that most respects your right to browse unmolested.
Nevertheless, Firefox does require several tweaks if you want to avoid privacy-invading tactics like ad tracking. Here's a rundown of the basic steps you can take in this browser.
Do not track and tracking protection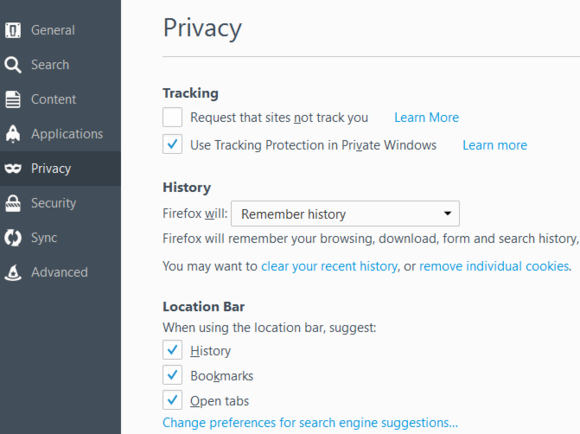 To get started, open the preferences tab by typing about:preferences#privacy into the address bar. Or type about:preferences and choose Privacy in the left-hand navigation panel.
First up in the privacy section is tracking. By default, Firefox does not enable the do-not-track feature. You turn it on by clicking the checkbox labeled "Request that sites not track you."
With this feature enabled, Firefox will make a request to every website you visit that they do not track you. Unfortunately sites don't have to honor the request, and few do. To enforce your intentions you need to use an add-on such as Ghostery or the Electronic Frontier Foundation's Privacy Badger. Be further warned, however, that some sites are choosing not to allow people to access content with add-ons like these enabled.
Returning to the tracking section in Firefox, there's a relatively new feature enabled by default called "tracking protection in private windows." Leave this setting turned on. The new enhanced tracking protection blocks ads and other online trackers when you're in private browsing mode.
Reconciling with history
By default, Firefox remembers your history, which makes it easier to return to a site you visited a day, week, or even a month ago. Click the drop-down menu labeled "Firefox will:" and you can also tell the browser to never remember your history (the scorched-earth option), or use custom settings. Selecting the latter brings up several new options. At the top is a checkbox for "Always use private browsing mode," which is another hardcore privacy choice to make. You can find out the full implications of private browsing mode on Mozilla's support pages.
Below that are a variety of options that are pretty straightforward, but here's how I would suggest setting it up.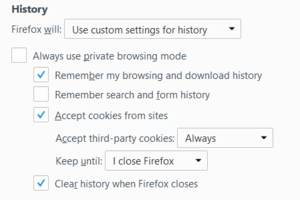 Check the box for remembering your browsing and download history, un-check remembering search and form history, and leave the box checked for "Accept cookies from sites."
Then under "Accept third-party cookies" leave it set as Always, but change "Keep until:" from they expire to I close Firefox. Finally check the box that says "Clear history when Firefox closes."
This combination of settings allows Firefox to behave normally, but it erases most of your activity once you close the program. It offers some measure of privacy without sacrificing functionality.
Location Bar
Finally we get to the Location Bar settings. The Location Bar is just Mozilla's special name for the browser's address bar.
If you don't want Mozilla to suggest sites based on your history, bookmarks, or open tabs, un-check the corresponding boxes.
Wrapping up
Those are the main settings you'll want to take care of, but there are a few more options you should tweak before we're done. Click Search in the left-hand navigation panel of the Preferences tab.
At the top of the search section is a drop-down menu for your default search engine. Choose whatever you'd like, but the most privacy-conscious search provider is DuckDuckGo. It's worth trying for a few days—you can always switch back later.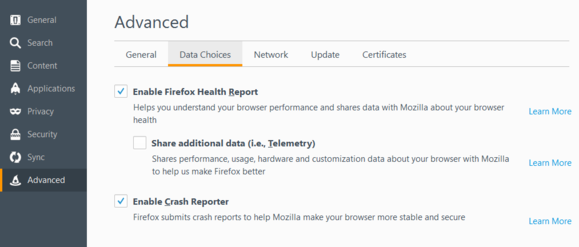 Back at the main Settings menu, go to Advanced > Data Choices. This option shares information with Mozilla about your browser's performance and any crash reports. It's up to you whether to share this data with Mozilla.
Finally, open a new tab and click the settings cog in the upper right corner. By default, you're using the New Tab page, which has a small amount of advertising on it. The easiest option is to choose to show a blank page. For something a little more personal, install the New Tab Override add-on.